Debt Deal: Did the Public Get What It Wanted?
The debt stalemate is finally over, but what does the public think of how leaders in Washington resolved it? A look at recent polls.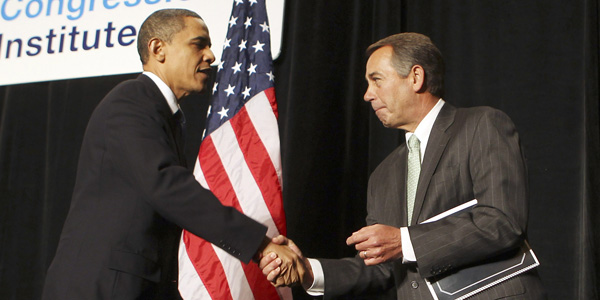 The deal is done. Washington's latest stalemate ended on Tuesday as President Obama signed a bill to raise the national debt limit and avoid default.
Obama, Republicans, and Democrats finally agreed to raise the debt ceiling by $2.1 trillion, enough to last through 2012 and past the next election. They agreed to cut spending by about $1 trillion immediately, then create a so-called "super committee" that must propose $1.5 trillion in deficit-reduction measures, to be submitted to Congress by Nov. 23. Barring agreement on that plan, $1.2 trillion in spending cuts will automatically occur, half from domestic programs and half from defense spending. See more details of the deal here.
So, what does the public think of all this? No one will be completely happy, but polls show that Washington met the public's goals about halfway.

Spending Cuts, but No New Taxes.
The new deal will cut at least $2.2 trillion over the next decade, but taxes won't be raised unless the new committee recommends and Congress approves a plan to raise them. In polls, respondents have consistently shown a desire for
both
spending cuts and tax increases:
56 percent wanted a combination of tax increases and spending cuts, while 19 percent wanted only cuts and 12 percent wanted only tax increases, according to a July 25 Reuters/Ipsos poll
60 percent wanted a combination of tax increases and spending cuts, 19 percent wanted only cuts, and eight percent wanted only tax increases, according to a July 20-24 Pew Research Center poll
64 percent wanted both tax increases and spending cuts, while 34 percent wanted only cuts, according to a July 18-20 CNN poll
---

No Cuts to Social Security, Medicaid, Veterans' Benefits
The deal specifically bars cuts to these areas, both now and in any proposal the new special committee delivers to Congress in November. The public did not want to see these programs cut:
84 percent opposed cutting Social Security, and 77 percent opposed cutting Medicaid in order to reduce the deficit, according to the July 18-20 CNN poll
39 percent were more concerned by Medicare/Social Security cuts, 19 percent were mroe concerned about too much spending, 17 percent were more concerned about higher taxes, and 17 percent were more concerned about debt default, according to a July 21-24 National Journal poll conducted by Princeton
---

Possible Medicare Cuts
The new special committee will be able to cut some money from Medicare, just as it will be able to propose tax increases. Polling have shown little desire to cut money from the program for the purpose of deficit reduction:
87 percent opposed cutting Medicare to reduce the deficit in the July 18-20 CNN poll
---

The Debt Ceiling Is Raised
The public has offered some mixed messages on whether or not to raise the statutory debt limit at all:
49 percent said we should not raise the debt ceiling, while 46 percent said we should, according to a July 15-17 CBS poll
45 percent favored raising the ceiling only if it involved a plan to reduce the debt, 36 percent opposed raising the debt ceiling regardless, and 17 percent favored raising the debt ceiling regardless, according to the July 18-20 CNN poll. The same poll found 66 percent in favor of raising the debt ceiling while cutting between $2 and $4 trillion in spending
55 percent said they were more concerned that the government would raise the debt ceiling without plans for major spending cuts, while 35 percent said they were more concerned that the government would not raise the debt ceiling and an economic crisis would result, according to a July 15-17 USA Today/Gallup poll
---

Compromise Reached
It's clear that no one is completely happy with the debt-ceiling deal, but at least sides agreed on something. Despite myriad individual preferences, this is what the public seems to have wanted:
66 percent preferred the leaders who represented their views to compromise, even if it meant accepting a plan they disagreed with, while 27 percent preferred those leaders to hold out for a basic plan they agreed with, even if it meant passing the Treasury's default deadline, according to the July 15-17 USA Today/Gallup poll
Image credit: Larry Downing/Reuters