Can a CEO Sell Obama's Manufacturing Vision?
As the president looks for partners in business, Dow Chemical's Andrew Liveris has emerged as a champion of government helping the private sector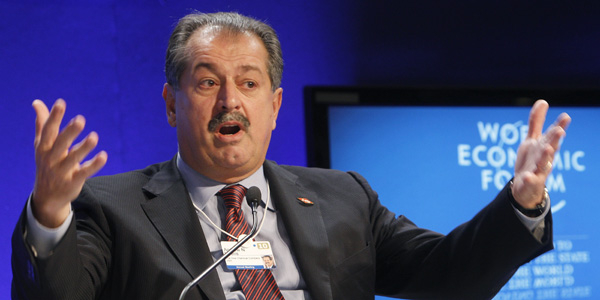 Dow Chemical CEO Andrew Liveris. Image credit: Arnd Wiegmann/Reuters
Last January, Andrew Liveris, the CEO of Dow Chemical, published a book called Make it in America that laid out a path for the United States to reclaim its onetime manufacturing dominance. Four pages into his preface, he warned readers to expect a surprise. "If you picked [the book] up thinking this was another long complaint by another CEO who wants nothing more than for government to back off, recede from the picture, do nothing, and let the markets rule," he wrote, "then I'm afraid you'll be disappointed."
Indeed, they would. The book details an ambitious agenda to set U.S. manufacturing back on a course for success, arguing that if the country cedes production of all the high-tech gadgets it produces, it will also lose the competitive edge on future innovation. Liveris calls for rebuilding the country's crumbling infrastructure; overhauling the education system to include a greater focus on science, math, and engineering; bulking up the clean-energy industry; making the tax code more competitive; and streamlining regulations -- all in partnership with, not opposition to, the government.
---
MORE FROM NATIONAL JOURNAL:
Behind the Miracle: What Kinds of Jobs Has Texas Created?
SUNDAY SHOWS: Powell Lashes Out Against Cheney
Bachmann Charms Florida Seniors
---
Sound familiar? It should. Liveris' framework bears a striking resemblance to the economic vision that President Obama put forth in his January 25 State of the Union address mere weeks after Make it in America hit stores - one that includes regulatory overhaul, an infrastructure bank, a rewrite of the No Child Left Behind Act and more investment in research and development.
It's difficult to say whether Liveris' work inspired the administration's policies. White House officials demur when asked about the similarities between the two plans, but they readily admit that the CEO has an audience within the upper echelons. The administration values Liveris' voice "enormously," Ron Bloom, Obama's assistant for manufacturing policy, told National Journal. "He's a passionate advocate for good public policy, but he's not just saying, 'You go do this.' He's saying that business has a responsibility, too."
Since Obama took office, Liveris has been a regular presence at 1600 Pennsylvania Ave. He sits on the president's Export Council and the U.S.-India CEO Forum. His name has appeared in White House visitor logs at least eight times in the past two-and-a-half years, including attendance of a private meeting with then-Chief of Staff Rahm Emanuel in February 2010 and other small meetings with high-level advisers. Liveris was included in a gathering of 18 CEOs from the U.S. and China that met with Obama and Chinese President Hu Jintao during the latter's state visit to the U.S. in January. He and his wife, Paula, were also invited to a Kennedy Center Honors reception hosted by the president and first lady in December 2009.
So on June 14, it was not all that surprising that Bloom, who previously headed the restructuring of General Motors and Chrysler, called Liveris and asked him to cochair a new public-private partnership focused on high-tech manufacturing. Liveris accepted. Ten days later, he appeared with Obama at Carnegie Mellon University to announce the creation of the Advanced Manufacturing Partnership. It's an effort few Americans have ever heard of, yet one whose success could help to revitalize a sector not only critical to the American economy but that also employs many of its 11.7 million workers in swing states.
The initiative seeks to bolster so-called "advanced" manufacturing, which aims to improve the cost, quality, and efficiency of building materials, and does so in a way that's meant to demonstrate real commitment without raising spending. The plan is to pour $500 million into various federal departments and research projects - particularly in the defense industry -- although that money is leveraged from existing funds.
For the government, it's a chance to ensure that the American manufacturing sector doesn't continue to cede its position in the worldwide economy and to create much-needed jobs across the country. And Dow has the chance to put its own stamp on the future of American manufacturing. Last year, Liveris released Dow's Advanced Manufacturing Plan, a collection of public-policy recommendations he makes in his book that are meant to boost the sector. At the helm of the partnership, he'll have the platform to promote some of those proposals.
The partnership also represents a chance for the president to stabilize and grow the economy without the help of Congress, which may very well be the status quo over the next year. Both the recovery and Obama's hopes for a second term may depend on the president's ability to coax the private sector to partner with government and boost hiring across the country. That effort, in turn, could depend on whether Obama can get the business community back on his side.
That relationship was battered during fights over the Affordable Care Act and the Dodd-Frank financial-regulation law, and it remains strained over perceived overregulation by administrative agencies such as the Environmental Protection Agency.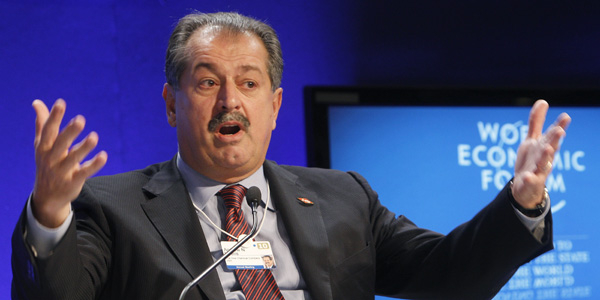 Dow Chemical CEO Andrew Liveris. Image credit: Arnd Wiegmann/Reuters
Even Liveris has taken issue with the administration's approach to some regulation. Not long after Obama announced that he was instructing federal agencies to reevaluate their rules and regulations to make sure they were data-based and that the benefits justified the cost, Liveris sent a letter on behalf of the Business Roundtable recommending specific changes to some of the more costly and - in the view of the group -- problematic regulations. Just last month, he sent a strongly worded letter to White House Chief of Staff William Daley asking that EPA not rush to reevaluate and tighten National Ambient Air Quality Standards two years ahead of schedule, which Liveris said could cost between $20 billion and $90 billion each year.
All of which could make Liveris a perfect candidate to help sell Obama's ideas - the ones that overlap with the Dow CEO's own ideas - to other business leaders.
Liveris in many ways embodies the increasingly globalized nature of American business. From an ethnically Greek family, he first went to work for Dow in 1976 in the country where he was born and raised: Australia. He has worked in both Asia and North America, rising through manufacturing, engineering, sales, marketing, business, and management positions to become CEO of a company that sits at No. 45 on the Fortune 500 list. Now, late in his career, Liveris has emerged as a leading advocate for government involvement in boosting a U.S. manufacturing sector that continues to lead the world in output but has seen employment fall dramatically over the last few decades. "I think we have a crisis in this country around manufacturing. I believe we need to have an activist - to use your word - government that engages proactively with business to create that framework, a public-private partnership," he told National Public Radio's Steve Inskeep in a January 2011 interview after the publication of his book. According to Liveris, government should be involved "not as an overzealous regulator, but as a thoughtful partner to thoughtful business."
Obama couldn't have said it better himself. "The way that we look at economic recovery in general is that it needs to be driven by the private sector, and this is an area where the private sector has a great deal of interest, training and preparing the workforce especially," says deputy White House communications director Jennifer Psaki.
Close consultation with the business community was a strategy employed by former President Clinton to gain support, even from industry leaders who tended toward Republican ideas. Clinton's time as a governor gave him an advantage over Obama in having built many of those relationships in his previous job; Obama has to work even harder to forge those ties.
The president has ramped up his efforts recently, including recruiting Jeffrey Immelt, the CEO of General Electric, to head his jobs council. Public-private partnerships appear to be the next big step - but it's unclear how much impact they'll have, given how little they actually ask from business leaders.
The manufacturing partnership, for example, leverages existing funds from the government to the tune of $500 million. It draws on the brainstorming of some of the country's top manufacturers (including Caterpillar, Ford, Intel, and Proctor and Gamble) and some of its top academics (including researchers from the Massachusetts Institute of Technology, Carnegie Mellon University, and Stanford University). Even in its leadership capacity, several people within Dow contribute time and ideas, but no one had to redirect full attention to the president's Advanced Manufacturing Partnership.
If he hopes to create more partnerships of this nature, Obama will have to prove the seriousness of his efforts to reform regulations and open trade, two major issues for the business community. Bill Galston, a Brookings Institution scholar and former Clinton adviser specializing in domestic policy, said that ensuring quick passage of pending free-trade agreements with Colombia, Panama, and South Korea would be a way for the administration to demonstrate its intentions. For months, the pacts were held up by differences over a program to train and aid U.S. workers whose jobs would be displaced by the agreements. Congressional leaders have managed to deal with those issues, making the trade bills some of the only legislation with the potential to pass Congress upon its return in September - if the Obama administration submits them for passage. To deepen work around manufacturing, the president may have to toughen his stance on China, a major issue for both manufacturers and voters, according to Scott Paul, the executive director of the Alliance for American Manufacturing.
Dow officials say their communication has improved with the administration under the partnership, but that they still await some concrete action. "I think that expectations remain high that there will be actions to flow from the dialogue," said Peter Molinaro, Dow's vice president for federal and state government affairs.
The partnership with Dow is a bright spot on the horizon for recovery, but it's not enough. To be effective, any future partnerships may need to ask the business community to put more skin in the game, and the government will need to continue to provide incentives to the private sector that a free market will not create on its own. But getting to that stage will require Obama to put more muscle behind talk on the business community's principal issues and to spend time deepening his relationship with key leaders who can act as liaisons.
Liveris is a good start. He lays out a view of the world in which the business and the private sector are partners, working in tandem to kick the American economy back into gear. The president and the business community are standing at a precipice, waiting on growth to begin. It's time to join hands and jump.