Bachmann Softens on Farm Subsidies
She used to criticize them fiercely, but the congresswoman's family farm gets federal assistance. So do Iowans.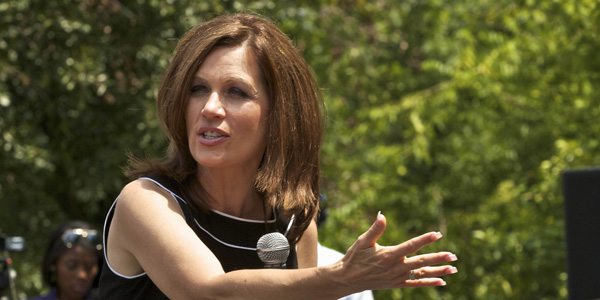 Not long ago, Rep. Michele Bachmann viewed farm subsidies as "outrageous pork." But after a summer of blistering criticism about the nearly $260,000 in government handouts that went to a family farm partially owned by Bachmann and her husband, the archconservative and GOP presidential candidate softened her tone considerably in an interview with National Journal.
---
MORE FROM NATIONAL JOURNAL:
Despite Change at Top, Apple Unlikely to Shift Low-Key D.C. Approach
Libya's Fog of Frozen Assets
America's Summer of Discontent
---
While she insisted that "our federal budget needs a complete overhaul, and agricultural subsidies are no exception," Bachmann would not commit to doing away with them without seeing details of any future legislation. "If all farm subsidies were ended, that would be a complete change of policy over the last 80 to 90 years of American history, and that would be a very interesting vote," she said. "So, of course, I would have to look at that before I could tell you how I was going to cast my vote."
The Minnesotan's positions on subsidies are getting heightened scrutiny in agriculture-dependent Iowa, which holds the first-in-the-nation caucus in January. She has based her appeal to the tea party and other conservative activists on her commitment to a minimalist federal government that does not pick economic winners and losers. When the multiyear farm bill was under consideration in 2007, Bachmann opposed it in the House, saying that it was "loaded with unbelievably outrageous pork and subsidies for agricultural business and ethanol growers."
This month, she reported receiving between $5,000 and $15,000 from a family farm in Independence, Wis., and estimated the overall value of her interest at between "$500,000 and $1 million" in 2010. The farm received nearly $260,000 from 1995 to 2008, according to the Environmental Working Group, a Washington-based environmental-advocacy group. Members of Congress are only required to report ranges of income and assets.
Bachmann said that the income was plowed back into overhead to run the farm, and that she opted to report it on her most recent financial-disclosure forms "out of an abundance of caution." Her father-in-law, Paul Bachmann, applied for the subsidies beginning in 1995. Since the congresswoman and her family members became partners in the farm in 2001, she said they have not kept "a dime" of income from it and that the money goes straight to her mother-in-law, whose livelihood has depended on the farm since Paul's death in 2009. In a statement, mother-in-law Elma Bachmann said, "We formed the family-farm partnership 10 years ago to plan for the future. Since then, all of its income has been used to run the farm and provide for Paul and I. Marcus, Michele, and our grandchildren have not taken income from the farm."
The candidate said she believes she is facing inordinate scrutiny because of her tough stances on the budget. "Obviously, I've been a very strong fiscal conservative, and as part of that I think all parts of the budget need to be open to reduction; that may be why this has come up," Bachmann said.
"I understand the importance of maintaining our nation's strong agricultural backbone and the unique challenges our farmers face, but our federal budget needs a complete overhaul, and agricultural subsidies are no exception," she said. "While reasonable people can disagree over the size and scope of the safety net we provide our farmers, the government has no business picking winners and losers and spending billions of dollars in unneeded and often unwanted subsidies."
As she campaigns in Iowa, Bachmann is emphasizing her sympathy for family farmers. The state ranks second in the nation in farm-subsidy receipts, according to the environmental group.
Image credit: Brett Flashnick/AP