As Recall Fight Recedes, What Can We Learn From Wisconsin?
After the state became a battleground for national interests, both sides will leave with more questions than answers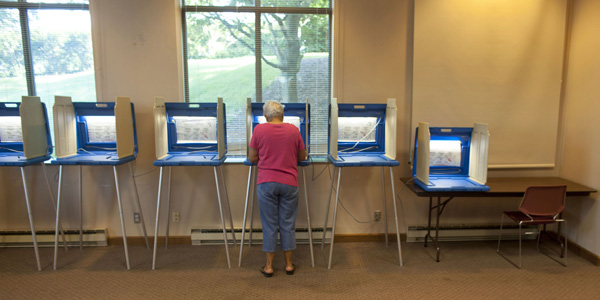 They came. They saw. They (almost) conquered.
But almost wasn't quite good enough for Democrats on Tuesday in a a series of six Wisconsin Senate races that turned into a high-priced proxy war over national spending priorities. Democrats knocked off two supporters of Republican Gov. Scott Walker's controversial budget-cutting and union-busting agenda, but fell just short of the prize they had been chasing for months: control of the chamber.
Voters returning Democrats to a majority in the state Senate would have been the clearest repudiation yet of the Republican agenda that liberal activists have railed against for much of this year. Instead, Democrats and allied groups are left with more questions than answers. And not just about Wisconsin.
Organized labor was a major driver of the effort to recall Republicans, a contest that drew as much as $35 million, according to one estimate, into a state that is a traditional presidential battleground. Outside groups on both sides flooded the airwaves with ads in contested districts.
Public employee labor unions have another fight looming in another swing state. In a November referendum, they'll be trying to repeal an Ohio law that another freshman Republican governor, John Kasich, signed this year to curtail state workers' bargaining rights. As in Wisconsin, the petition signature collection phase was energetic, with organizers collecting more than the requisite number of signatures to bring qualify for the ballot. Public polling has indicated support for repeal, but the disappointment of Wisconsin raises questions about whether the wave of anger that put the repeal measure on the ballot will have subsided by November.
In Wisconsin's wake, Democrats are also left asking themselves, how effectively their portrayal of a national GOP agenda will resonate with voters in down ballot races, moving toward 2012. The recalls may have begun in response to Walker and his controversial "budget repair" bill that pared down collective bargaining for public employees, but by the time the campaigns were in full swing, Democrats and their allies were tying Walker's agenda to a national GOP spending priorities.
If that message resonated on in the recalls, it was mainly in places where Democrats were expected to win Tuesday. In the 32nd District, state Sen. Dan Kapanke was unseated by Democratic state Rep. Jennifer Shilling. The district tilted Democratic; it voted for now-former Sen. Russ Feingold in 2010 and overwhelmingly for Democratic-backed JoAnne Kloppenburg in this year's state Supreme Court race. The Democrats' other victory in the 18th District was less clear-cut as a referendum on spending priorities: They unseated a flawed incumbent hamstrung by a string of negative personal headlines.
Even so, Republicans should walk away with questions of their own. One is about interpreting their mandate. There was a price to pay in Wisconsin on Tuesday for the party's agenda: two seats. What was a comfortable 19-14 majority will be a tight, 17-16 majority, unless the GOP can defeat one or both of the Democratic senators facing recall elections next week. Among the chief criticism from Walker's opponents: He didn't make his agenda explicit in his 2010 campaign. When voters elected Republicans up and down the ballot in Wisconsin last year, were they embracing a tea party agenda? Or merely expressing unhappiness with President Obama's party?
For Republicans, the losses in Wisconsin could have been far worse. Other Republican governors across the country facing early some early anger in their home states - Kasich, Rick Scott of Florida, and Rick Snyder of Michigan - can take away some hope that their austerity measures, while prompting some early backlash, ultimately will be accepted.
Democrats' ability to pick up two Republican seats is not insignificant, especially considering how rare it is to recall state legislators. But a third win would have given Democrats a much more tangible boost, and added momentum toward what many state party activists see as the ultimate goal: a recall of Walker himself next year.
While a recall effort against Walker next year isn't out of the question, the prospects are diminished by the Tuesday's outcome. Following a year in which they fell short in a state Supreme Court race and recall elections that were aimed at repudiating the governor, liberals will have to decide whether it's worth the effort and expense to take aim at him again -- especially in a year when Democrats will want to keep the focus on holding onto the White House.
Image credit: Darren Hauck/Reuters