As Critics Pounce on Perry, Romney Lays Off
Candidates and bystanders alike have taken shots at the Texas governor. The 2012 frontrunner, by contrast, has remained quiet.
Candidates and bystanders alike have taken shots at the Texas governor over the past week. The 2012 frontrunner, by contrast, has remained quiet.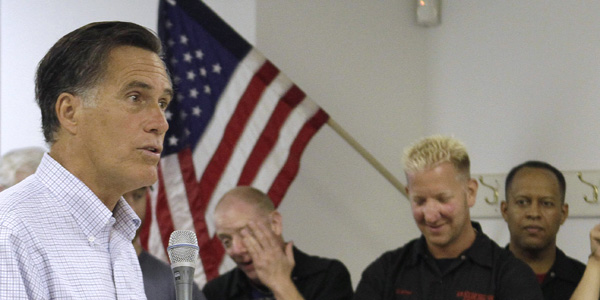 Since Texas Gov. Rick Perry entered the Republican presidential race, he's given plenty of ammunition to his political opponents - from suggesting that Federal Reserve Board Chairman Ben Bernanke's monetary policies were borderline-treasonous to questioning the science behind climate change.
The scrutiny has followed: Bush adviser Karl Rove called Perry's controversial comments on Ben Bernanke unpresidential. Two of his Republican presidential opponents, from the center and the right, characterized his statements as extreme on national television. Even his successor at the Republican Governors Association, Virginia Gov. Bob McDonnell, called Perry's Bernanke remarks "incendiary," and said he didn't add to the national debate.
---
MORE FROM NATIONAL JOURNAL:
Qaddafi Isn't Giving Up Without a Fight
Hotline Sort: Supersize Me
H Street Savior Remembers Bittersweet King Legacy
---
(PICTURES: Meet the 2012 Republican Presidential Hopefuls)
Romney has been playing the political equivalent of prevent defense throughout the campaign, avoiding engaging his Republican rivals and keeping his focus on President Obama. And for now, that strategy looks like it will continue, as the Romney campaign hopes Perry will self-destruct and that other opponents will aggressively go after him, allowing Romney to stay above the fray.
"Mitt Romney considers Rick Perry a friend and believes he will add a lot to the discussion during the primary," said Romney spokeswoman Andrea Saul. "But he is going to stay the course and keep his focus on President Obama's failed economic policies. This country needs a president who understands how the economy works and has private-sector experience. That is why Mitt Romney is running."
Romney is unlikely to engage the Texas governor much beyond drawing the contrast between their depthl of experience in the private sector, at least for now. Romney's mission is to present himself as the strongest challenger to Obama. Sniping at Perry doesn't further that goal.
That strategy depends on the media and other presidential candidates doing the dirty work for him. And on this part, he's had some early success. Rick Santorum compared Perry to liberal Rep. John Conyers (D-Mich.) for his red-meat criticism of Bernanke. Jon Huntsman took Perry to task for suggesting that climate change and evolution aren't real. Both are exactly the kind of volatile issues that Romney would rather avoid in a GOP primary.
"In boxing, you don't fight beneath your weight class,'' said Florida lobbyist Brian Ballard, a member of Romney's national leadership team. "Until Perry has been out there a couple of months and shown that he is a legitimate rival ... I don't think we'll engage him much.'' Romney's silent treatment largely hinges on Perry. Even as Perry has taken shaken up the GOP field, his controversial remarks have stirred fears among many Republicans that the governor could give a vulnerable Obama an opening in the general election. Rep. Paul Ryan (R-Wis.), New Jersey Gov. Chris Christie and Sarah Palin have reemerged as long-shot possibilities to enter the race, more a sign of establishment dissatisfaction with the field than of their seriousness of mounting a late run. The ability of the nominee to defeat Obama is high on the minds of many Republican voters, said Alex Castellanos, an unaffiliated GOP strategist who worked with Romney in 2008.
"Right now, there's no question he's campaigning like a freight train," Castellanos said. "But there is a question of whether he can keep the campaign on the tracks. So I think it makes sense to wait back and see."
Romney has another motive: Directly engaging Perry would turn the campaign into a two-candidate race at the expense of Rep. Michele Bachmann. Right now, the Minnesota lawmaker is positioned to take many social conservative and evangelical votes away from Perry. If Bachmann wins the Iowa caucuses, it would seriously hurt Perry's campaign. "He's going to be exposed to the harsh light of a presidential campaign, and I don't think Romney or the other candidates have to do anything,'' Ballard said.
For now, Romney has been relying on voices in the Republican establishment who have raised questions about Perry's electability in a general election. On ABC's "This Week" Sunday, columnist George Will sounded skeptical about Perry's ability to win over independents and suburbanites - critical swing constituencies in a general election. Perry's conservative bona fides appear solid, but the electability question is still out there.
If Bachmann fades, however, it would force Romney's campaign to directly engage Perry on substantive policy differences, and there aren't many clear lines of attack that would appeal to conservatives. Raising questions about the high percentage of Texans without health insurance, for instance, won't resonate in a Republican primary.
"To a Washington liberal, that's the ultimate indictment, said Republican strategist Todd Harris, who advised Perry's opponent in the 2010 Texas governor's primary, Sen. Kay Bailey Hutchison. "But in the context of the Republican primary, it's hardly the most effective hit against him.''
Perry's record does have blemishes in conservatives' eyes: He has supported pathways to citizenship for illegal immigrants, and he mandated that all of the state's sixth-grade girls receive a vaccine to guard against the human papillomavirus virus. But neither of those issues were enough to sink him when he took on Hutchison in 2010, a race he won easily.
All of it puts Romney in a difficult place.
"Mitt Romney's an arranged marriage [for Republican voters], but they'd marry Rick Perry for love," said Republican consultant Rick Wilson. "There may be great things about the arranged marriage, but that's not the whole thing."
Image credit: Jim Cole/AP