After House Vote, the Debt Deal Is All But Done
After the agreement clears a key hurdle in the lower chamber, the Senate is expected to send it to Obama's desk on Tuesday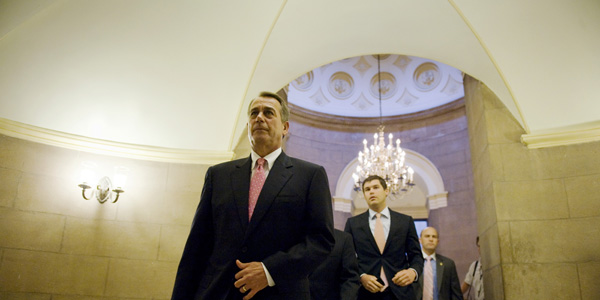 The House passed, 269-161, a deficit-reduction package that will raise the debt ceiling through the 2012 elections. It was a bipartisan vote, with 174 Republicans and 95 Democrats voting in favor of legislation that had opposition from both the right and left flanks.
---
MORE FROM NATIONAL JOURNAL:
White House Reaching Out to Liberals
The Deal, Point by Point
The Debt Debate: America's New Civil War?
---
The legislation guarantees at least $2.1 trillion in deficit reduction over 10 years, with negotiators hopeful that it will achieve closer to $3 trillion in savings if Congress can enact further deficit-reduction measures by December. The legislation also provides for a vote on a balanced budget amendment to the Constitution before the end of the year. It includes no tax increases.
The bill was the result of months of wrangling between President Obama and congressional leaders. The bill now heads to the Senate, where it is expected to pass. A vote is expected on Tuesday, after which the president will sign it into law.
Rep. Gabrielle Giffords (D-Ariz.) also returned to the House to cast her first vote after being wounded in a January shooting. She voted in favor of the bill.
The House is expected to adjourn for the August recess later tonight.
Image credit: Jonathan Ernst/Reuters