After Boehner Rebuffs Obama, Email Sniping Begins
Partisan rancor was alive and well on Capitol Hill Wednesday, as staffers jockeyed to spin reporters on who has behaved more childishly
Partisan rancor was alive and well on Capitol Hill Wednesday, as staffers jockeyed to spin reporters on who has behaved more childishly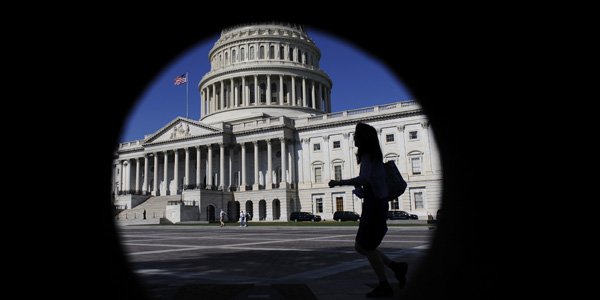 On Wednesday afternoon, President Obama asked to address a joint session of Congress next Wednesday, the same night Republican presidential candidates are scheduled to hold a nationally televised debate. House Speaker John Boehner rejected him, proposing Thursday instead in his own letter back to the president. The House will open its session late in the day, and there might not be enough time for a pre-presidential security sweep of the Capitol, Boehner suggested.
This scheduling conflict was unusual not only because Congress typically meets a president's requests, but because of its political connotations. By speaking on Wednesday, Obama would preempt a debate in which Republican candidates are expected to roundly bash him on the very topic of his proposed address -- jobs and the economy.
After this drama unfolded, staffers on Capitol Hill began the fight to spin reporters via email over who, in fact, was being petty.
From an aide to House Minority Leader Nancy Pelosi, who requested not to be quoted by name: "The House Democratic leadership was not consulted with respect to Speaker Boehner's letter requesting a new date for the President's address."
Then, from Boehner spokesman Brendan Buck: "No one in the Speaker's office - not the Speaker, not any staff - signed off on the date the White House announced today. Unfortunately we weren't even asked if that date worked for the House. Shortly before it arrived this morning, we were simply informed that a letter was coming. It's unfortunate the White House ignored decades - if not centuries - of the protocol of working out a mutually agreeable date and time before making any public announcement."
Then, from the same Pelosi aide: "The childish behavior coming out of the Speaker's office today is truly historic. It is unprecedented to reject the date that a President wants to address a Joint Session of the Congress. People die and state funerals are held with less fuss, so the logistics excuse by the Speaker's office is laughable. Yes, consultation always occurs, but the President always gets the date he wants."
Image credit: Jonathan Ernst/Reuters