After 2009 Turmoil, Town-Halls Are Scarce
Two years ago, protesters disrupted constituent forums in congressional districts across the nation. This August, lawmakers have shied away from holding them.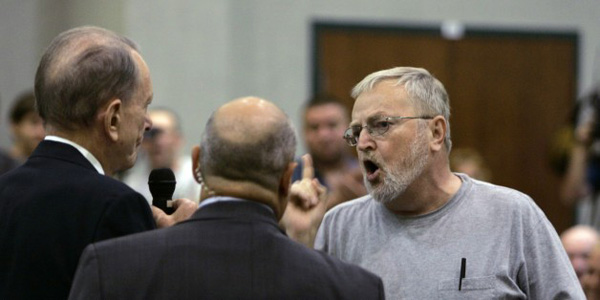 Public approval of Congress has hit a historic low, and the economy has voters fuming. But town halls this August recess have been surprisingly quiet. Scattered protests and individual outbursts have arisen, but nothing like the massive tea party uprisings in August 2009.
One reason for the lack of truly disruptive town hall meetings: Activist groups on both sides of the political spectrum complain they just can't locate them.
Open town halls can be "really hard to find," said Kara Pally, a web developer at FreedomWorks, a conservative grassroots group. "People will call their representatives repeatedly, but don't see the information until the very last minute."
Meanwhile, MoveOn.org activists have found it so difficult to find town hall events this recess that many activists have scheduled private meetings with their representatives instead, said Justin Ruben, the progressive group's executive director.
"After 2009, most members of Congress stopped making themselves so available," Ruben said.
Rep. Raul Grijalva (D-Ariz.) has come to believe that town hall meetings can be "counterproductive," said spokesman Adam Sarvana, adding that the liberal firebrand sees no need for "the Republicans to show up here to yell at him." Instead, Grijalva has opted for themed meetings, small venues and press conferences.
Rep. Tim Griffin (R-Ark.) has held a marathon of 13 town halls in his reliably Republican district this recess. But the threat of yelling activists was on his mind: He began several recent forums by mentioning a MoveOn.org primer on disrupting events.
"I referenced to it and said, this is what some people are trying to do," Griffin said. "I just want everybody to be heard, to be civil and respectful."
Being mobbed by protesters in 2009 hasn't stopped Rep. Tim Bishop (D-N.Y.) from holding traditional town halls, said spokesman Jon Schneider. But Bishop has spent most of his time meeting with constituents one on one and making casual appearances this recess.
FreedomWorks has developed an online networking tool, called Freedom Connector, that helps users find nearby conservative activists, groups, and events. Liberal blog the Daily Kos has linked to Freedom Connector as a source of information on when and where to find elected officials.
The situation doesn't mean lawmakers aren't meeting with constituents--they are. But scheduling quirks like charging for events, timing events inconveniently, and hosting events for specific interest groups have helped lawmakers limit their exposure to confrontational constituents.
Congressional aides insisted that their events are well publicized through e-mail, website announcements, or alerts in local newspapers. They cited scheduling issues as the top reason for announcing an event on short notice.
But not all members make their schedules public. The office of Rep. Dave Reichert, (R-Wash.) declined to release his schedule of events.
"Aside from various other tours and visits in the community, we are currently planning his tele-town hall schedule," spokesman Charles McCray wrote in an e-mail. More than 200 protesters gathered outside Reichert's office on Thursday, the third such incident this month.
Some legislators are, and always have been, bigger fans of the town hall format than others. Politicians who were narrowly elected in 2010, or faced contentious battles in swing districts, perhaps have the biggest incentive to avoid bad publicity. But now that "town hall meeting" has become a synonym for "angry shouting match," politicians of all stripes are approaching the venue with caution.
High-tech alternatives, like "tele-town halls," have emerged as something of a double-edged sword for elected officials. The mass conference calls are an easy, low-cost way to reach hundreds of constituents, but they've been criticized for being "a little bit more easily manipulated," said Norman Ornstein, an expert on Congress at the American Enterprise Institute.
As a candidate, Rep. Allen West (R-Fla.) decried tele-town halls: "It's a controlled environment where you can screen and select who you have contact with. It's an aberration of the American democratic process." This month, however, West will hold two.
"You have got to entertain the thesis" that some members of Congress just don't want to face an angry public, said Ornstein. Many members avoiding town hall meetings this recess rode a wave of tea party anger to victory in 2010, Ornstein noted. To hide their faces now is "quite a pivot," he said.
"We are a direct democracy," said Bill Whalen, a research fellow at the Hoover Institution. Politicians "have to hold town halls or some sort of open forum" if they ever hope to get elected, let alone stay in office.
Sam Rohrer, state director of Americans for Prosperity-Pennsylvania , also said that the interest of people "has never been keener," and the angst level has never been higher. "If you're telling the truth and serving the people properly when you're in office, you desire two-way communication" with your constituents, Rohrer said. He called the lack of open town halls in his state "unfortunate."
Steering clear of town halls this August may have helped lawmakers avoid a repeat of August 2009. But in an increasingly networked world, it's getting harder and harder for politicians to control any of their public appearances.
"A political flash mob is something I would look for in 2012," said Whalen. With tools like Twitter making it easier than ever for voters to organize, he said, "What's stopping you and your group from mobilizing?"
Image credit: Chris Gardner/Getty Images