Advice for Candidates: Skip Iowa
Presidential hopefuls are obsessed with the Hawkeye State, devoting money and time that won't pay off in the end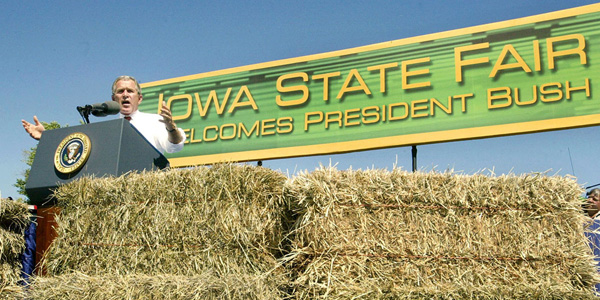 Eleven years ago, George W. Bush campaigned in the Iowa caucuses and won. That was the year Steve Forbes and Alan Keyes trailed behind him, and a virtually unknown John McCain trailed way behind. And that was the last time a Republican who has run (opposed) and triumphed in Iowa has gone on from there to win the presidency. The Iowa caucuses may be first in the nation, but they don't live up to the emphasis placed on them by candidates and the media.
Since 1972, when the Iowa caucuses emerged as the first step in the nominating calendar for Democrats, it has been a target of media buzz and candidate attention. This national love-fest has lead many to see Iowa as a litmus test for candidates. They spend precious time and money hoping to win the state's first-in-the-nation contest and gain momentum to propel them in the primaries that follow. This year is no exception, as Iowa-born newcomer Michele Bachmann has ridden to national prominence on impressive Iowa poll numbers. A mid-July Mason Dixon poll had her in first there, at 32 percent, with national frontrunner Mitt Romney surprisingly behind, and a deluge of Bachmann banter on cable news has followed.
Bachmann, Tim Pawlenty, and the remaining slew of GOP hopefuls are crisscrossing the state, campaigning hard to perform well in the Ames straw poll coming up this Saturday. In the last three weeks, Pawlenty has visited dozens of towns, and the former Minnesota governor hopes to have covered 1,500 miles of Iowa territory in the closing weeks before the poll.
But for candidates focused on winning votes, and for voters in other states concerned with results, the focus on Iowa seems puzzling, if not a waste of time.
Some criticize the caucuses over procedure: Only the Republicans cast secret ballots; absentee voting isn't allowed; the entire process takes an absurd amount of time. But Iowa is irrelevant for more important, big-picture reasons.
For both Republicans and Democrats, winning Iowa doesn't mean winning the nomination, or the presidency. Compare Iowa's predictive power to that of the South Carolina GOP primary, or to the role of Ohio in the general election. South Carolina has selected the eventual Republican nominee, and Ohio has selected the presidential winner, in every presidential election year since 1980.
Iowa may be first, but it's never been a perfect bellwether. The caucuses offer candidates a chance to prove they can organize well, but they are not even an accurate gauge of the public opinions of most party members, let alone most Iowa voters.
In 1972, Democrat Edmund Muskie won the Iowa caucuses and went on to win the New Hampshire primary, but lost momentum and returned to the Senate. In 1976, Jimmy Carter won Iowa, the nomination, and the presidency. In 1984, Walter Mondale won both the Iowa Democratic caucuses and his party's nomination but lost to Ronald Reagan in the general election. In 1988, Dick Gephardt won the caucuses but lost the Democratic nomination to Michael Dukakis. In 1992, Iowa Senator Tom Harkin (D) won the Iowa caucuses by a landslide but lost his party's nomination to Iowa's third runner up -- Bill Clinton. In 2008, Iowa lived up to its hype, as then-Sen. Barack Obama won the caucuses and rode that momentum to the White House.
In 1976, the first year Republicans held caucuses in Iowa, then-President Gerald Ford won them and his party's nomination but lost the general election to Jimmy Carter. In 1980, George H.W. Bush won them but lost the GOP nomination to Reagan. In 1988, Bob Dole won the Iowa caucuses but lost the nomination to then-vice-president Bush. In 1996, Dole won Iowa and the nomination but failed to beat Clinton in the general election. George W. Bush won the Iowa caucuses and general election in 2000. In 2008, Mike Huckabee won Iowa with 34 percent of the caucus votes but failed to take that momentum too far past the cornfields.
What this means, given Iowa's loose correlation to eventual electoral success, is that candidates have over and over sunk outsized portions of their resources into a state whose momentum can't be guaranteed to launch a nomination-winning bid.
This year, two notable candidates wisely aren't campaigning in the Hawkeye State.
Romney has staff in Iowa, but his campaign is expected to use its resources elsewhere. After spending heavily in 2007 to drum up support in the Ames straw poll, Romney will skip it this time around -- and he's considered the overall frontrunner in the GOP presidential race.
Jon Huntsman, the Utah Governor who declared his candidacy last month, is skipping Iowa altogether and instead opting to campaign in New Hampshire, South Carolina and Florida. Huntsman's reasons for abandoning Iowa largely involve money and timing, but he may have chosen a prudent strategy. Huntsman has set up camp in Florida, where he hopes to win a September straw poll and ride for a while on earned media. He still plans on traversing other states, like Nevada, that have earlier primaries but still carry weight in national elections and could better predict national chances. He'll try to avoid putting all his eggs in one basket, a la Rudy Giuliani's 2008 Florida fiasco.
When it comes down to it, the hubbub over the Iowa caucuses demonstrates America's adoring--if sometimes twisted--fascination with its own political process. Iowa gets the attention because it's a tradition. It starts that process out with a bang, but it's far from the finish.
Image credit: Larry Downing/Reuters