11 Proposals Obama Could Make in His Big Jobs Speech
The president will lay out an economic agenda on Monday. Details are scarce, but here are a few guesses at what he might say.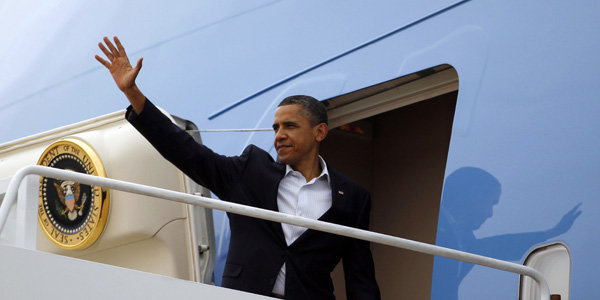 President Obama is slated to deliver a major speech on job creation next week. He may propose steps to increase hiring directly, perhaps through tax credits and new work-training programs, and indirectly, by backing measures to stimulate consumer demand, said the forecasting firm Macroeconomic Advisers.
Obama said on Monday his initiatives would be "bipartisan ideas that ought to be the kind of proposals that everybody can get behind." The White House has not revealed details, but here are ideas--some of which Obama has already supported--that could be part of the speech:
Creating an "infrastructure bank." President Obama has called on Congress to create an "infrastructure bank" that would make loans to support highway and rail construction projects. The idea has support from the U.S. Chamber of Commerce but faces high hurdles in Congress, The Wall Street Journal reports.
Renewing payroll-tax cuts. The White House and Congress agreed in December to a one-year cut in the level of Social Security payroll taxes paid by employees, from 6.2 percent to 4.2 percent for most workers. Speaking in Cannon Falls, Minn., earlier this month, Obama called for extending the tax cut beyond December, saying it would put money in consumers' pockets and in turn boost businesses and hiring. "All we need to do is renew it," he said. "It's already in place."
Implementing a new-hire tax credit. Businesses would receive a $5,000 credit for hiring a new employee, and part of that employee's salary would be subsidized. Labor economist Alan Krueger, who was nominated on Monday to head the White House Council of Economic Advisers, supports the idea, NPR reports. And the White House is reviewing it, according to Reuters.
Extending jobless benefits. Some argue that extending jobless benefits does little to alleviate unemployment because it discourages people from looking for work. White House Press Secretary Jay Carney, on the other hand, called it "one of the most direct ways to infuse money into the economy, because people who are unemployed and obviously aren't earning a paycheck are going to spend the money that they get. They're not going to save it; they're going to spend it."
Creating a tax credit for hiring returning veterans. In early August, Obama proposed $120 million in tax credits for businesses that hire Americans returning from war in Iraq and Afghanistan as part of a comprehensive plan to boost employment support for veterans. One aspect of the program would be a "reverse boot camp" to help former service members transition back into a civilian labor market. Obama also said he will challenge businesses to hire or train 100,000 unemployed veterans and their spouses by the end of 2013.
Ratifying pending trade deals. Finalizing long-stalled pending free-trade agreements with Korea, Panama, and Colombia would create a stronger platform for exports and in turn boost hiring in the United States, proponents say. Opponents argue they would outsource jobs. Voting on the trade agreements was stalled by debt-ceiling talks this summer but is expected to be on the congressional agenda this fall.
Reforming the patent process. The Senate is scheduled to vote in September on whether to take up the patent-reform bill passed by the House in June. The bill is meant to help move the U.S. Patent and Trademark Office move through a backlog of applications and would establish a post-grant review process. "If we could reform how that system works and cut some of the red tape, we could have entrepreneurs like Google and Microsoft right now, all across the country," Obama said this month. "But we've got to make this investment, and Congress could make that decision to make it happen."
Providing aid for teachers. The White House is reviewing a plan to provide aid to cities and towns to help them grow the number of teachers on their payrolls, Reuters reports. Proponents say the decline in state and local workers contributed to the rising national unemployment rate; opponents charge that the plan would amount to unnecessary spending.
Improving rural broadband connections. President Obama has called for broadband and wireless coverage of 98 percent of the country (about 68 percent is currently covered). The initiative would be aimed at opening isolated businesses to farther-flung markets, which could boost rural hiring. "The days are gone where any business is going to succeed just by selling right where they're located," Obama said on his Midwest tour.
Providing job training for long-term unemployed. Obama has praised a Georgia program that provides eight weeks of unpaid training at a local company for people receiving unemployment benefits. The Wall Street Journal reports that a similar program is likely to be included in the president's new jobs initiative. Macroeconomic Advisers called such a plan expensive and "unrealistic" to quickly replicate nationwide.
Funding school renovations. The White House is reviewing an initiative to fund school renovations, Reuters reports. The plan is popular among Democrats, who say it would create construction jobs while improving communities. Republicans would likely resist the initiative because it involves new spending.
In addition, Obama is expected to spend part of the speech calling for further long-term deficit-reduction cuts, exceeding even the $1.5 trillion the bipartisan super committee has been charged with finding this fall. Obama said the additional savings will be achieved more through spending cuts than revenue but that the White House will take a "balanced approach and everything is going to be on the table."
Image credit: Jason Reed/Reuters