With Few House Members Vulnerable in 2012, Which Seats Can Shift?
After three wave elections, voters may decide to throw the bums out -- but keep the Republican majority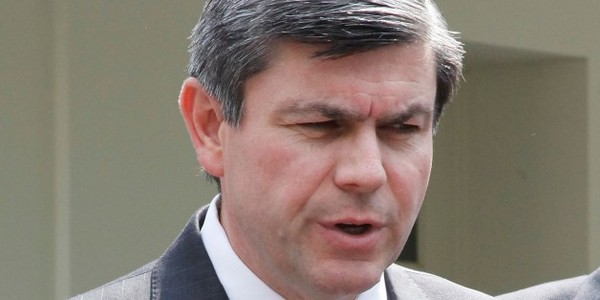 Arkansas Democrat Mike Ross survived the GOP wave in 2010. credit: Mark Wilson/Getty Images
In recent years, it hasn't been hard for House campaign committee officials to identify their list of most vulnerable members on the other side of the aisle. Going after Republicans representing Democratic-leaning suburbs has been a key element of the Democratic Congressional Campaign Committee's strategy to win control of the House. Likewise, the National Republican Congressional Committee is accustomed to pursuing moderate Democrats with relish.
But this year, the game is different. After three consecutive wave elections, the House caucuses have become much more ideologically homogenous: There simply aren't many Democrats left representing the rural, conservative heartland or, conversely, many Republicans in the inner suburbs. Blue Dog Democrats are struggling to remain relevant, having lost more than half of their members to last year's midterms and others, such as Rep. Dan Boren (D-Okla.) to retirement.
Only 13 Democrats represent districts that Sen. John McCain (R-Ariz.) carried against President Obama. And even after last year's landslide, just 13 Republicans represent districts that Democrats carried in the 2004 and 2008 presidential elections. Many of those 26 members are battle-tested, having survived the 2006 and 2010 elections that wiped out their respective party's control of the chamber.
More important, redistricting has dramatically altered the landscape, fortifying once-vulnerable members while weakening others' political standing. As I wrote last month, some of the most familiar targets--such as Republican Reps. Jim Gerlach of Pennsylvania, Steve Chabot of Ohio, and Dave Reichert of Washington--are likely to be running in safer seats in 2012. In turn, some of the previously safest members are suddenly in unfamiliar, unfriendly territory.
The multimillion-dollar ad blitz this week by the Republican-aligned super PAC Crossroads GPS is a telltale sign of how much has changed. Launching attacks against 10 House Democrats, the group teased out the targets it believes will be the most vulnerable heading into 2012. It's a list that looks entirely unfamiliar to those who have followed House races in recent years.
Rep. Mike Ross (D-Ark.) didn't even face GOP opposition in three of his past four elections, and he dodged the Republican wave by winning 58 percent of the vote last year. Since winning a full term in 1988, Rep. Jerry Costello (D-Ill.) has coasted in every election for over 20 years. Rep. Lois Capps (D-Calif.) skated last year by nearly 20 points, but she already faces one of the GOP's leading recruits, former Lt. Gov. Abel Maldonado, in a redrawn district that's much more competitive.
Reps. Tim Bishop (D-N.Y.), Ben Chandler (D-Ky.) and Jim Matheson (D-Utah) won in close races last year, but it was the first time that they had been seriously challenged in a while.
The story is the same for the Democratic strategists targeting Republicans. Even with the slew of freshmen to go after, many of the most vulnerable GOP members are those who have been around for years and rarely faced serious opposition. Thanks to redistricting, California is shaping up to be a hotbed of top Republican targets, even though only one incumbent has lost in the last decade. Reps. Dan Lungren, David Dreier, Gary Miller, Brian Bilbray, and Elton Gallegly all figure to face trouble in newly drawn districts--if they even decide to run again.
It's a similar situation in Iowa, where GOP Rep. Steve King is facing a well-funded challenge from Democrat Christie Vilsack, the wife of the former governor. King, a conservative firebrand, has never had any serious opposition in a general election, but with Iowa losing a district in reapportionment, his seat has become more competitive.
One of the most obscure members of the House, Rep. Tim Johnson (R-Ill.) will be getting renewed attention after state Democrats drew him into a district with few of his old supporters. That could prove to be a challenge for a member who prided himself on calling every one of his 653,000 constituents--and will need to start all over again this year.
Even Rep. Paul Ryan (R-Wis.) finds himself in the Democratic crosshairs, after being just an afterthought to the DCCC in past elections. Part of the challenge in taking on Ryan is symbolic, because of his controversial entitlement-reform proposal, but he represents the kind of district that Democrats need to win to take back the majority.
This cycle, the biggest surprise may not be which party wins control of the House--Democrats still face tough odds--but the types of members who lose. Factor in redistricting and the public's widespread dissatisfaction with Congress, and many new names from both parties will be on the endangered list.
In 1992, another election after redistricting, the House saw incredible turnover but minimal change in the balance of power. Then, as now, in the face of scandal and a weak economy, Congress's approval rating had hit rock-bottom. Forty-three incumbents lost (19 in primaries), and a whopping 65 retired, but Republicans barely dented the Democratic majority, netting just nine seats.
Next year could well provide similar drama. Voters may indeed decide to throw the bums out, but not the Republican majority.