Whither the Public Union?
In our "Question of the Day" feature for this year's Ideas Special Report, our readers tackle some of the emerging issues that are defining our time.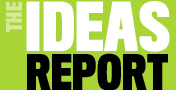 The first half of 2011 has not been a good one for public unions. With membership already on the decline for several years, public workers have lately become the target of state governors suffering form budget shortfalls and a poor economic outlook.

In the
July/August issue of
The Atlantic
, 
Jonathan Chait
 of 
The New Republic
 observes that in the past year, "public-employee unions emerged from a sleepy little corner in the demonology of American conservative thought to briefly occupy the role of villainus maximus in an ideology-laden fight over the soul of the American workforce." Here's how he summarizes the argument against them:
Perhaps unions have some role in the private realm, giving workers more leverage against employers seeking relentlessly to maximize their share of the firm's proceeds, but the logic does not apply to government. Indeed, since the opposite side of the public bargaining table is occupied by disinterested public servants rather than capitalists, and since public unions can influence the outcome of the elections, the public unions are bargaining with ... themselves.




Diagnosis: public employees are fat cats with absurd compensation packages. Prescription: deunionization.
Question of the Day: Are public unions on the decline? Or will they make a comeback as the economy improves and political pressure is focused elsewhere?