When Should Newt Gingrich Drop Out?
His campaign has not gone well. Here's how the former speaker can make a graceful exit.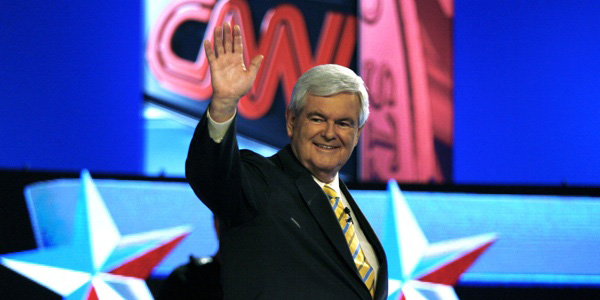 For Newt Gingrich, it may only be a matter of time.
The former Republican speaker of the House has not run a good presidential campaign thus far. He was dissed by an angry Iowan on Fox, had glitter dumped on him in Minneapolis, was roundly mocked for his over $250,000 Tiffany account, took a two-week vacation to the Greek isles instead of hitting the pavement, saw his campaign team quit en masse as soon as he got back, and got mocked again for another account with Tiffany, this one larger than the first.
Now comes the news that Gingrich raised $2 million in the last three months -- less than half the amount of money his Republican presidential primary competitors Ron Paul, Tim Pawlenty, and Jon Huntsman each brought in -- and that his campaign is more than $1 million in debt. That doesn't bode well for his chances at the GOP nomination. He's a talented debater, but that may not be enough to overcome the obstacles that have been piling up.
If Gingrich's White House endeavor is indeed ill-fated, when might he want to end it?
Looming on the horizon are two major turning points: the Ames, Iowa, straw poll scheduled for Aug. 13, and the Iowa caucuses, tentatively scheduled for January 2012. Let's take a look at the pros and cons of Gingrich's bowing out relative to those deadlines:
Before the Ames Straw Poll
Pro: According to a certain pessimistic logic, Gingrich should get out of the race as soon as humanly possible. He has not, to my recollection, enjoyed any piece of good news since announcing his candidacy. So maybe he should cut his losses, close the books on 2012 as a failed experiment, and save himself more agony. The Ames Straw Poll is important, in that it's the first major test of early-state support, other than telephone polls conducted in Iowa and New Hampshire. It could separate the real candidates from the back-benchers. If Gingrich pulls out before the straw poll, he'll avoid likely public confirmation that his campaign hasn't taken hold in Iowa.
Con: If Gingrich doesn't even last until the straw poll, well, he'll pretty much confirm that his run wasn't gaining traction anyway. With Tim Pawlenty, Michele Bachmann, and Ron Paul all vying for straw poll votes, the best Gingrich can realistically hope for is third place or worse. Which wouldn't be so bad. Sticking around for the straw poll would allow Gingrich to spend his $1 million organizing around a nominally positive result.
After the Ames Straw Poll
Pro: It's August 14. Gingrich has just placed seventh in the first major straw poll of the 2012 campaign. It's become clear that he's not going to become president. Before the Iowa caucuses, four and a half months of grueling campaign stretch out before him. Iowa gets very cold. Drop out now, and he won't have to campaign, in futility, down the stretch.
Con: Dropping out now is still very early. In 2008, even back-bench candidates like Congressmen Duncan Hunter of California and Tom Tancredo of Colorado stuck around for the Iowa caucuses. And neither of them even seemed intent on being president -- they mostly wanted to force everyone else to talk about immigration (which they did). Running a less successful campaign than 2008's non-candidates would be kind of pitiful.
After the Iowa Caucuses
Pro: Well, here we are. The caucuses are over, Newt Gingrich has not won them, and he has probably not placed in the top four or five, either. He's given it a good, honest effort, spending time in the Hawkeye State, shaking hands and drinking coffee at diners with the locals. But it just didn't work out. By waiting until the caucuses take place, and dropping out after them, Gingrich finds a graceful departure point. He's the former speaker of the House, and he deserved to test his message in the early primary state. Things just didn't work out, but he exits having seen things through this far, with a real presidential campaign under his belt.
Con: If Gingrich sticks around for the caucuses, he will have to campaign very hard. When his staff quit upon his return from a Mediterranean cruise, it seemed clear that Gingrich might not be up for the tough work and the long haul. He'll have to raise more money to operate a serious campaign for the necessary duration, and he'll have to hit the pavement in Iowa and shake many, many hands in the dead of winter. After all that, the results in Iowa could still be discouraging. If Gingrich finishes fourth or lower and fails to collect more than a percent or two of the ballots, having stuck it out might not seem worth it.