The Obama-Biden Fundraising Juggernaut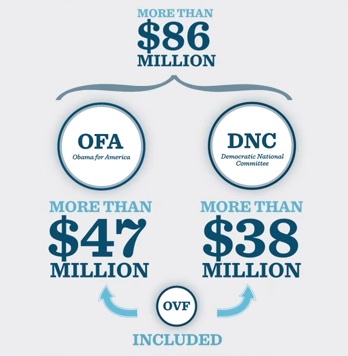 Obama Campaign Manager Jim Messina, who can have a tough edge, comes off as nearly warm and fuzzy in this fascinating video expose revealing details -- ranging from money raised to numbers of donors to the architecture of the national effort - of the Obama-Biden campaign.
Messina says that in reconnecting with supporters from the campaign four years ago, Obama's election operatives have already arranged 31,000 face to face meetings and more than 290,000 conversations.  There have been more than 650 grass roots sessions organized with dozens of online meetings.  Obama's operation, called Obama for America -- which is the primary vehicle to push the reelection of Obama and VP Joe Biden -- now has 60 field offices.
The combined operation of Obama for America and the Obama Victory Fund (which shares costs and receipts with the Democratic National Committee) saw 552,462 people making more than 680,000 donations -- of which the average amount was $69.  98% of the donations made were less than $250.
Messina says that at this point in the campaign, this is the largest grass movement support for a campaign in American history.
The total Obama-Biden take this past quarter was $86 million.
$47 million of that came through Obama for America, and $38 million from the DNC-shared Obama Victory Fund. (seems like there is a missing million on the edges in there somewhere)
As PoliticalWire's Taegan Goddard points out this morning, the combined haul of Mitt Romney, Ron Paul, Tim Pawlenty, Jon Huntsman and Newt Gingrich was just $33.1 million.
Ouch.