The Endorsement Race Is On
Mitt Romney has made an early push, winning a slew of backers. But can carry him to the nomination?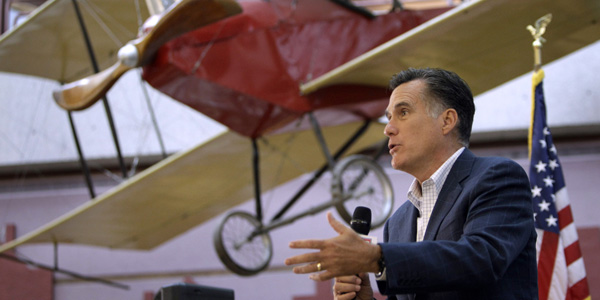 It seems a bit early for endorsements. No one really cares if County Commissioner X supports presidential candidate Y. Attention spans are short at this nascent stage of the 2012 race.
But candidates are rolling them out nonetheless. On Monday, former senator Rick Santorum (R-Pa.) unveiled the backing of three state legislators and two conservative activists in New Hampshire. In the last five weeks, former Minnesota governor Tim Pawlenty has unfurled the endorsements of Ohio Attorney General Mike Dewine (R), nine Iowa state legislators, an Iowa GOP co-chair, the future speaker of Florida's state House, South Carolina's former attorney general, and, most notably, Rep. Joe Wilson (R-S.C.), the former Victory in Iraq Caucus leader who yelled "You lie!" at President Obama.
So far, Mitt Romney has harvested the most support from federal officeholders. Last week, in a coup over the only other Mormon in the presidential race, the former Massachusetts governor announced the support of Rep. Jason Chaffetz (R-Utah), who formerly served as chief of staff to former Utah governor Jon Huntsman, one of Romney's rivals for the 2012 nomination. Last month, he secured the endorsement of Rep. Mary Bono Mack (R-Calif.), and this week he rolled out an endorsement from former Sen. Gordon Smith (R-Ore.).
Romney's strategy, according to a campaign official, is to roll out endorsements tied to his visits to states.
Endorsements are a funny thing. They generate good press for candidates, but not that much good press.
Can these endorsement binges carry Romney, Pawlenty, or anyone else to the nomination? Why not wait until the campaign is a frenzied see-saw of momentum, when such announcements would get more headlines and have more of an impact?
Romney, more than anyone else, has an incentive to publicize his endorsements now, as opposed to later. He's lead primary polls in New Hampshire, Iowa, and nationwide, although Rep. Michele Bachmann (R-Minn.) topped him in a telephone poll released this week by The Iowa Republican, a conservative website.
As the agreed-upon frontrunner, his stock is high. He'll do well to trade it for political endorsements, which can be difficult to take back, at its zenith. Romney helped raise money for both Bono Mack and Chaffetz in the past; now isn't a bad time to discuss public endorsements with other politicians he's helped out.
For Pawlenty and others, state-level endorsements can help behind the scenes. While Romney is winning the race to nationally known supporters, Pawlenty is trying to win a caucus state, currying favor with local pols who can introduce and spreading the good vibes throughout the state's political community. Some of those supporters will serve in official capacities on his campaign.
A later entrant to the race, Bachmann has rolled out the endorsements of four Iowa state lawmakers -- fewer than half of Pawlenty's nine. As the two jockey for support in the Hawkeye State, the endorsement race will likely stay quiet on the national stage. Outside of Iowa, no one knows who these politicians are, and it doesn't always sound impressive when a presidential candidate wins their support. But it could have something to do with how the 2012 presidential race shakes out.
Image credit: Charlie Niebergall