Republicans Push Constitutional Amendment as Part of Debt Deal
Congressional leaders want to require a balanced budget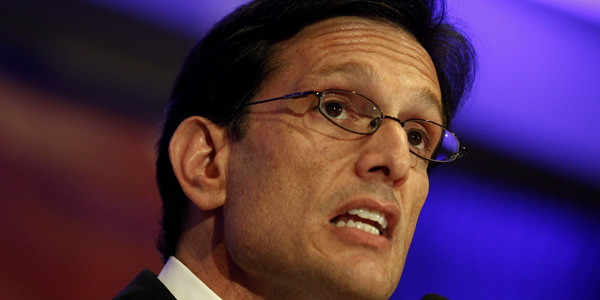 Perhaps as an antidote to his decision not to sign the "Cut, Cap, and Balance" pledge circulating among Republicans in both chambers, House Majority Leader Eric Cantor (R-Va.) teamed with the congressman leading the charge in a USA Today op-ed to advocate support of the balanced budget amendment, which the House will vote on Wednesday.
---
MORE FROM NATIONAL JOURNAL:
Obama-Boehner 2012?
A Closer Look at Bachmann's Past as a Tax Lawyer
How Baseball Explains the Debt Ceiling
---
Conceding the historical unlikelihood of successfully amending the 223-year-old Constitution (there have only been 27 amendments), Cantor and Republican Study Committee Chairman Jim Jordan (R-Ohio) argue that because amendments require passage of two-thirds of the House and Senate and three-fourths of the states, "successful amendments tend to stay in place. Only one, Prohibition, has ever been repealed.
"The moral of this story is clear," they write. "Anyone who hopes to rein in the debt and make Washington live within its means should support amending the Constitution to require a balanced budget."
Though Jordan has emerged at the front line of the "Cut, Cap, and Balance" pledge -- which holds signers to opposing any debt-ceiling increase unless it is accompanied by "substantial" spending cuts, federal spending caps, and a balanced budget amendment -- Cantor and House Speaker John Boehner (R-Ohio) have refused to sign for fear of being bound by either side's conditions.
But both Cantor and Boehner have publicly promoted passage of a balanced budget amendment, and though it's still likely to fall short of the necessary votes, Democrats -- in a scurry to shore up the massive disparity between their budget preferences and Republicans' before the August 2 deadline hits -- see political incentive to OK it: If it passes, the GOP will be much more inclined to strike a deal that includes a debt-ceiling boost.
In an appearance Wednesday on CBS's Early Show, Sen. Jim DeMint (R-S.C), tea party favorite and one of 12 senators to have signed the "Cut, Cap, and Balance" pledge, confirmed that Republicans hope to use the amendment as leverage over their budget stalemate with Democrats.
"This idea that Republicans will not vote to increase the debt limit is wrong," DeMint said. "We're going to introduce a plan that would give the president an increase in the debt limit, but it's contingent on cutting and capping spending over several years and giving the states the opportunity to decide if we're going to balance our budget sometime in the next decade. It's a very reasonable proposal, and I think you'll see that coming out of the House over the next few days."
Image credit: Molly Riley/Reuters