Republican Groups Divided Over Boehner's Debt Plan
Two powerful interests see the speaker's bill differently, with GOP lawmakers caught in the middle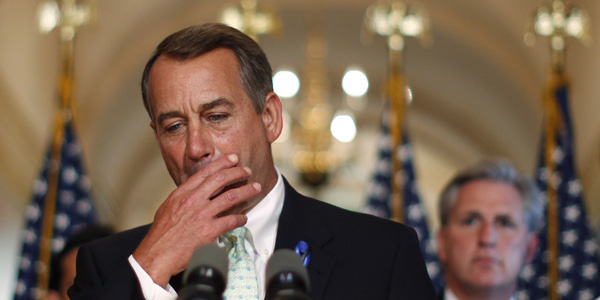 House Speaker John Boehner's proposal to raise the debt ceiling by $1 trillion in exchange for $1.2 trillion in cuts has achieved what Democrats have spent months trying to do: It has divided Republican interest groups that have so far stood united.
In separate releases on Tuesday, both the U.S. Chamber of Commerce and the conservative Club for Growth said they would use members of Congress's votes on Boehner's proposal in their endorsement decisions next year -- in Washington parlance, they will "score" the votes. But the Chamber is for the bill, while the Club is opposed.
"This legislation is critical. Default on debt obligations is not an acceptable option. The time for Congress to act is now," wrote Bruce Josten, the Chamber's top lobbyist on Capitol Hill, in a letter to members of Congress. "Political brinksmanship is no longer an acceptable strategy for either the White House or congressional leaders."
The Club for Growth, which has funded challengers to Republican incumbents who haven't toed the party line, came out on the other side.
"The Boehner plan does not achieve the goals of Cut, Cap, and Balance and doesn't fix our fiscal mess. We are urging Club Members to call their members of Congress and ask them to oppose it," said former Rep. Chris Chocola, the Club's president.
The legislation is sharply dividing the House GOP as well. In a meeting earlier today at the Capitol Hill Club, Boehner and House Majority Leader Eric Cantor urged their conference to stand united on the legislation, our colleague Billy House reported earlier.
But conservatives, led by Republican Study Committee chairman Jim Jordan (R-Ohio), are equally fired up in their opposition. "I am confident as of this morning there are not 218 Republicans who support" the bill, Jordan said, per our earlier report.
Democrats have been trying for months to drive a wedge between Boehner and the most conservative elements of his conference, both because it would benefit Democrats politically and help to form legislative coalitions. Now, the urgency of the debt ceiling debate has created a gap for them. A key consequence of the debate over the next week will be just how wide that gap grows.