Picture of the Day: Pawlenty's R.V., Sarah Huckabee in Hockey Jersey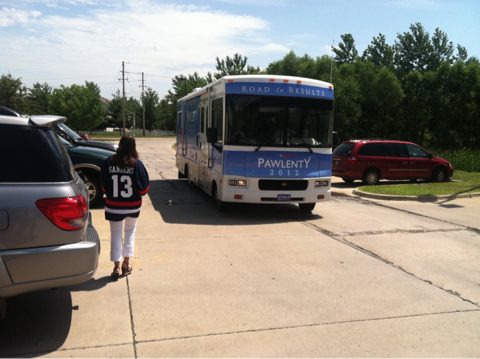 Above is the R.V. in which former Minnesota governor Tim Pawlenty has been traveling around Iowa, evidently eschewing the popular Greyhound-style bus John McCain used in 2008 for a more Winnebago-ish transport. Its A/C was temporarily broken last week, Pawlenty tweeted.
In the lower photo, Sarah Huckabee Sanders, daughter of former Arkansas governor Mike Huckabee, wears a Pawlenty campaign hockey jersey. Pawlenty hired her as a senior campaign adviser to assist in Iowa, a state at the center of Pawlenty's electoral strategy. Sanders helped her father toward a surprising first-place finish in the Iowa GOP caucuses in 2008.
Image credits: @timpawlenty, @jonward11