Paul Ryan's $350 Bottle of Wine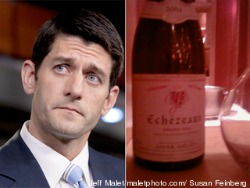 Remember John Edwards's $400 haircut? That turned out to be quite a problem for him. It looks like Paul Ryan is about have a similar problem on his hands. According to this astounding article (with pictures) at Talking Points Memo, Ryan -- the leader of the tighten-your-belt, fiscal-austerity crowd -- is in the habit of drinking $350-a-bottle wine, specifically Jayer-Gilles 2004 Echezeaux Grand Cru. In fact, Ryan enjoyed two bottles of this fancy Pinor Noir while dining the other night with a pair of conservative economists at Bistro Bis, the swanky Capitol Hill restaurant favored by lobbyists and other expense-account barons.
Ryan had the misfortune of sitting at the table next to Susan Feinberg, a Rutgers business professor, who didn't share his nonchalance about calling for draconian budget cuts for the poor and elderly by day and then sipping $350-a-bottle wine by night. Feinberg confronted Ryan after dinner and demanded to know "how he could live with himself." Confronted by TPM, Ryan did not deny the story, but lamely pleaded ignorance about the cost of the wine. And he was rather ungallant to Ms. Feinberg, whom he called "crazy."
If there's any justice in the world, Ryan ought to get at least as much grief for this as Edwards got. And if I were President Obama's adviser, I'd suggest that he add $350 wine to that line about Republicans defending corporate jets and hedge-fund fat cats.