Outside Groups Deflate Obama's Bully Pulpit
With groups like American Crossroads spending millions to control the national debate, what's a president to do?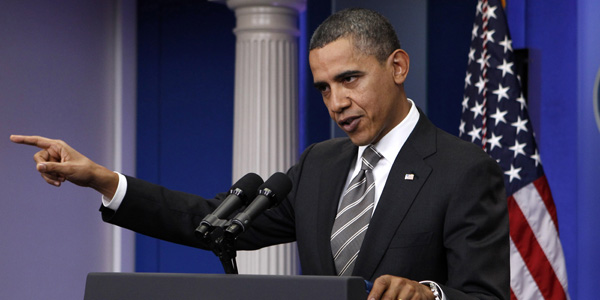 In December, President Obama and Senate Minority Leader Mitch McConnell negotiated a continuing resolution and an extension of the Bush tax cuts; a few months later, Obama and House Speaker John Boehner negotiated another budget deal that averted a government shutdown.
But this month may prove to be the critical moment of Obama's first term, when he and congressional Republicans negotiate an increase in the nation's debt ceiling. Strategists on both sides see the talks as a fundamental clash of ideologies, one that cannot be overcome without one side or the other backing down from core principles. Were Obama's the only message Americans heard every day, it would have a powerful impact. After all, it's hardly difficult to sell the public on the notion that Congress isn't doing its job; the vast majority of Americans already believe that. But the new political reality is that Obama's is not the only voice, even with his bully pulpit, that is delivering a single message to voters. Instead, outside groups are playing a bigger role than at any time in the last decade, complicating Obama's ability to deliver an uninterrupted narrative. And the debt-ceiling battle, those outside actors have decided, is where they need to plant their flag.
"This really is the critical fulcrum point that not only will have very significant ramifications for our government's fiscal viability, but also for how the two parties are perceived and how the president is perceived. So it became a huge priority for us to get involved," said Steven Law, president of American Crossroads. The group is in the middle of a $5 million advertising campaign that backs up the Republican message. The goal, Law said, is to give Republicans something like the booming voice Obama's office gives him.
"In these kinds of crisis confrontations, the power and value of the bully pulpit increases exponentially and gives the president asymmetric power to control perceptions of events as they unfold," Law said. "We felt it was vitally important that outside groups try to balance that out."
Crossroads is spending $2.6 million on broadcast television ads and $2 million more on cable television. The group is also incorporating about $400,000 on radio and Internet advertising, all aimed at voters in key swing states. Democrats have responded; Priorities USA, the outside group set up by former top White House staffers, is spending about $750,000 of its own in some of those same key markets. That, Priorities USA spokesman Bill Burton said, is because Republicans face their own critical moment on the debt-limit talks.
"The danger for Republicans is twofold. First, if they refuse to make a deal, causing America to default on its obligations and bringing a double dip in the recession, they will own the economy as much as the president does," Burton said. "Secondly, if they continue to paralyze action on economic progress, they run the risk of people thinking they would be pleased for the economy to fail if only to help them politically. To be perceived as rooting for failure is a very dangerous place for them to be."
Both Law and Burton are emblematic of the new perpetuity of politics.
Outside groups have become professionalized to an unprecedented degree; Burton is a former Democratic Congressional Campaign Committee communications aide who worked on Obama's campaign and then in the White House. Law is a former top staffer at the U.S. Chamber of Commerce.
Both are now full-time employees of outside groups that, until recently, might have only been run as a side project by a consultant with a few wealthy friends. And those outside groups have made certain the permanent campaign, made famous in Clinton's White House, never stops. Crossroads began running its first advertisements of the 2012 cycle in December 2010, just a month after the midterm election, to provide air support for House Republicans negotiating the extension of the Bush tax cuts. By Presidents Day, the group had run three rounds of advertising.
Priorities, too, has run ads already, including one in South Carolina blasting Republican front-runner Mitt Romney.
Perhaps the biggest difference the outside groups have made is to take control of each side's message out of national party hands. In the run-up to the 1995-1996 budget fights, Clinton's Democratic National Committee ran advertisements touting the president's position; today, after McCain-Feingold legislation prohibited parties from raising and spending unlimited "soft" money, those same ads are the domain of the outside groups.
"Legislative and policy advocacy is beginning to look more like political advocacy," said Law, who started meetings to develop messages for the debt-limit campaign back in February. In a new world in which free-spending independent expenditure organizations go head-to-head with the White House and Congress, that means the key fights that define a presidency will be much less the domain of the president, and much more of moneyed interests who drive Washington's conversation.