Obama's Economic To-Do List for Congress
How did the president respond to dismal news about jobs? By telling legislators to get to work on these initiatives.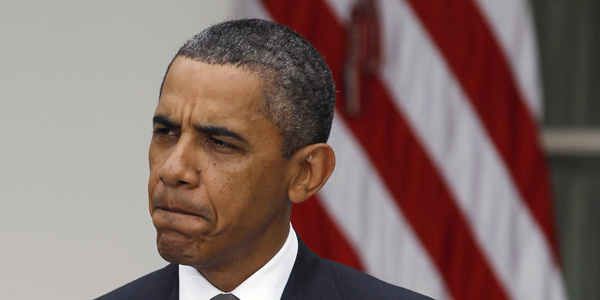 President Obama confronted a stark reality this morning in the Rose Garden: The U.S. economy isn't growing.
The economy added only 18,000 jobs in the last month, with the national unemployment rate hovering at 9.2 percent, unchanged from June.
This carries obvious political implications for Obama and his reelection chances, but possibly also for the debt-ceiling negotiations happening in Washington. Obama and congressional leaders are eyeing a possible $4 trillion in deficit reduction over the next 12 years, including cuts to Social Security. Insofar as anyone is worried that Washington will hurt the economy by not raising the debt ceiling in time, today's bad news may add a sense of urgency to negotiations -- though more people (48 percent) are concerned that raising the debt ceiling would lead to more federal spending than are concerned (35 percent) that not raising the debt ceiling would hurt the economy, according to The Washington Post and the Pew Research Center.
How did Obama relate the dismal numbers to the country, in his brief 11 a.m. remarks from the Rose Garden? By saying, as he has before, that Congress could be doing more.
"There are bills and trade agreements before Congress right now that could get all these ideas moving," Obama said. "All of them have bipartisan support. All of them could pass immediately. And I urge Congress not to wait."
Here's what Obama suggested:
Construction funding. Congress is considering two bills for highway and rail construction: Sen. Barbara Boxer's (D-Calif.) bill to spend $109 billion over two years and a House Republicans bill to spend significantly less, $230 over six years. "Right now there are over a million construction workers out of work after the housing boom went bust," Obama said. "We could put pack to work right now some of those construction workers."
Patent reform. On June 23, the House passed a patent-reform bill authored by the chairmen of the House and Senate Judiciary Committees, Rep. Lamar Smith (R-Texas) and Sen. Patrick Leahy (D-Vt.). The Senate has yet to vote on the House's version. "Right now we could give our entrepreneurs the chance to let their job-creating ideas move to market faster by strengthening our patent process," Obama said. "That's pending before Congress right now. That should pass."
Free-trade agreements. The White House has been pushing for congressional approval of free-trade deals with South Korea, Colombia, and Panama, all three of which were signed by president George W. Bush. Congressional Republicans have blocked the deals as Obama and Democrats have sought to include funding for Trade Adjustment Assistance (TAA) -- unemployment aid for workers who lost their jobs as a result of more imports. Congress can advance trade agreements that will help businesses sell more American-made goods and services to Asia and South America, supporting thousands of jobs here at home. That could be done right now," Obama said in the Rose Garden.
Payroll tax cut. As part of his last-minute deal with Republicans to extend the Bush tax cuts in December, Obama signed a two-percent cut to Social Security payroll taxes, effective for one year. Today, he asked Congress to extend that for another year. "there are a lot of middle-class families who sure could use the security of knowing that the tax cut that I signed in December to help boost the economy and put a thousand dollars in the pockets of American families, that that's still going to be around next year. That's a change that we could make right now," Obama said.
It's not very likely that all these bills will pass in the near future, with Congress's annual August recess looming. Congressional leaders are focused on reaching a deal to raise the federal debt limit. They'll return to the White House for another meeting on Sunday night, but if a deal gets struck, that still would leave little time to hammer out differences on the bills Obama talked about, before lawmakers go home for a month.
Image credit: Larry Downing/Reuters