Obama Needs Friends in Congress
The president is learning that personal relationships make legislation possible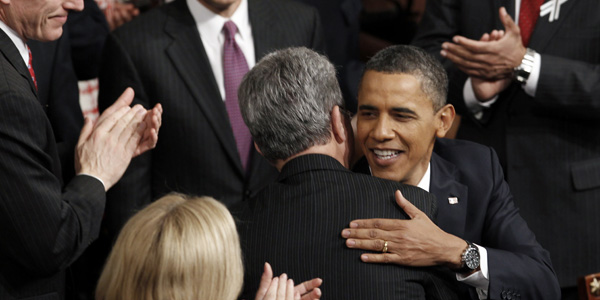 He's the first sitting senator to be elected president since Kennedy, but Barack Obama has lousy Hill ties.
It is ironic that the man who was pushed toward a presidential run after a basketball game in the Senate gym needed a golf game to show him the benefits of building closer personal relationships with congressional leaders. But that is where Obama finds himself today as he tries to build a relationship of trust with House Speaker John Boehner (R-Ohio) so that, together, they can craft a historic debt deal.
---
MORE FROM NATIONAL JOURNAL:
Obama-Boehner 2012?
A Closer Look at Bachmann's Past as a Tax Lawyer
How Baseball Explains the Debt Ceiling
---
The Democratic president and the Republican speaker had only the most distant of relationships before they teamed up for 18 holes of golf on June 18. They didn't emerge from that game best friends forever. But the lingering image of Obama laughing at something Boehner said while they enjoyed a cool drink after the 18th hole did make it easier for the two leaders to trust each other enough to hold at least one subsequent private meeting and to inject good faith into what had been an uneasy détente.
Back in the days of the Cold War and arms-control summits, that golf game would have been called a "confidence building measure." And back in the "old days" of Washington -- meaning one decade ago -- it would have been called the way government works.
What is amazing is that, with the stakes so high, it took the White House this long to recognize the importance of personal interactions between the leaders of opposing branches. After all, it was one of the first lessons Obama learned when he joined the Senate. Sen. Patrick Leahy (D-Vt.) has talked about the time he cornered Obama in the gym after a vigorous basketball game. While others were counseling caution, the veteran Leahy told the freshman from Illinois to run for president now, stressing that the party and the nation needed him. Then, when Obama was reeling in 2008 from his loss in the New Hampshire primary, Leahy announced his endorsement of Obama, providing a badly needed boost.
Would that have come had Obama not nurtured a friendship with Leahy both on the floor of the Senate and in the gym? There is no way to know. But the more compelling question is why Obama seemed to forget the lesson once he became president. It is not that he stopped golfing or playing basketball. He didn't. But he resisted suggestions that he include members of Congress in his games. Instead, he presented the picture of a man who didn't want to mix his personal relaxation with the business of governing. His approach was reminiscent of Jimmy Carter, another president who boasted that he came to Washington to reform the status quo; another president who did not seem to relish the back-slapping and schmoozing that are parts of pushing a legislative agenda through Congress.
Harry McPherson, who came to Washington in 1956 and was counsel to President Lyndon B. Johnson, has watched presidents closely for more than five decades and sadly recalls Carter's problems.
He was sitting in then-Rep. Barber Conable's office when the New York Republican returned from a meeting with Carter, gushing about the president's mastery of energy issues. "He said, 'The guy really does know everything there is to know about energy.... It is just astonishing how much he understands,'" recalled McPherson, who asked Conable if that meant Carter's energy bill would pass. "He said, 'Well, I don't know about that. He's got no friends up here.'" That, McPherson told National Journal Daily, was stunning. It is a lesson that McPherson hopes gets through to today's White House.
"Friends -- even political friends -- are more likely to walk the plank with you if there is a friendship involved, out of loyalty," said Les Francis, Carter's deputy chief of staff who chafed at Carter's failure to build personal Hill relationships. "The politics of governing is all about relationships. It involves trust and compromise and confidence and some degree of mutual respect."
Former Rep. Tony Coelho (D-Calif.) links the reticence to socialize with members of the other branch to what he sees as a lack of passion for the details of governance. "Clinton loved governing, and my view is that Obama doesn't like governing," said Coelho. "Now he may be getting into it now finally. But in order to be a good president you've got to love governing. And governing is getting to know the people in the House and the Senate."
That, he said, "means getting to know these guys and gals in the House and the Senate and what makes them tick. And how do you get them to say yes when everybody else is telling them to say no."
Obama is inarguably smart and he can be the master of the rhetorical demands of the presidency. What many Democrats such as Coelho want -- and what many members of Congress have been quietly urging -- is that Obama pay more attention to what it takes to work with a House controlled by the opposition. For them, the golf game on June 18 and the secret meeting on Sunday with Boehner were important first steps.
Image credit: Jim Young/Reuters