Obama, Congress Near Agreement on Debt Ceiling
With a final deal expected sometime Sunday, congressional leaders talk to their member about the details of a new compromise
With a final deal expected sometime Sunday, congressional leaders talk to their members about the details of a new compromise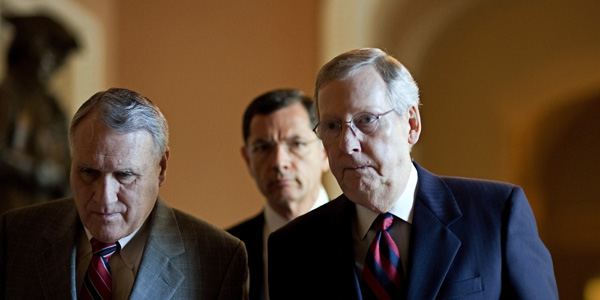 Under the threat of a catastrophic U.S. default in three days, congressional leaders and the White House neared agreement Sunday on a plan to lift the debt ceiling and slash $2.8 trillion from the federal deficit in two stages.
---
MORE FROM NATIONAL JOURNAL:
Senate GOP Blocks Democratic Debt Plan
The Debt Debate: America's New Civil War?
Huntsman Courts Young Republicans
---
With a final deal expected to be in place as early as Sunday afternoon, Senate Minority Leader Mitch McConnell (R-Ky.) said negotiators are "very, very close" to a deal. Both McConnell and a House GOP leadership aide warned that any agreement will need to be run by members first. Republican members of the Senate were set to meet in the early afternoon.
As the Senate convened, Majority Leader Harry Reid (D-Nev.) said talks were continuing, but "there are still elements to be resolved."
---
MORE FROM NATIONAL JOURNAL:
Senate GOP Blocks Democratic Debt Plan
The Debt Debate: America's New Civil War?
Huntsman Courts Young Republicans
---
"We are cautiously optimistic," Reid said as plans were still proceeding for a vote on the Democratic $2.4 trillion plan to reduce the deficit and raise the debt ceiling, which was voted down by the House on Saturday.
"I have a more positive feeling than I did 24 hours ago," said Sen. Dick Durbin (D-Ill.) as GOP and Democratic leaders earlier fanned across the Sunday news shows.
The tentative deal was aimed at giving both sides bragging rights: Republicans would get $1 trillion in immediate spending cuts and President Obama would get an extension of the debt ceiling until after his 2012 reelection bid.
Still, the president may have been outmaneuvered by Republicans in his bid to include tax increases in the deal.
In many respects the deal would, if approved by all parties, resemble the contours of a short-lived pact negotiated last weekend by House Speaker John Boehner (R-Ohio) and Reid. Obama rejected that deal, forcing Congress to wrestle with other legislative options throughout the week in the effort to raise the $14.3 trillion debt ceiling before Tuesday's prospect of a U.S. default.
If Democratic and GOP leaders finalize a deal, they would still face the tough task of convincing their rank and file to swallow a compromise. Fervent liberals and conservatives could scuttle any deal between the White House and congressional leaders. Here are the details of the tentative pact, according to several sources who spoke to NJ on condition that they not be identified:
$2.8 trillion in deficit reduction with $1 trillion locked in through discretionary spending caps over 10 years and the remainder determined by a so-called "Super Committee."
The Super Committee must report precise deficit-reduction proposals by Thanksgiving.
The Super Committee would have to propose $1.8 trillion in spending cuts to achieve that amount of deficit reduction over 10 years.
If the Super Committee fails, Congress must send a balanced-budget amendment to the states for ratification. If that doesn't happen, across-the-board spending cuts would go into effect and could touch Medicare and defense spending.
No net new tax revenue would be part of the special committee's deliberation.
That last item remained a potential sticking point. Obama's advisers insisted on the Sunday talk shows that the president expected tax increases to be part of the Super Committee's plan. "I think any long-term deficit-reduction is going to include revenues," Obama adviser David Plouffe told ABC's This Week.
Yet Plouffe was unwilling to commit that revenue increases would automatically kick in -- along with spending cuts -- if the Super Committee doesn't hit the $1.8 trillion target. McConnell bluntly said that "job-killing tax increases" are off the table.
Sources say the Senate would use the military construction appropriations bill as the vehicle for the short-term extension. This element of the arrangement, like everything else, is subject to modification. The sources requested anonymity because they were not authorized to release details ahead of their leaders.
Image credit: Joshua Roberts/Reuters