Obama Announces Debt-Limit Deal
The president appeared before TV cameras Sunday night to tell Americans he and GOP leaders reached agreement to avoid national default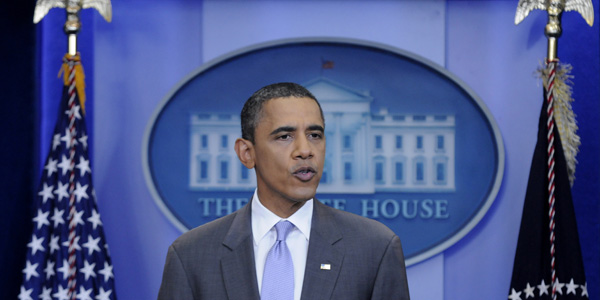 President Obama announced on Sunday night a hard-fought deal to slash the federal deficit and lift the nation's debt ceiling limit to avoid a default.
---
MORE FROM NATIONAL JOURNAL:
Senate GOP Blocks Democratic Debt Plan
The Debt Debate: America's New Civil War?
Huntsman Courts Young Republicans
---
Rushing to the White House briefing room, Obama said Democrats and Republicans had struck a deal to "end the crisis Washington imposed on America."
Obama said $1 trillion would be cut from U.S. spending immediately and a special committee of lawmakers would seek further deficit reduction moves by November. The recommendations of that commission would be approved by Congress. Obama cautioned that the rank and file members of both parties still needed to approve the deal hammered out by leaders just two days before the nation was set to face default.
The president thanked voters who heeded his call to lobby Congress for a compromise. "America's voice is a powerful thing," Obama said.
Image credit: Jonathan Ernst/Reuters