No Compromise in Sight
Republicans and Democrats on Capitol Hill entered another round of voting on Saturday, no closer to a deal to raise the nation's debt ceiling
Republicans and Democrats on Capitol Hill entered another round of voting on Saturday, no closer to a deal to raise the nation's debt ceiling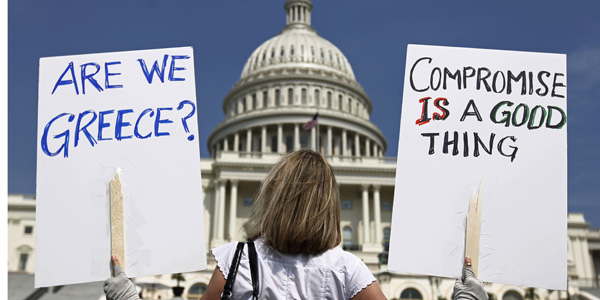 Both the House and Senate were set to convene in unusual Saturday session as President Obama appealed for Republicans and Democrats to resolve their differences over raising the $14.3 trillion debt ceiling.
"The parties are not that far apart here," the president said in his weekly address to the nation. "There is very little time."
But the impasse that threatens to put the United States in default on Tuesday appeared no closer to resolution. In the Republican response to the president's address, Sen. Jon Kyl, R-Ariz., accused Obama of being "committed to the European-style of big government" and attempting to foist "huge tax increases on American families and small businesses."
Obama argued that a default would mean "a tax increase on everyone -- we'd pay higher interest rates on mortgages, car loans, credit cards." Kyl agreed that "the consequences of missing this deadline would be severe."
---
MORE FROM NATIONAL JOURNAL:
South Carolina GOP Sticks Together Against Boehner
America's New Civil War
Huntsman Courts Young Republicans
---
So far, however, the parties appear to be doing nothing more than engaging in a game of high-stakes chicken. On Friday, the House passed a plan offered by House Speaker John Boehner, R-Ohio, to raise the debt ceiling with a bare 218 majority. No Democrats voted for the measure. Two hours later, the Democratic controlled Senate voted, 59-41, to reject the speaker's plan. Republican House leaders plan to return the favor Saturday, scheduling a mid-afternoon vote intended to demonstrate that an alternative offered by Senate Majority Leader Harry Reid, D-Nev., has no support in their chamber.
One key difference between the Boehner and Reid measures: the timetable. Boehner would require another vote to raise the debt ceiling in six months. The Reid bill would provide enough money to carry the nation to December, 2012 -- taking the next debate over spending past the next election.
The Senate has scheduled a vote on the Reid bill for 1 a.m. Sunday, underscoring how closely the rules of the chamber -- which allow a single senator to insist on 30 hours of debate to even proceed to a measure -- will push the nation to default.
Reid, a canny legislative infighter, appears to be leaving himself a safety valve, however: The Democratic leader has set an evening Senate vote that essentially would leave Boehner's bill on parliamentary life support -- leaving Senate leaders the option of revive it at the last minute if no other deal to raise the debt ceiling is reached.
Reid and Senate Minority Leader Mitch McConnell, R-Ky., appeared at an impasse late Friday. As a result, Reid tweaked his original proposal in the hopes of gaining more Republican support to get him the 60 votes he needs to win the early Sunday cloture vote. According to a memo from his office, Reid's latest proposal would increase the deficit reduction over 10 years from $2.2 to $2.4 trillion, with a "dollar to dollar" increase in debt ceiling based on a proposal originally authored by McConnell. It would fast-track resolutions of disapproval to allow the president to raise the debt ceiling with the political liability falling on Democrats.
Reid's proposal establishes spending caps for the next 10 years that, if exceeded, would trigger across-the-board spending cuts. Much of Reid's savings, $1.2 trillion, are achieved by winding down the wars in Iraq and Afghanistan which Republicans decry as budget gimmicks.
Some Republicans, such as Sen. Bob Corker, R-Tenn., endorsed a debt ceiling extension through the next election, which Democrats are seeking in Reid's plan. But Democrats accused GOP leaders of blocking any efforts to reach compromise. Majority Whip Richard Durbin, D-Ill., said McConnell called Reid Friday and said, "I'm not going to negotiate with you."
If McConnell and Reid do in fact fail to compromise, and Reid can't appeal to seven Republicans to side with Democrats on cloture, the Senate will push the nation closer to default with a looming August 2 deadline. President Obama said Friday that he was relying on McConnell and Reid to come through and cut a deal.
Reid's bill will not survive Sunday's cloture vote without GOP support. He is seeking a deal with Senate Republicans to amend the bill with the compromise measure. Senate aides said efforts to reach a compromise are focused on a trigger that would require spending cuts if a bipartisan congressional committee created in both Boehner and Reid's bills fails to agree on further cuts.
In the House, it took the full weight of leadership and an 11th-hour capitulation to a band of fiscal conservatives to secure enough support for House Republicans to send the debt-ceiling bill off to fail in the Senate.
Boehner again took on Democrats and the White House in remarks on the House floor on Friday. "I stuck my neck out a mile to try and get an agreement with the president of the United States," he said.
Although the president and congressional leaders from both parties have been insisting for weeks that a deal will be reached, doubts are growing.
"It's quite entirely possible that we could not reach an agreement or get it implemented by August two," said Rep. John Conyers, D-Mich.
Image credit: Kevin Lamarque/Reuters