'Let Them Eat Cake' Alive and Well in Beverly Hills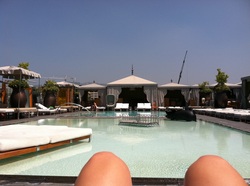 I love Los Angeles (I know -- few seem to want to admit it), but I love Washington, DC more.
I love DC's intrigue and policy banter -- the passionate debates about Israel and Palestine, about nuclear vs. renewables, about Grover Norquist vs. big government Republicans (& MoveOn), about whether we should be making a deep dive in rewiring American infrastructure rather than bailing out too-big-to-fail banks.
One of the most memorable DC high sizzle nights I've enjoyed was at Maureen Dowd's home during Obama's inauguration weekend chatting with David Geffen and his partner, Jeremy Lingvall, as well as Rahm Emanuel, economic policy chronicler Michael Hirsh, Larry David, Ron Howard, Helene Cooper, and a slew of others.

But through all of the frivolity, there was a concern about the country.  We may have been talking about whether Tom Daschle was "up" or "down" in Obama Land -- but the reason was that people were worried about health care and getting a serious jobs program underway, or not.  At Arianna Huffington's giant Huffpost Party at the Newseum where Sting sang his tunes, there may have been a lot of elegance and posturing, but essentially the conversations were about policy debates -- always policy, deep down at the core.
But now I'm visiting California, sitting as I write this on top of the next gen posh SLS Hotel in Beverly Hills, a very nice Starwood Hotel property, and the place is thumping, sort of like the hippest crowd you can imagine on the finest cruise line heading to Ibiza.  Many different types here -- but also a lot of Arabic speaking guys grabbing high end bottles of champagne at the bar for their tables and pool spots.
I've talked to some people here, and there is just no interest in Afghanistan, or Pakistan, or al Qaeda; some people asked what the debt limit was (and I'm sort of assuming that most of these folks here have made some of their income off increasing the size of other peoples' and firms' debt).
The gay crowd seemed to be unaware that Obama and the Pentagon certified the end of Don't Ask Don't Tell yesterday -- starting a 60 day clock when gays and lesbians would be able to serve openly and without consequence in the military services.  They really didn't know -- but after I raised it, they said that that was a great thing!  Some progress.
This crowd is the flapper crowd, the F. Scott Fitzgerald, not a concern in the world crowd -- and few of them seem to worry that their bubble could pop if Boehner and Cantor misstep, if a debt deal is not reached -- and even then, millions of Americans who are driving this economy remain without jobs.  They want to work -- and the fact that they have been sidelined in this economy is bad news for everyone -- including those bringing in checks and living off trust funds.
I don't want to get too cosmic about all of this.  It's probably a pretty normal thing, but I am a DC creature and embrace the culture there.  That said, there are corners of wealth in this country distressingly ignorant and ambivalent about vital matters that affect everyone -- and in times of policy and political stress, I wish most people knew more and felt like stakeholders in these debates.
This may be an anomalous corner of American society I've stumbled into (have to admit that I love my Starwood points) -- but at least these folks seem very buffered from the real world, unburdened, lightly taxed if all -- and that is why what Obama and Boehner are wrestling over is so important.
We need the burdens in this country -- as well as the opportunities -- much more equally shouldered.