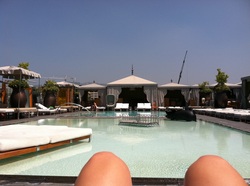 I love Los Angeles (I know -- few seem to want to admit it), but I love Washington, DC more. 
I love DC's intrigue and policy banter -- the passionate debates about Israel and Palestine, about nuclear vs. renewables, about Grover Norquist vs. big government Republicans (& MoveOn), about whether we should be making a deep dive in rewiring American infrastructure rather than bailing out too-big-to-fail banks.
One of the most memorable DC high sizzle nights I've enjoyed was at Maureen Dowd's home during Obama's inauguration weekend chatting with David Geffen and his partner, Jeremy Lingvall, as well as Rahm Emanuel, economic policy chronicler Michael Hirsh, Larry David, Ron Howard, Helene Cooper, and a slew of others.

But through all of the frivolity, there was a concern about the country.  We may have been talking about whether Tom Daschle was "up" or "down" in Obama Land -- but the reason was that people were worried about health care and getting a serious jobs program underway, or not.  At Arianna Huffington's giant Huffpost Party at the Newseum where Sting sang his tunes, there may have been a lot of elegance and posturing, but essentially the conversations were about policy debates -- always policy, deep down at the core.