Joe Biden's Office Joins Twitter
The veep himself won't be tweeting at @VP, but his staff will provide updates on what he's up to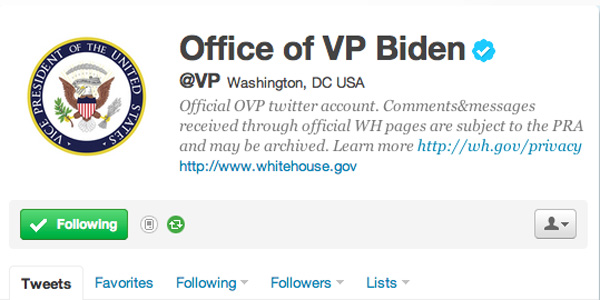 The office of Vice President Joe Biden is now on Twitter, tweeting as @VP. While the vice president won't actually be doing any of the tweeting, his staff says the account will be used to provide updates about what he and his wife, Jill Biden, are up to.
"Through @VP, Vice President Biden's staff will keep followers up to speed on all things happening in the Office of the Vice President (OVP) - from the West Wing, to the Eisenhower Executive Office Building and the Office of Dr. Jill Biden, to the Naval Observatory," Biden's deputy press secretary, Amy Dudley, wrote in a July 4 blog post.
The first tweet went out on Monday at 11 a.m., and had to do with one of Jill Biden's signature causes: military families.
"VP & Dr. B hope you take time to think about our troops & military families this Independence Day, Happy 4th from OVP! @JoiningForces," the tweet said. As of Tuesday morning, the account had just under 10,000 followers.
The creation of the @VP account came two days before the White House hosts its first-ever Twitter town hall. On Wednesday, President Obama will take questions on jobs and the economy submitted via Twitter.
Image credit: Twitter