Is a Short-Term Debt-Ceiling Deal in the Offing?
Barring a grand compromise, or even an a medium-sized package of spending cuts, party leaders could simply buy time
Barring a grand compromise, or even an a medium-sized package of spending cuts, party leaders could simply buy time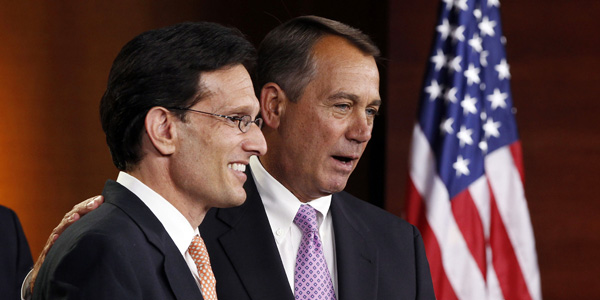 With the August 2 deadline for a deal on raising the debt ceiling almost out of reach, House Republican leaders are mulling a short-term debt-limit extension, leadership aides said.
As President Obama and congressional leaders scrambled to resolve the impending debt crisis, House aides suggested such a plan could buy a month or so for a larger deal to be worked out.
---
MORE FROM NATIONAL JOURNAL:
Buying Time on Debt?
Video: 'World of Warcraft' GOP Debate
The Gang's All Here: Coburn and Norquist, Together at Last
---
"There is no way to reach the August 2 deadline," said one aide, adding that an extension until September may be the compromise until a larger deal is worked out. House Speaker John Boehner (R-Ohio) and House Majority Leader Eric Cantor (R-Va.) met at the White House on Wednesday night from 5:09 p.m. to 6:31 p.m. That get-together followed one in the afternoon between the president and House and Senate Democratic leaders.
All sides remained tight-lipped on the details of the negotiations after Obama's meeting with Boehner and Cantor. As of Wednesday evening, there were no meetings scheduled for Thursday.
House GOP leaders and Vice President Joe Biden have discussed cuts worth perhaps $1.5 trillion that could be part of a potential deal crafted by Senate leaders to allow Obama to raise the $14.3 trillion debt limit. A GOP source tracking the talks said House leaders might also use the cuts in a stand-alone bill for a short-term extension. Cantor appears open to that possibility.
Cantor has said he first raised the prospect of short-term extension last week during a meeting of the congressional leaders at the White House, calling it a concession driven by how far apart the parties are. Obama, who has opposed such a move, reacted angrily, according to Cantor.
So, it was news on Wednesday when press secretary Jay Carney said the White House could accept a debt-limit extension of a few days if a larger agreement were already in the works.
Carney added: "The president does not support a short-term extension of the debt limit, period. The only exception to that is in the event that both sides reach a deal on a long-term extension of the debt limit plus significant deficit reduction, and we needed a very short-term extension [like a few days] to allow a bit of extra time for a bill to work its way through the legislative process."
His words were quickly cited by Republican aides in the Senate, where Minority Leader Mitch McConnell (R-Ky.) has pushed a short-term deal as a fallback. And Republicans argued that regardless of the White House's public posture, if Congress put him on the spot, Obama would be hard-pressed to veto a short-term proposal based on cuts agreed to by Biden. A short-term extension would likely eliminate much of an already endangered August recess, a major headache for congressional staffers, especially, who have already had expected breaks canceled amid the debt fight.
Adam Jentleson, a spokesman for Senate Majority Leader Harry Reid (D-Nev.) said Democrats would not back a short-term bill. "We would not back anything the president would not sign and my understanding is he will not sign that," Jentleson said. Reid, suggesting the Senate is ready to move on the plan he has sketched out with McConnell to give the president power to raise the debt ceiling by $2.5 trillion in three steps, worked on Wednesday to put pressure on House Republicans to produce a plan beyond "cut, cap, and balance," expected to be voted down on Saturday by Senate Democrats.
"Right now I am at point where I am saying we need to hear from the House of Representatives," Reid said. "We have a plan to go forward over here. I await the word with the speaker."
Even if the Senate took up the so-called Reid-McConnell bill on Saturday it could not pass until about July 29, if GOP conservatives carry out a threat to filibuster. That would leave three days for the House to amend the bill, under a scenario that aides have sketched, and send it back to the Senate for another vote. If forced to use all cloture time, the Senate could not pass the bill by August 2, aides acknowledge.
Attention continued to focus on a bipartisan "Gang of Six" proposal to cut $3.7 trillion from the deficit. But it remains unclear if the gang's plan can factor into debt-ceiling talks. While its members say they already have legislative language ready, Reid said there was not enough time to draft legislation.
Image credit: Larry Downing/Reuters