Huntsman Off to a Bumpy Start
As the former Utah governor tries to raise his profile in the GOP presidential race, his campaign manager's departure indicates early difficulties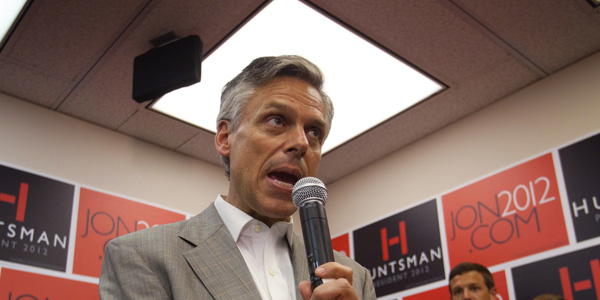 The departure of Jon Huntsman's campaign manager on Thursday--just one month after he launched his bid for the Republican nomination amid great fanfare--reflects a political operation going through obvious growing pains.
The improbable campaign by President Obama's former ambassador to China has yet to get off the ground. National and statewide polls consistently show him at the bottom of the field. Huntsman lost an opportunity for national exposure by skipping a televised debate one week before he officially got into the race on June 21.
---
MORE FROM NATIONAL JOURNAL:
Cantor's Moment of Choosing
If a Pawlenty Campaign Falls in the Woods ...
Best Quotes of the Week, in Pictures
---
In contrast, Rep. Michele Bachmann, who used the debate to announce her campaign launch, has skyrocketed to the top of the polls. Unlike Huntsman, who has promised a campaign based on "civility,'' Bachmann has harshly criticized the Obama administration. Her trajectory suggests that at this point in the race, GOP voters are drawn to more of a flame-thrower than a diplomat.
John Weaver, a senior Huntsman advisor, alluded to the campaign's low profile in a written statement about the staff changes.
"Now the campaign is moving into phase two, which will be more aggressive from a messaging and tactical standpoint," he said.
Departures by top staffers frequently signal trouble in a campaign, but a shakeup can also allow for a fresh start if it happens early enough. Campaign manager Susan Wiles's departure appears to be an isolated one, in contrast to the widespread staff revolt under Huntsman rival Newt Gingrich.
"The majority of campaigns end up making changes in senior staff along the way," said Charlie Black, a former adviser to Sen. John McCain, whose top strategists changed before he won the nomination in 2008. "I think it's too early to tell if the Huntsman campaign is meeting their objectives and whether the strategy is going to work." Wiles said on Thursday that she was leaving of her own volition and denied any conflicts with other staff. "This was my decision," she said. "It was more about feeling like it was time."
"I'm less of a strategist and more of a start-up person," she added.
Wiles most recently ran Florida Gov. Rick Scott's winning campaign in 2010 and said it was time for a break. The Huntsman campaign is based in Orlando, about 130 miles northeast of her home in Ponte Vedra.
She will be replaced by Huntsman's communications director, Matt David.
"Susie has served the campaign well and was vital in getting it off the ground in such a short time-frame,'' Weaver said in the statement. "In just under three months Governor Huntsman has returned from China, launched a campaign, and created a strong infrastructure in the three early primary states. He's built important relationships with donors, as well as political, policy, and grassroots leaders that other candidates have been courting for half a decade."
Asked if she would serve as an informal campaign advisor, Wiles said, "Once you resign you don't want to be in someone else's hair."
Huntsman is eyeing New Hampshire, which hosts the first primary in the nation, as his launching pad to the nomination. This week he announced endorsements from four current and past state lawmakers.
"After sort of treading water for most of the last two months, there are signs of activity and forward motion," said Fergus Cullen, a former chairman of the New Hampshire Republican Party. "I think three months from now we'll see the staff turnover either as a turning point or an early warning sign."
Huntsman will campaign next week in New Hampshire and Florida. He will also address the Republicans for Environmental Protection and College Republicans in Washington, D.C.
Besides his ties to the Obama administration, Huntsman's moderate record on some issues has also caused concern for some Republicans. In a sign the campaign is eager to address that perception, it sent out an e-mail on Thursday from the former attorney general in South Carolina, Henry McMaster, under the heading, "Conservative leaders for Jon Huntsman."