How Obama Tries to Win Twitter and Influence People
In the age of Twitter, everyone can have a voice. But can everyone be heard?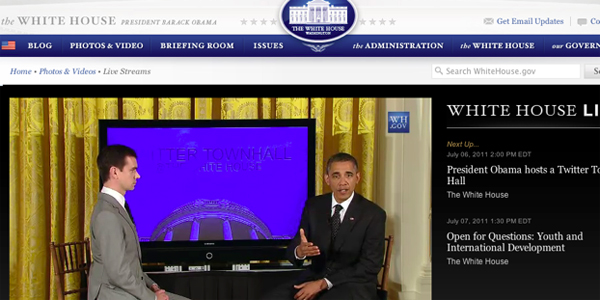 On a press preview call for Wednesday's joint White House-Twitter "townhall" event, White House communications director Dan Pfeiffer tried to sell reporters on the idea that, "when we do things with Twitter and Facebook and YouTube, it's similar to what previous presidents did with more traditional outlets like the networks and major papers."
That's not quite right. For one thing, a tweet-driven public forum opens the possibility of a direct connection between the POTUS and the public. For another, there's the instantaneous of it. But there's another, major, reason why a White House "townhall" produced by Twitter is new and different animal: it reflects a major rethinking of the concept of "influence."
In 2011, influence isn't held solely by those with high-level media posts, such CNN's John King or a scribe for the Des Moines Register. That's a given. But how do we understand influence in the face of a deluge of 170,000 tweets tagged with the #AskObama hashtag, as questions for the president were yesterday? Sure, in the age of Twitter, everyone can have a voice. But everyone can't be heard.
So what should a politician looking to find the critical messages inside the cacophony do? The Obama White House and Twitter Inc. tried this week to figure that out.
One approach taken by the White House-Twitter event was identifying Twitter users who can shape and drive the online conversation. Twitter co-founder Jack Dorsey was one such user. He was tasked with asking questions selected by others at his company. Bringing in a set of "curators" was another -- people charged with surfacing questions to feed into the conversation and otherwise stimulating discussion. Then there was a set of folks invited to be attend the first-ever White House "Tweetup," an in-person tweeter gathering in Washington.
"It completely makes sense that there's some semblance of gatekeepers," observes Jonathan Chavez of the Cambridge-based SocialSphere. "There's this idea that the social Internet functions best as a democracy. But I'd argue that it functions best as a republic. Certain voices should be heard louder than others."
Like, say, the president's. Said Obama just after walking onto the stage in the White House's East Room on Wednesday afternoon, "I'm going to make history here as the first president to live tweet." That tweet: "in order to reduce the deficit, what costs would you cut and what investments would you keep." While Facebook CEO Mark Zuckerberg played Katie Couric in that company's April presidential town hall, Dorsey succeeded in his task of drawing attention to tweeted questions that popped up on an on-stage monitor and "just sort of saying them out loud," as White House new media director Macon Phillips put it.
The proceedings went on for about an hour, involving around 20 questions. The president's answers went on and on, by his own admission, as he delivered talking-point response on topics like alternative energy, underwater mortgages, and the cost of higher education. Obama's poking fun at the clowning profile picture of one "@RenegadeNerd" counted as color. "He's looking kind of confused."
Other note-worthy "townhall" moments came when The New York Times' Nick Kristof asked why Obama didn't push Republicans for debt ceiling concessions when he extended Bush-era tax cuts, and when Speaker John Boehner tweaked Obama about the lack of job creation. Obama initially swatted away the question as "a little bit skewed" with the explanation that (a) John Boehner is a Republican and (b) John Boehner is Speaker of the U.S. House of Representatives. Next.
But the event got closer to the "president-to-country conversation" that Phillips had promised when Dorsey asked Obama to respond to responses to his inaugural tweet.
Obama seemed to momentarily lose his power of speech when presented with a tweet ripping on welfare programs. "People will never try harder when they are handed everything," read the tweet. The president recovered his voice to attest that as a community organizer in Chicago, he'd seen that be the case. But for one brief moment, this heavily mediated chat between a country's president and that country's people had all the delightful familial awkwardness of a great national Thanksgiving table conversation about politics.
That White House-Twitter event was most engaging when Obama was engaged isn't surprising. That's the nature of Twitter, the platform. And it's what Twitter, as a company, used, along with the White House, to try to win the event.
Twitter hand-picked eight "curators" to help drive the conversation. At first glance, they aren't necessarily high-powered tweeters. The most followed among them, Iowa-based Economist blogger Will Wilkinson (and recent Atlantic contributor), has about 4,200 followers. The least followed, a rising UNC senior and former Daily Tar Heel editor-in-chief, has 500. In between were an Illinois professor, an editorial page editor at the New Hampshire Union Leader, and an online content producer for California's North County Times. And, as mentioned, the White House invited a few dozen tweeters to attend a contemporaneous "Tweetup," or in-person gathering of Twitter users.
In some cases, participants weren't quite sure why they were selected. Times Picayune business editor Kim Quillen was surprised, she says, when she was approached by Twitter last week to act as a curator. "Gee," she recalls thinking, "I'm not really huge in the Twitter sphere." (Follower count: 1,100.) But Twitter offered Quillen an explanation, she says. "One thing that they complimented me on was that I was kind of a friendly presence. I wasn't picking fights with anyone." More than that, "they said that they were looking to reach outside the Beltway, to people who were communicating through Twitter on the economy, had a decent number of followers, and were exhibiting, I guess, good Twitter dynamics -- retweeting to people, interacting, and engaging."
In other cases, digital voices plucked out of the crowd to take part in the event had a good idea why that happened. One Tweetup invitee, the California-based Cheryl Contee, co-founded Jack & Jill Politics, a well-known blog offering "a black bourgeoisie perspective on U.S. politics," as well as a digital strategy firm. "They are consciously inviting people like me," she says. That is, "e-influentials, people with Twitter following, folks that have been supportive." Contee goes on. "It's a way to raise the profile organically, in a way that's natural to the medium." She and her co-blogger, Baratunde Thurston, were early supporters of the '08 Obama campaign, says Contee. "It's natural and sensible for them to continue that relationship. And we'd like to continue that relationship," she says with a laugh.
How, exactly, do you go about measuring online influence? There are ad hoc ways, like simply knowing which bloggers are high-profile. But there's a developing science to it -- measuring not simply follower counts, but the frequency of online postings, the reach of blog comments, and more. "Not every retweet is created equal," says SocialSphere's Chavez, a truth evident to anyone who has ever had, says, two prominent bloggers retweet links to your content, only to have one produce a huge influx of hits and the other nothing. Those tweeters' followers make judgments about their judgment about the social web. And that influence can be parsed. NBC's Chuck Todd, @chucktodd, might be hugely influential when it comes to politics, says Chavez, and much less so when it comes to another passion, college football. Having granular data of the sort held by Twitter Inc. just might be a boon when it comes to understanding the nuances of influence.
There's another reason that Dorsey might be up there with the microphone. It's not just that he's rich. Or famous. Geeks -- and Dorsey is an engineer if nothing else -- shall inherit the earth, or at least drive the online conversation, if only because they're always online talking about everything. "TechCrunch might not seem influential when it comes to politics," says Chavez. "But they can create a sufficient volume of coverage that it gets picked up in the wider dialogue."
Getting a handle on what social data reveals is potentially powerful stuff. "We keep profiles on people," says Chavez, whose company's clients include the U.S. Marine Corps, "with an understanding of who needs to be reached out to. It's something that the White House could absolutely do." There are a lot of different ways to measure online influence, says Chavez. "It's just important for people to have a metric, and to use the data to figure out who fits into it."
How aggressively are the Obama White House and Twitter using metrics to figure out who to reach out to? It's not entirely clear, as was the case for much of the event's mechanics. One DC reporter complained that Twitter was punting inquires on question selection to the White House, and the White House was kicking them right back to Twitter. Reached by email, Twitter communications rep Jodi Olson wrote that the goal for picking curators to select questions was to put together a "politically and geographically diverse group from around the county that are also active and engaged on Twitter." She went on to write that they looked for people with "decent number of followers," so that "as many people as possible could help bubble [up] interesting questions." According to the Twitter website, "Twitter search algorithms identify the most engaged-with tweets."
What all that means isn't exactly clear. When all was said and done, that left some hard feelings and blame-pinning. "Thanks to those who sent in good questions," tweeted Wilkinson after the event. "Sorry POTUS was allowed to be so prolix & @townhall let Kristof and Boehner crowd you out." Still, Kristof has 1.1 million followers, and is widely and frequently retweeted. He might just be so genuinely Twitter-influential that Twitter's search algorithm was compelled to let his question through -- his New York Times-affiliation be damned.
But we don't know. Using Twitter to connect Americans and the president looks a lot like greater openness. But there's a chance that we're left with less transparency than the days when some editorial board was choosing what to ask candidates. One evolution of the "Twitter townhall" concept might be to make the decision-making process behind picking questions, curators, and Tweetup attendees entirely public.
Either way, we're likely still in the early adopter phase of measuring of online social media influence, and thinking about how it will shape the political realm. "We already know the impact of poll numbers," says Chavez. "We know how to do walk lists. But we're a long way to understanding how social data can be used." That suggests that the Iowan harassed with campaign phone calls in the months ahead might be a county party chairperson. Or it might be a kid in a dorm room who really knows his way around this Twitter thing.
Image credit: askobama.twitter.com