Grover Norquist's Pledge Is a Colossal Failure
The tax activist is defending his legacy in the NY Times today. The actual effect he's unwittingly had? Making big government more palatable.
The tax activist is defending his legacy in the New York Times today. The actual effect he's unwittingly had? Making bigger government more palatable.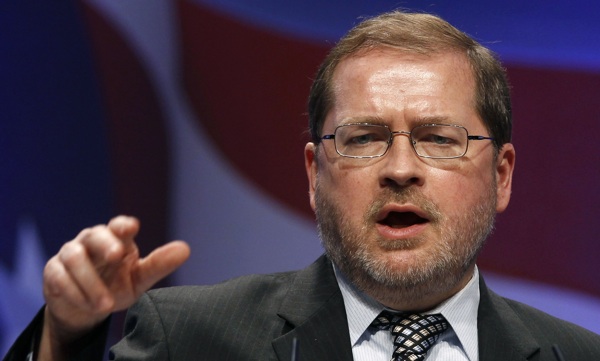 In 1986, Grover Norquist and his organization, Americans for Tax Reform, created the "Taxpayer Protection Pledge," which he describes as "a simple, written commitment by a candidate or elected official that he or she will oppose, and vote against, tax increases." It has recently come under repeated fire: it became a tool for ethanol subsidy apologists, for example, and most recently, it emerged as a needless obstacle in negotiations over raising the debt ceiling.
Responding to his critics, Norquist has taken to the op-ed page of the New York Times this morning to defend his legacy:
Contrary to the hopes of some that I am somehow softening the pledge, it is stronger and more important than ever: it has made it easier for members of Congress to credibly commit to voters that they will refuse to increase taxes and instead focus on reducing the cost of government.

In fact, it is more important than ever to be rid of The Pledge, because it has been a colossal failure.  Does anyone think that fiscal conservatives should be happier with the state of our nation's finances now than they were when the pledge began 25 years ago? Does anyone still harbor the illusion that "starve the beast" is an effective method of shrinking the federal government?
Here is why The Pledge has failed. Time and again, it has contributed to the GOP tendency to make taxes their top priority, deficits be damned. As Kevin Williamson puts it at National Review, "Republicans led by naïve supply-siders are preparing, for the third time in my life, to sell their souls on spending cuts in exchange for tax-rate reductions that are small, ineffective, and sure to be temporary. Ronald Reagan got his tax cuts, but he went to his grave waiting for those spending cuts. George W. Bush got his tax cuts, and ended his presidency with spending soaring and his entitlement-reform program in the garbage. And now certain Republicans are starting to slobber over the Gang of Six plan."
What Norquist doesn't understand or won't admit is that deficit spending is worse than a tax increase, because you've got to pay for it eventually anyway, with interest. Meanwhile, you've created in the public mind the illusion that the level of government services they're consuming is cheaper and less burdensome than is in fact the case. If you hold the line on taxes but not the deficit, you're making big government more palatable.
Back in 1986, if taxes had been raised every time federal spending had increased, and voters knew that taxes would go up again every time new federal programs or spending was passed, the backlash against big government that we're seeing now would've started a lot sooner, and been much more broad-based. Had that been the policy, it's doubtful that George W. Bush would've passed Medicare Part D. Instead, the Baby Boomers have borrowed a bunch of money that my generation and my children's generation is going to have to pay back. But their taxes didn't go up. Thanks for that, Mr. Norquist. I'm not sure what to call it, but fiscal conservatism isn't it.
As the conservative movement laments our fiscal straits, and the dire situation the nation finds itself in, perhaps it is too much to ask that they assign Norquist a little bit of the blame. But surely they can at least recognize that the solution he's been pushing since the Reagan Administration hasn't worked.


Image credit: Reuters