Gary Johnson Solicits Contributions From Poker Players
He's hoping to raise money from a libertarian-leaning crowd with deep pockets. If his gambit works, it may cause other pols to notice gamblers.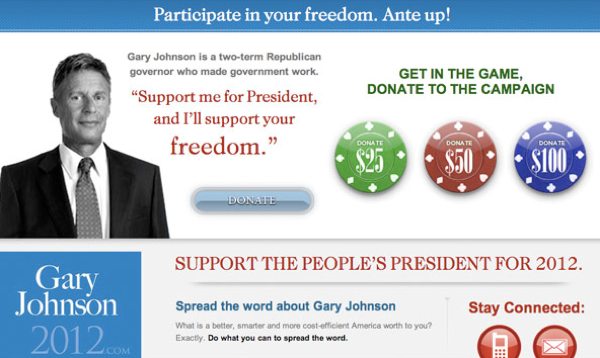 In a campaign stop only he would make, former New Mexico governor Gary Johnson is expected tonight at one of the Las Vegas parties that kicks off the World Series of Poker. His attendance is part of a new effort to solicit campaign contributions from the poker community: its membership has been particularly attuned to politics since April, when the federal government shut down the three largest sites for online play by indicting their founders and top executives.

It's a perfect issue for Johnson: totally in keeping with his beliefs, and tremendously important to a small community with deep pockets and a libertarian streak. "The federal government should not be involved in restricting lawful commerce that doesn't harm anyone," Johnson has told them. "Support me for President, and I'll support your freedom. Get in the game, donate to the campaign."

So should they do it?

On one hand, Johnson is neither an elected official nor likely to win the GOP nomination. Campaign contributions could certainly be funneled to politicians who wield more actual power over poker's legality. Then again, he's a presidential candidate, so a huge money haul would generate press attention, sending this signal to other politicians: supporting poker players is lucrative.

Were I doling out poker money, I'd be trying to decide whether to go all in on Johnson or pass completely. A bunch of $20 donations to his campaign won't do much good. But a $1 million money bomb? That would send a signal, even though it wouldn't be enough to get Johnson elected. Says Matthew Kredell at Poker News: "Even today, only a fringe candidate would go out on that ledge to court poker players. But for any candidate at all to see value in the poker vote is progress."

It's also a first opportunity to show whether or not such candidates will be rewarded (awful as it is that our system works that way). It'll be interesting to see whether they back Johnson -- and if they do, whether the scent of money attracts other pols to the cause.