Examining Bachmann's Years as an IRS Lawyer
Tax attorney or tax collector? A closer look at the tea-party candidate's professional history
Tax attorney or tax collector? A closer look at the tea-party candidate's professional history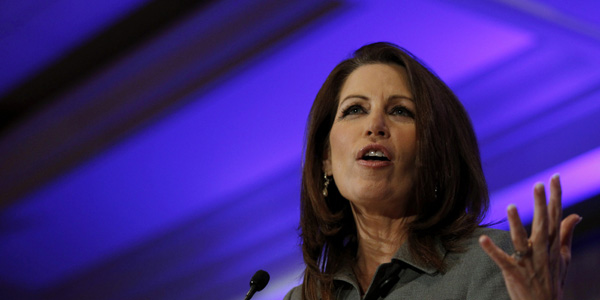 You'll never guess what Michele Bachmann, the rabble-rousing, tax-reviling, government-bashing idol of America's tea party movement, used to do for a living. Sue tax scofflaws for the Internal Revenue Service.
As she flexes her credentials as a Republican presidential candidate in a field of former governors and corporate executives, Bachmann is more likely to describe herself as a "former federal tax litigation attorney'' -- as she did in her first nationally televised debate -- than as a three-term member of Congress. But she rarely, if ever, mentions the one and only employer of her legal services: the U.S. Department of Treasury.
In just a month as a presidential candidate, Bachmann's plucky populism has catapulted her from also-ran to leading contender. That her legal career has received such little scrutiny reflects her rapid ascension on the national stage and a carefully groomed image.
---
MORE FROM NATIONAL JOURNAL:
The Glum and the Restless
Former White House Staffer Fights Obama Obesity Efforts
U.S. Economy Less Governable Than Ever
---
"You're running for president in a sound-bite era and trying to build certain features of a character that will resonate strongest with voters,'' said Adam Brandon, a spokesman for FreedomWorks, one of the most influential organizations in the tea party movement. "She's going to highlight the things that are consistent with the image she's building up for the public.''
Brandon said he didn't think tea party activists would be troubled by Bachmann's work for the IRS. The tax code itself is the problem, he said. But some of her rivals might be tempted to make her former job an issue.
"If you're Tim Pawlenty or Newt Gingrich, you're going to grab this and say, "Look at this, she's a tax collector,' ''Brandon said.
The founder of the House Tea Party Caucus, Bachmann is a central figure in a national insurgency that decries big government and demands lower taxes. Her campaign and congressional biographies make no mention of her handling of tax collection cases from 1988 to 1993 for the IRS.
"Rather than taking money from the hands of the middle class to pay for a large, overbearing federal government, I believe in letting hard-working taxpayers keep more of what they earn,'' she says on her congressional website. "In my work as a former federal tax attorney, I saw firsthand that our nation's tax laws are hard to understand and undermine the country's prosperity by imposing needlessly harsh penalties on work, savings, and investments.''
Tell that to Marvin Manypenny, a Native American activist in Minnesota who failed to pay taxes on three years of wages totaling $30,650. Bachmann took him to federal court in 1992.
Manypenny worked at the Youth Project, described in court records as "a public foundation with a 17-year history of building citizen participation organizations around the country committed to social justice and peace.'' The resident of the White Earth Indian Reservation contended he was exempt from income taxes because of the April 8, 1867 land treaty between his Chippewa Indian ancestors and the U.S. government. He met Bachmann briefly in the federal court building in St. Paul.
"She was very -- how do I put this? -- haughty and curt,'' the 64-year-old Manypenny told National Journal in a telephone interview. "I tried to state my contentions to her and it was like talking to a brick wall.''
The court didn't accept Manypenny's argument, either. While the treaty exempted Indian-owned land from taxes, it did not exempt individuals. "We give no credence to petitioner's contention that he and the land are one,'' the court ruled.
Years later, Manypenny doesn't recall how much money he ended up paying in back taxes. But he questions how someone who hounded a minor-league tax delinquent like himself could support the tax cuts for the wealthiest Americans enacted by former President George W. Bush.
"I think people better take a look at that tea party orientation she has,'' he said. "She's putting the burden on people like myself who are low-income and middle-class.'' Manypenny's case is highlighted on an anonymous, anti-Bachmann web site at www.dumpbachmann.com, which mocks her as a "repo-gal.'' Bachmann spokeswoman Alice Stewart said she has never tried to conceal that she worked for the IRS.
"She's been very clear that she enjoyed her work but learned how devastating high taxes are for families and that the tax code is a job killer,'' Stewart said.
Bachmann appears to have faced public criticism of her tax collection work for the IRS only once before, when she was running for Congress in 2006. "Will the real Michele Bachmann please stand up?'' demanded campaign literature distributed by a Republican rival, Jim Knoblach, who accused her of misleading voters about her legal experience. An Associated Press report at the time cited Bachmann's (now-defunct) web site, http://www.keepitpositive06.com, where she said she was proud of her work for the Treasury Department.
Bachmann's official biography says she worked on "hundreds of civil and criminal cases'' before she stopped working after her fourth child was born. She received her law degree from the O.W. Coburn School of Law, created in 1979 by televangelist Oral Roberts and bankrolled by the father of conservative fiscal hawk Sen. Tom Coburn (R-Okla.).
The school rejected students or faculty who did not subscribe to Christian tenets, and the American Bar Association revoked its accreditation in 1981. The school gained it back but closed in 1986.
Bachmann also earned a master's degree in tax law in 1988 from the College of William and Mary in Williamsburg, Va. She was a member of the Minnesota Bar.
Image credit: Molly Riley/Reuters
Drop-down image credit: Reuters