Everything You Ever Wanted to Know About the Wisconsin Recall Elections
The voting prompted by Gov. Scott Walker's anti-collective bargaining bill begins today. But the recall movement's spread to other states, too.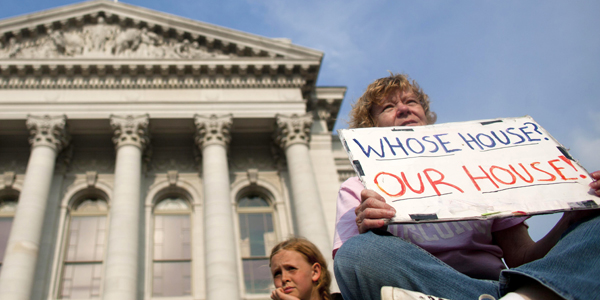 Updated with results 7/13/11
Twenty.
That is the number of state legislative elections Wisconsinites may potentially vote in between now and the end of 2011. Between the primaries and the generals, there are 17 elections being held in relation to the nine state senators -- there are 33 total in office -- who were recalled in the clatter and hullabaloo that followed Gov. Scott Walker's successful defense of his budget "repair" bill last winter and spring.
And since three of the Democratic contenders are members of the state house of representatives, their positions would need to be filled in special elections, should they succeed in unseating the incumbent Republican senators. That could bump the number up to 20 -- a number does not even take into account the special regional elections that may need to take place for challengers who currently hold positions such as county board supervisor.
It's enough to test one's commitment to democracy.
Of course, Wisconsin's most famous recall effort was a failed one, the 1954 "Joe Must Go" effort against Sen. Joe McCarthy, which fell 70,000 signatures short. Wisconsin has only ever recalled two state legislators, the last 15 years ago, when Republican Senator George Petak paid the price after changing his vote to support a 0.1 percent sales tax increase to pay for the construction of the Milwaukee Brewers' Miller Park stadium.
Here is a 2011 Wisconsin Recall Scorecard, with a little trivia from each upcoming race, and the results of each race concluded so far:
JULY 12
Democratic primary races were forced by the Wisconsin GOP after the party recruited "protest" Republicans to run against the Democratic Party's official candidates to prolong the GOP-controlled legislature's chance to pass more bills. This maneuver by the party of fiscal responsibility is estimated to cost an extra $50,000 per primary.
While it was a long shot, there was a remote possibility that one of the protest candidates could beat a real Democrat. Wisconsin has open primaries, meaning voters can cross parties and vote any way they like.
In the end, though, all of the "real" Democrats won their respective races and will move on to face the six recalled Republican state senators on August 9.
The voting numbers from the forced Democratic primaries do hold a few clues about the mental state of the state of Wisconsin (and the nation). 62,443 Wisconsinites found time Tuesday to make it to a poll a vote for a candidate they knew to be a Republican running in "protest" as a Democrat. And while it does not top the show of tens of thousands who repeatedly went to the Capitol in Madison in February to protest the budget repair bill, that's a considerable counter demonstration of ideology.
At the same time, nearly every genuine Democratic candidate won his or her primary by a margin of at least 30-some points. This is being billed as a "cruise to victory" and it was -- in the sense that, say, it's an easy victory to score with your wife. That a bunch of publicly fake Democrats with, in one case, just $750 from the state party and no actual campaign effort could come within 50 points of their opponents in the Democratic Party's own primary election should be a wake-up call to the Democrats about just how much turnout will determine the outcomes in most of the recall elections to come.
District 32 Democratic Primary: Rep. Jennifer Shilling vs. protest candidate James Smith to face Republican Senator Dan Kapanke. Primary Winner: Shilling.
Trivia: Probably the senator most likely to lose his seat, Kapanke was recorded at an event saying: "We've got tons of government workers in my district. Tons.... We've got to hope that they, kind of, are sleeping on July 12th, or whenever the date is." A late June poll showed Kapanke trailed Shilling by 14 points.
District 14 Democratic Primary: Rep. Fred Clark vs. protest candidate Rol Church to face Republican Senator Luther Olsen. Primary Winner: Clark.
Trivia: It's a race to the bottom of the stupid hole in Dist. 14 as Luther Olsen's clumsily attempts to do himself in by authoring a legislative amendment that financially enriches his wife were only outdone by Clark, who recently apologized after he was secretly recorded saying of a constituent, "I feel like calling her back and smacking her around."
District 18 Democratic Primary: Jessica King vs. protest candidate John Buckstaff to face Republican Senator Randy Hopper. Primary Winner: King.
Trivia: That Hopper was exposed as only having paid Wisconsin income taxes once in the decade between 1997 and 2008 and that a recall campaign flyer of his directed callers to a phone sex line were the senator's less embarrassing scandals. During the height of the recall signature gathering, petitioners at Hopper's home were met by his wife, who informed them that Hopper was now living with his 25-year-old "mistress" in Madison. Hopper's maid then signed the recall petition.
But what really bodes poorly for Hopper is that he's faced King before, in 2008, when he eked out a victory of only 163 votes of more than 83,600 cast.
In the primary, Buckstaff stayed in character to the end, issuing a concession after his race was called for his opponent.
District 10 Democratic Primary: Shelly Moore vs. protest candidate Isaac Weix to face Republican Senator Sheila Harsdorf. Primary Winner: Moore.
Trivia: It's unclear if Moore's position on the board of the state's largest teacher union, the Wisconsin Education Association Council, will be a help or a hindrance to her candidacy. What is clear is that Weix is taking his fall-guy role with all the seriousness of a Marine, which he was. Following a non-scandal about Moore's use of her school email to mention the recalls (before she was a candidate), Weix, a Republican candidate for the Wisconsin house last year, issued a statement: "For the sake of the integrity of the legal democratic process, and the reputation of the Democratic Party it is time for Ms. Moore to withdraw her candidacy."
District 8 Democratic Primary: Rep. Sandy Pasch vs. protest candidate Gladys Huber to face Republican Senator Alberta Darling. Winner: Pasch.
Trivia: Darling won in 2008 by only one point and her fate will come down to turnout. Darling may have been safe had she not been recorded saying of Wisc. Rep. Paul Ryan's Medicare voucher program: "I'm standing with Ryan anytime, anywhere." (Attaching native son Ryan and his Medcare plan to recalled Republicans is a common strategy. Shilling has been doing it too; and in May, a scheduled appearance of Ryan at a fundraiser for Shilling's opponent Dan Kapanke mysteriously fell apart.)
District 2 Democratic Primary: Nancy Nusbaum vs. protest candidate Otto Junkerman to face Republican Senator Robert Cowles. Winner: Nusbaum.
Trivia: A one-term Republican state representative in the 1980s, octogenarian Otto C. Junkerman called the police on his own son for drug use. Junkerman's wife promptly divorced him.
JULY 19
District 12 GOP Primary: Kim Simac vs. Robert Lussow to face Democrat Senator Jim Holperin
Trivia: Kim Simac, the "family values" candidate and founder of Northwoods Patriots ("Standing up for FAITH, Family and Country") explains the fact that she swapped spouses with her ex as "one of those quirky American stories."
District 22 GOP Primary: Jonathan Steitz vs. Fred Ekornaas to face Democrat Senator Bob Wirch
Trivia: Attorney Jonathan Steitz has railed against the influence of out-of-state money in Wisconsin and said he's the candidate to "attract business to stay here." Steitz works just across the border in a Chicago law firm.
District 30 General Election: Recalled Democrat Senator Davis Hansen vs. Republican David VanderLeest
Trivia: After the Republican's preferred candidate, sitting Rep. John Nygren, failed to collect sufficient valid signatures to get on the ballot, the GOP was left to support Tea Party activist Dave VanderLeest, whose criminal record includes everything from financial chicanery to domestic abuse. In late June, VanderLeest defended himself in a beautiful single paragraph press release that included blaming his wife's drinking problem to misspelling the word "tried" ("tryed") to declaring [sic] "I am inocent of every criminal case ever brought against me."
AUGUST 9
District 32 General: Recalled Republican Senator Dan Kapanke vs. Rep. Jennifer Shilling / James Smith
District 14 General: Recalled Republican Senator Luther Olsen vs. Rep. Fred Clark / Rol Church
District 18 General: Recalled Republican Senator Randy Hopper vs. Jessica King / John Buckstaff
District 10 General: Recalled Republican Senator Sheila Harsdorf vs. Shelly Moore / Isaac Weix
District 8 General: Recalled Republican Senator Alberta Darling vs. Rep. Sandy Pasch / Gladys Huber
District 2 General: Recalled Republican Senator Robert Cowles vs. Nancy Nusbaum / Otto Junkerman
AUGUST 16
District 12 GOP General: Recalled Democrat Senator Jim Holperin vs. Kim Simac / Robert Lussow
District 22 GOP General: Recalled Democrat Senator Bob Wirch vs. Jonathan Steitz / Fred Ekornaas
***
Republicans in Wisconsin have lashed out against the recall process, calling it unfair, and rolling out what's become the party's motto in the state: "Elections have consequences." In an episode of his little-watched "Brown Bag Lunch" YouTube series (a continued gimmick of Walker's campaign about him being a humble, fiscally-responsible guy who brings a brown bag lunch to work), the governor called the recalls "a distraction." It's noteworthy that Walker won his last position as Milwaukee County Executive in an election that was a technically a recall -- until the scandalized incumbent resigned.
One thing's for sure, the recalls will serve as an economic boost to Wisconsin's communications industry. It's impossible to yet know just how much will be spent, but estimates are already coming in as high as $1 million per race for a few of the contests.
That's not at all a doubtful figure when one calculates the money raised as of July 1. Darling and Pasch together have raised $1.4 million, Kapanke and Shilling, $900,000. In both those cases, the incumbent Republicans are far ahead of their challengers. That's not true in all cases though; recalled GOP senators Olsen and Cowles have both raised only about half as much as their Democratic challengers.
None of this includes money spent by third parties like unions or pro-corporate lobbies, especially out of state ones. The Club for Growth has been running especially dirty ads against Olsen and Kapanke's opponents, saying that because a prescription drug program came in under budget, they had "cut SeniorCare."
Those third party groups are also meddling in the Democratic primary itself.
Last week, it was revealed that Texas-based group Patriot Advisors was urging conservative Wisconsin voters to hit the polls and vote for the fake Democratic primary candidates.
Then today, the day of the primaries, the Wisconsin tea party group Americans for Prosperity posted on its Facebook page: "Stop by the AFP-WI office in Milwaukee today between 6:30pm and 8:30pm to help us make some GOTV calls. It's easy!..." Earlier this year, Americans for Prosperity sponsored the Stand with Walker campaign and bus tour.
When asked for a script for its GOTV effort, run the same day of a Democratic primary, AFP state director Matt Seaholm emailed, "I can tell you that we don't play in partisan primaries. Nothing we are doing is related to today's or next week's primaries."
The Facebook post (screenshot below) then disappeared.

While both sides are blaming the other for taking out of state cash, Republicans are -- by far -- more incessant in beating the drum of outside influence.
Despite raising nearly three times as much as his challenger, recalled GOP Senator Dan Kapanke's campaign manager complained to the local La Crosse Tribune about Shilling's "outside money."
A July 7 press release from recalled Senator Luther Olsen is titled "Out of State Donors Save the Day for Fred Clark." It continues, "Over 50% of Clark's donors listed on the report do not live in the state of Wisconsin." It's a statement Olsen's own hometown paper, the Baraboo News Republic, disproved and called "off the money."
"For Wisconsin Democrats, recalls are a national fight" is the headline of the July 5 story by the Wisconsin Reporter, a right-leaning investigative journalism outlet that has released story after story about the influence of outside money. That July 5 story describes an "arsenal" of out-of-state resources liberals will deploy in its Wisconsin "end game." The report was written by Kevin Binversie, whose journalism bio is "served in the George W. Bush administration from 2007-2009, worked at the Heritage Foundation and worked on numerous Wisconsin Republican campaigns in various capacities, most recently as research director for Ron Johnson for Senate." (Ironically enough, Wisconsin Reporter calls itself a "product of" The Franklin Center for Government & Public Integrity... located in Bismarck, North Dakota.)
Walker himself constantly tweets alarms (from his @ScottKWalker account, not his Gov. Walker one) about this out-of-state money. On July 7 he wrote: "Nat unions r starting 2 drop $ bombs on WI recall races. Counter them @ www.FrontlineWisconsin.com." Before that: "Nat unions will spend $20-25m on Sen recalls. Grassroots has 2 counter those attacks. Join us @ www.FrontlineWisconsin.com."
Of course, this has only been a talking point for the Republicans in the last couple months. An April 13 story begins, "Wisconsin Gov. Scott Walker is appealing to out-of-state donors to keep Republicans in the Wisconsin state senate," then goes on to taut the governor's trip to Florida to raise money for Frontline Wisconsin.
The source of that story? Wisconsin Reporter.
All of this doesn't mean the Republicans don't have a point. Out of state money is pouring into Wisconsin, all over the place. In fact, everything about national politics has become commonplace in an increasingly polarized political landscape where no quarter is given and none is expected. Moral equivalency rules on all sides and the constant, daily bombardment of dirt dug up is enough to make normal Wisconsin residents glad conceal carry just passed because it means, when it finally becomes too much, one always has the opportunity on hand to shoot oneself in the face.
Beyond retribution, it's difficult to see a proactive goal of a Democratically-controlled senate. More likely, in seizing control of one of the state's lawmaking bodies, Democrats would play goalie and block further conservative legislation. In addition to the collective bargaining-banning budget bill, so fa this year that's included a voter ID bill, expansions of an educational voucher program, rollback of natural resource protections and the aforementioned concealed carry allowance. That is, until Governor Walker's recall.
Indeed, all 17 of the current recall-related elections -- and the millions of dollars and hours of airtime between local weather reports spent on them -- are all but a warm-up for the doozie coming this January, the one year in office mark after which Scott Walker can be recalled. That's currently 24 weeks and change away; the online Scott Walker Countdown Clock is tracking the exact timing, to the second.
While this remains a local story, the era of the permanent election cycle is spreading outside Wisconsin.
In Michigan, an effort to recall Gov. Rick Snyder is chugging forward; petitioners need to to turn in 800,000 signatures before August 5. On the Reclaim Michigan site, recalls also target nine state lawmakers. By one count, there are 20 current recalls attempts against Republicans happening in the state. And now, backlashing against the backlash, a recall has launched targeting Democratic Michigan state Senator Rebekah Warren, who opposed repealing the state's business tax.
In Arizona, state Senate President Russell Pearce (R-18) will face that state's first ever recall. The Mesa-centered district effort was tasked with collecting 7,756 petition signatures to force a recall of the polarizing pol. It submitted 10,365.
Welcome to the brave new age of the recall.
Image credit: Darren Hauck, Reuters