Elizabeth Warren Makes It Personal
Relieved from the day to day responsibilities of running the Consumer Financial Protection Bureau, she seems to be embracing a newfound freedom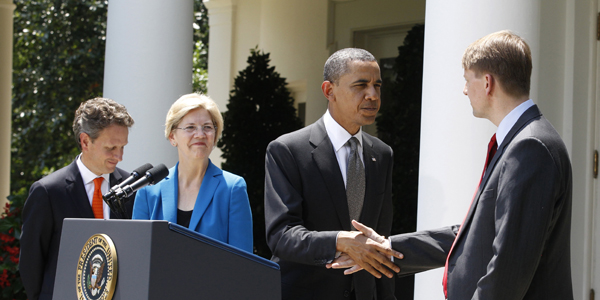 Editor's Note, 9/14: Warren will seek the Democratic nomination for U.S. Senate from Massachusetts to challenge Scott Brown in 2012.
Elizabeth Warren is ready to name and shame. After 10 long months spent crafting a brand-new federal agency in her image and likeness, years before that willing the institution into statutory existence, only to be passed over on Sunday in favor of Richard Cordray just as the new Consumer Financial Protection Bureau is moving out of beta, Warren, on a press call late yesterday afternoon, was eager to share her clarity on who's to blame for the especially precarious position the new federal-friend-to-the-American-consumer now finds itself in.
Those enemies of Warren, of the CFPB? Republicans, first and foremost, namely Senate Banking ranking member Richard Shelby (R-AL) and the forty three other Republican senators who signed a letter to Obama in May raising heck over the "unfettered authority" the CFPB had supposedly been granted by the Dodd-Frank Act, passed in the wake of the mortgage meltdown. That's no surprise. But Warren's also annoyed with the press for buying the GOP's story that it's simply a more efficient consumer advocate they're eager for, when really what Republicans want is for the CFPB to die an early death. She also blames her own political naiveté. She's been "too busy busting [her] tail" in starting an agency, she says, and didn't pay all that much attention to those inside the Beltway sharpening their knives. Some heard those noises over at 1600 Pennsylvania. Perhaps she's heard the chatter that Obama was more sold in public than in private on her eventual appointment as CFPB's first-ever director. But Warren gives Obama and fellow Democrats a pass.
"Let me put it this way," said Warren on yesterday's call. "I'm saving all the rocks in my pockets for Republicans. And if that's too partisan for you, then shame on me." Other officials drone. But Warren, an Oklahoma native and once-and-future Harvard Law School professor, never mastered the Washington monotone. She speaks with passion. It's not too much to say that it's that sort of thing that didn't help her case all that much. You'll hear talk in Washington that Warren was too anti-bank, too anti-Wall Street. And there's something too that, by her own admission. "We're not here to serve banks. We're not here to serve Wall Street. We're not here," she emphasizes that last bit, "to serve Congress. We're here to serve American families." But there's a real way in which Warren just seemed, well, too invested in her cause -- creating a powerful Washington presence that would bring transparency, structure, and some measure of sanity to the consumer credit market.
"I have become con-tro-ver-see-uhl," she says, "which I think is code for getting something done."
And so, Obama has named Richard Cordray to take over things from here. Cordray, a Democrat, is a former Attorney General of Ohio with a record of fighting banks, and he's been working with Warren in standing up the bureau.
But, wait. That anti-CFPB Shelby letter from May, signed by all by three Senate Republicans, objected to the very idea of a consumer agency that looks like what Warren and her team have created. The Senate GOP called for replacing Warren -- excuse me, the CFPB director -- with a board of directors, subjecting the agency's funding to the congressional appropriations process (so as to better let financial industry lobbyists have their way, says Warren), and having other federal financial regulators play nanny to whatever the up-with-people CFPB should come up with. "Such a check by the prudential regulators," explains the Senate Republicans' letter to Obama, "will provide a reasonable restraint on the CFPB's authority." Concludes the missive, "we will not support the consideration of any nominee, regardless of party affiliation, to be the CFPB director until the structure of the Consumer Financial Protection Bureau is reformed."
And so, in light of all that, is there any real chance that Cordray will ever actually head this agency? Is he meant to just be the nominated piñata while Warren goes on to do something else -- say, run for Senate in Massachusetts, as some are speculating? Warren tries explaining Obama's strategy, but she seems to be selling herself on it as she talks. "You know...I don't know," she says. "People seem to think that a lot of this is on me. And more than anything else, I don't want to hurt this agency. If I'm drawing fire, then that's it." She goes on. "The president can say, 'Okay, you objected like crazy to this woman,'" but now, he "can say quite reasonably, 'I put somebody else on the table. He's got a resume that's worth taking a look at.'" Her leaving, she says, creates an opportunity to battle out the CFPB's existence in a way that's not so, well, about her.
"We now have a nominee. And that actually frees us up to have a big political discussion, or if need be, fight." It's an existential battle. "A year ago, we had a fight about whether to have this agency at all, about whether to make it a strong, independent agency, or make it some weak, lame thing that isn't going to get anything done.
Republicans lost that fight. Now they want to turn around and see if they can fight it again. They want to embrace the system that failed. My view is, we can now have that fight. We can have it in a full and vigorous way. We can have it at high volume." She sums up. "I want to do what works for the agency. This is the White House's strategy on it, and I'm supporting it fully."
But the truth is that there's far more to the CFPB story than whose name is on the big office. Warren has always seemed like she was working on borrowed time, and she's hopeful that she's been able to bake into its very nature a model for being that will carry her vision forward even without her or an ally actually in the building. She's been eager to imprint on the agency a set of practices that are longer lasting. "The sorry history of regulatory capture is something I've paid close attention to," she says. It's what keeps her at work nights and weekends. Transparency, she says, is more than a buzzword. She's put her calendar online, made the agency's agenda public, brought in an online director from the Motley Fool to launch an agency website up to industry standards, and worked to engage a broad circle of voices. (The CFPB, for example, innovatively posted competing versions of redesigned mortgage forms and asked consumers, bankers, and advocates to critique which line should go where and the like.) She's staffed the agency of some 400 people broadly. "We are not going to hire just one group of economists who all take the same point of view," she says, perhaps in a dig at the White House economic team. "That is the height of intellectual capture. It runs the enormous risk that the agency can blind itself."
Warren's bet is that, no matter the director, how she's designed the agency thus far makes for an agency culture that's difficult to roll back without raising so much opprobrium from the public or press that, for Republicans, it becomes not worth it.
Not that the press has done her much good thus far, complains Warren. She objects, she says, to the media having swallowed whole the notion that what Republicans in Washington really want when it comes to consumer protection is for it to work better. "Is it more accountability like when we had the 19 federal statutes overseen by seven different agencies?," she asks. "Where nobody has been held responsible for what went wrong? No fingers pointed at anybody in that structure other than a general, 'Oh well, these things happen'?"
Ultimately, though, it's not about her, or even Cordray, says Warren. Indeed, the CFPB org chart is robust enough to get by, at least for a while, without a public figurehead like her or him. "If we can get somebody in, that's great. It's good for the agency, and that's a win. But make no mistake. Even if we get a director in place, there are still amendments out there to kill this agency." A bill being championed by Kansas Sen. Jerry Moran, for example, would do to the CFPB what's called for in the Shelby letter.
Warren never did make for an obvious Washington bureaucrat. What passes for conventional wisdom can be harder for her to understand. Warren praises former FDIC chairperson Sheila Bair for saying publicly that we still really don't know how deeply corroded the mortgage servicing documentation held by American homeowners and banks truly is. It should be obvious that that's a major problem, and threat to American economic stability. "Obviously," says Warren, "I don't understand controversial things."
One place in Washington a little more willing to tolerate a lack of understanding of obvious things: the United States Senate. Warren is being suggested as a possible challenger to Massachusetts Republican Senator Scott Brown. Just since the Cordray news broke, the Progressive Campaign Change Committee, which long pushed for Obama to appoint Warren to head the operational CFPB, has raised more than $31,000 in a draft campaign on her behalf. So, is she up for a run? "I gotta tell you," said Warren on yesterday's call, "I've really been hard at work setting up this consumer agency, and before that trying to get it into law. I've been doing 14-hour days. I can't think when I last had a day off. My future plans right now involve taking my grandchildren to Legoland. That's about as far out on the time horizon as I'm going to this point. That's the best I can do." That might seem like a dodge, but you can tell that Warren's learned a thing or two in her time in Washington about leaving the door open. She quickly adds, "I've gotta get home to Massachusetts."
In the meantime, though, relieved from the day to day responsibilities of running the Consumer Financial Protection Bureau, she seems to be embracing a newfound freedom to call the battle over the CFPB in Washington as she sees it. "This isn't about accountability," she says plainly. "It's about getting nothing done." Whatever Elizabeth Warren does from here, she won't be doing it at the agency she brought into being.
Image credit: Jason Reed/Reuters