Earmark Ban Handcuffs Boehner in Debt-Limit Wrangling
As he tries to pass his plan on narrow margins, the House speaker can't use a time-honored method of greasing legislative wheels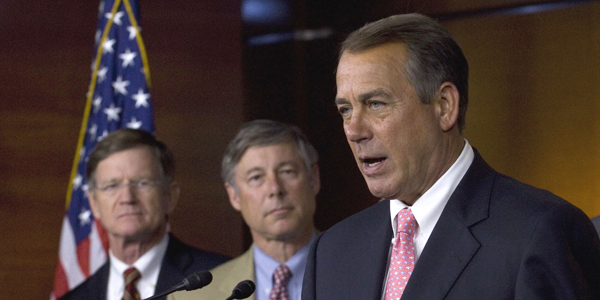 Congress, a notoriously slow and messy group of 535 people, has traditionally overcome discord and functioned productively with the help of a special kind of tool: the earmark.
Party leaders slip pork-barrel projects into bills, securing votes from recalcitrant lawmakers with home-district benefits that make them popular with constituents. Call it compromise, horse-trading, or bribery. It's how Congress works.
But not for John Boehner.
The House speaker tried to wrangle enough support from fellow Republicans to pass his debt-limit proposal last night, but the earmark was unavailable to him as a bargaining chip, since House Republicans unanimously agreed on a self-imposed earmark ban in November, two weeks after taking the majority.
As Roll Call's John Stanton and Jessica Brady point out, that ban left Boehner's leadership team with little to offer:
That set off a round of arm-twisting, with Boehner and Minority Whip Kevin McCarthy (D-Calif.) summoning a parade of rank-and-file conservatives into their offices.

But because of the GOP's earmark ban, the leaders had little to use as leverage on their members and were getting no closer to pushing the bill over the finish line.
Rep. Jeff Flake (R), the longtime anti-earmarks crusader from Arizona, doesn't know how he'll vote on Boehner's proposal, but he likes the new way of doing business. From The New York Times' Jennifer Steinhauser and Robert Pear:
"It is the most refreshing thing in the world to see what is going on in there," said Representative Jeff Flake of Arizona, an ardent foe of earmarks, the pet projects of lawmakers. "This kind of negotiation a few years ago would have cost $20 billion" in pork barrel projects.
Lawmakers emerged from Boehner's office looking stricken, the Times reported. Rep. Louie Gohmert (R-Texas), for instance, reportedly emerged from Boehner's office and said he was "a bloody, beaten-down no" on Boehner's plan.
Sounds like a lot of sticks, and few carrots, from Boehner and his team.
Image credit: Harry Hamburg/AP