Details of a Tentative Debt Deal
After a night of negotiation, the White House and congressional Republicans are on the verge of announcing a compromise to raise the ceiling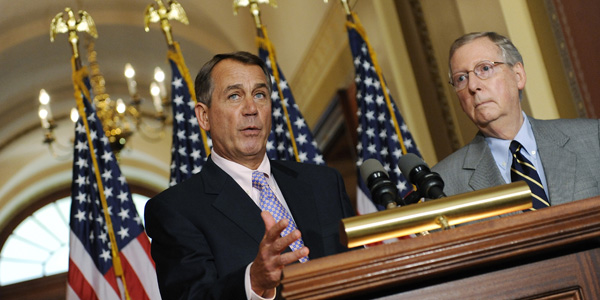 Here are the outlines of a debt-ceiling deal that congressional leaders and the Obama White House are firming up in preparation for a possible announcement as early as Sunday afternoon.
In many respects, the deal will, if approved by all parties, resemble the contours of a short-lived pact negotiated last weekend by House Speaker John Boehner (R-Ohio) and Senate Majority Leader Harry Reid (D-Nev.). Obama rejected that deal, forcing Congress to wrestle with other inferior legislative options throughout the week.
---
MORE FROM NATIONAL JOURNAL:
The Debt Debate: America's New Civil War?
Leaked Emails Highlight GOP Rifts
Huntsman Courts Young Republicans
---
Among the newest wrinkles, according to informed sources, is an agreement to extend the current $14.3 trillion debt ceiling very briefly to give the legislative process time to work without resorting to emergency, hurry-up measures.
President Obama has said he would only sign a short-term extension (days, not weeks) if it were linked to an extension of borrowing authority that lasts beyond the 2012 election. According to sources, the Senate would use the military construction appropriations bill, one currently available for action, as the vehicle for the short-term extension. This element of the arrangement, like everything else, is subject to modification. But those close to the negotiations expect Congress to slow things down without jeopardizing the nation's full faith and credit. A debt extension of days would achieve that goal.
Other component parts of the tentative deal include:
$2.8 trillion in deficit reduction with $1 trillion locked in through discretionary spending caps over 10 years and the remainder determined by a so-called "Super Committee."
The Super Committee must report precise deficit-reduction proposals by Thanksgiving.
The Super Committee would have to propose $1.8 trillion in spending cuts to achieve that amount of deficit reduction over 10 years.
If the Super Committee fails, Congress must send a balanced-budget amendment to the states for ratification. If that doesn't happen, across-the-board spending cuts would go into effect and could touch Medicare and defense spending.
No net new tax revenue would be part of the special committee's deliberations.
Image credit: Jonathan Ernst/Reuters