Conservative Caucus Apologizes for Emails Attacking Boehner Plan
With the speaker trying to sell his debt proposal, the Republican Study Committee says a staffer asked outside groups to pressure lawmakers
With the House speaker trying to sell his debt proposal, the Republican Study Committee says a staffer asked outside groups for pressure GOP lawmakers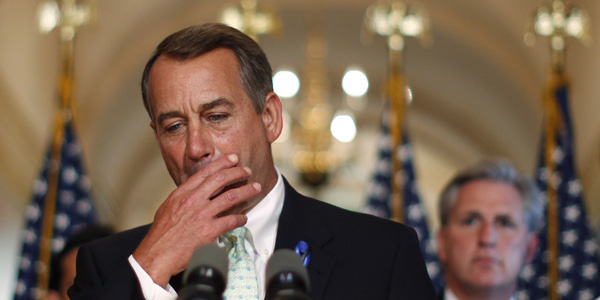 Speaker John Boehner (R-Ohio), is pushing hard to solidify support among House Republicans for his deficit reduction plan, and internal tensions within his conference appear to be running hot over some of the lobbying tactics against the bill from the Republican Study Committee led by Rep. Jim Jordan (R-Ohio).
Those tensions prompted an apology issued on Wednesday from the RSC, a conservative group of about 175 mostly conservative GOP members.
"Earlier this week, an RSC staffer sent an inappropriate email to outside groups that identified members of Congress he believed were undecided on the debt reduction proposal offered by the speaker," said RSC spokesman Brian Straessle. "This action was clearly inappropriate and was not authorized by the chairman or any other members of the staff."
"This has never been - and never will be - the way we do business at the RSC. We apologize to everyone affected, and we have already taken steps to ensure that it never happens again - either by this staffer or any other RSC staffer," said Straessle.
---
MORE FROM NATIONAL JOURNAL:
Obama's Battleground-State Blues
Beneath Clash Over Debt, a Divided Public
Poll: Voters Still Blame Bush for the Economy
---
Members leaving a closed-door conference meeting on Wednesday -- during which the RSC's actions were a heated topic -- described Boehner as emphatically insisting that they line up behind the bill and to not reject "the doable for the perfect." And several members have since said they have decided to embrace the measure, including some who previously had opposed.
"I think the odds (of passage) improve every hour," said Rep. Blake Farenthold (R-Texas), among those who said he's decided to back the Boehner plan after earlier saying he was leaning "no."
Rep. Allen West (R-Fla.) said the movement has been such that he'd now "bet my retirement check" on it passing.
During the meeting, Boehner told members that aides were still working to fix the bill to address the findings of a Congressional Budget Office finding that it fell $150 billion short of the $1 trillion in savings that were advertised.
But he told them that more cuts are being sought, and the bill remains a better path forward to addressing the Auguest 2 deadline for increasing the nation's debt ceiling. He also said bill is still expected to be brought to the floor for a vote on Thursday. House Republicans may meet again at 9 p.m.
But the atmosphere inside the meeting was described as tense at times, with some angry exchanges directed at staffers of one of the RSC chairman Jordan's staffers.
"What happens in conference is a confidential matter between members," said Andrew Whelan, a spokesman for Rep. Greg Walden (R-Ore.), the House GOP leadership chairman.
But Rep. Tom Reed (R-N.Y.) commented, "I imagine the staffers are not going to have a good day." He explained, "A couple of RSC staffers sent emails out asking for outside groups to put pressure on RSC members to vote against the Boehner proposal."
Reed said this did not sit well even with "a number of RSC members of which I am one. I think we should take those issues amongst ourselves and debate them amongst the group."
Image credit: Jason Reed/Reuters