Clinton Calls on Obama Not to 'Blink' on Debt-Ceiling Deal
"I hope they will make a mini-deal," the former president said when asked about Washington's budget negotiations at the Aspen Ideas Festival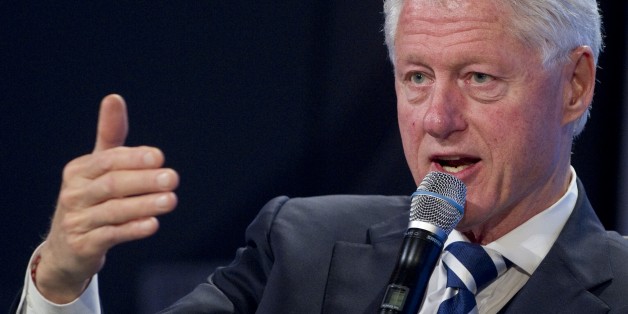 SAUL LOEB/AFP/Getty Images


Aspen, Colo.--Former President Bill Clinton Saturday night urged President Obama not to "blink" at Republican demands to exclude revenue increases from any agreement to extend the government's debt ceiling.
If Republicans maintain their opposition to revenue increases, Clinton said, Obama should pursue a short-term deal to extend the debt ceiling based on spending cuts both sides have already accepted in the negotiations between the administration and Congressional leaders from both parties.
"I hope they will make a mini-deal," Clinton said in an interview conducted with him at the Aspen Ideas Festival here.
The White House and Congressional negotiators from both parties are attempting to assemble a deficit reduction package that could win support in Congress for legislation to extend the nation's debt ceiling, which the Treasury says the government will reach on August 2. The talks have foundered amid demands from Congressional Republicans to exclude any revenue increases from that prospective deficit reduction package.
Asked what the administration could do if GOP leaders hold to that posture, Clinton replied: "First the White House could blink. I hope that won't happen. I don't think they should blink."
If Republicans will not accept revenues in a package to lift the debt ceiling by August 2, Clinton said, Obama should pursue a short-term agreement based on the spending reductions both sides have already accepted.
"There are some spending cuts they agree on ...and he can take those and [get] an extension of the debt ceiling for six or eight months," Clinton said.
"I don't think you can agree to some mega-deal on their terms. And so I think as they get closer I believe they will agree on a more modest package of cuts and the Republicans, if I were in their position, I would say this only counts for six months or eight months or whatever but we don't want to let the American people's credit go under, let our credit get downgraded."
To a much greater extent than Obama, Clinton said any long-term deficit reduction plan should be based on the plan proposed last fall by the bipartisan deficit commission chaired by Democrat Erskine Bowles and Republican Alan Simpson.
Though Obama appointed the commission, he has never fully embraced its proposals. Clinton on Saturday, however, said that "the Democrats do have a responsibility to either embrace the approach recommended in the Bowles-Simpson commission or some variation thereof."
Clinton, who compared the current showdown with the government shutdown he faced with congressional Republicans led by Newt Gingrich in 1995-96, argued that a failure to extend the debt ceiling would constitute a "significant error" with potentially serious consequences not only for the U.S. but other economies around the world.
He added: "You have to assume that our credit rating will be downgraded and our interest rates will go up which will make the deficit problem worse and make it much more difficult to recover because it will be harder for people to get credit, even harder than it is now."