Can Tim Pawlenty Get Noticed?
He's well-regarded inside the Beltway, but the former governor has yet to rise within the GOP presidential field. What can he do to make his mark?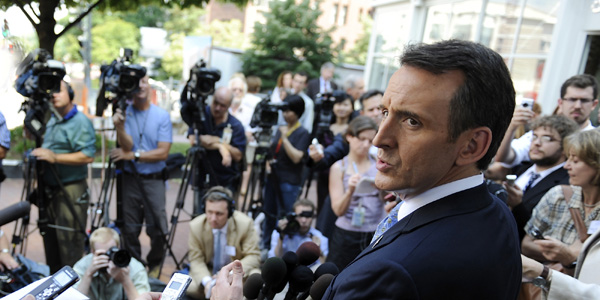 There is still, after a year and a half of serious campaigning, a fundamental disconnect at the heart of Tim Pawlenty's presidential efforts: Reporters, pundits, and party strategists think he's the real deal, one of the most formidable 2012 contenders around ... and nobody else seems to know who he is.
The former governor has been doing all the right things since the fall of 2009. He formed an independent political group. He traveled to Iowa, New Hampshire, Florida, and South Carolina. He hired advisers people in Washington had heard of. He raised money.
Somehow, it hasn't clicked. Not that national polls matter yet, but they reveal ongoing low name recognition for Pawlenty, who he has yet to crack double digits in polls and typically ranks seventh when "possible" candidates Sarah Palin and Rudy Giuliani are included.
Pawlenty hasn't broken out in Iowa polling, either -- even as that state figures prominently in his electoral strategy. He recently began airing TV ads there, but the first Des Moines Register poll of likely GOP caucusgoers shows him with a way to go. It put him in sixth place, with six percent support.
At every step, Pawlenty been serious about running for president. In speeches, he's talked about governing a blue state, wrangling with state-employee unions, and leaving Minnesota in good fiscal condition. He's spoken in measured, responsible tones on Sunday shows, even while throwing jabs at President Obama. He's not a fire-in-belly tea partier; he's not a pot-legalizing libertarian; he didn't formerly support abortion rights then change his mind; he doesn't write novels about alternate American histories. He's supposed to be the grown-up here.
But Pawlenty may need to shake things up to gain attention and make his mark in the contest. Here are some suggestions:
Start campaigning, full time, in Iowa and New Hampshire. To generate some momentum, Pawlenty will have to poll well in Iowa and New Hampshire. One easy solution: Spend a whole lot of time there.* "If he does a 99-county tour in August, I guarantee it's a huge difference," said Matt Mackowiak, founder and president of Potomac Strategy group, a GOP firm in Washington. Pawlenty plans to spend roughly half of July campaigning in Iowa, the Associated Press reports.
Pour money into the Ames Straw Poll. On Aug. 13, Ames, Iowa will host its highly publicized straw poll. Over 14,000 Republicans cast ballots in 2007, and Mitt Romney won by spending heavily on it. This year, Romney will skip the straw poll, and Pawlenty reportedly wants to spend $1.75 million trying to win it. That's a good strategy, but there's one problem: With a 2nd-quarter fundraising haul of $4.2 million, that price may be too steep.
Sharpen his rhetoric. Pawlenty is from Minnesota. Even when he's criticizing "Obamacare" in a speech to conservative activists, he sounds ... nice. "For me it would be all about trying to drive intensity among a segment of Republicans to not only like him but to make him his first choice," said one longtime GOP strategist. "He's a very thoughtful guy, but sometimes sharper rhetoric can be helpful in convincing people to make you their top choice."
Deliver stronger debate performances. Pawlenty didn't look so hot in the nationally televised GOP debate held June 13 in New Hampshire. When asked about his portrayal of Mitt Romney's Massachusetts health-care law as "Obamneycare," he refused to repeat the attack line in Romney's presence, even when prodded explicitly to do so by CNN's host, John King. A few days later, Pawlenty said his decision to lay off Romney was a mistake. Pawlenty will get another chance on July 10, when Americans for Tax Reform, the Daily Caller, and YouTube co-host the next nationally televised debate in Las Vegas.
Go after Mitt Romney. Pawlenty missed an opportunity in the New Hampshire debate, and not just because he looked a bit weak on stage: When it comes to mainstream conservative votes, Mitt Romney is Tim Pawlenty's main competitor. "If he has a long-term future, it's going to be as a mainstream alternative to Romney," the longtime GOP strategist said. "There are a lot of conservative mainstream voters that aren't comfortable with [Romney], and Pawlenty needs to seek to convert those people to him." Mackowiak agreed: "Romney's gonna start falling in Iowa," he said, noting that Romney isn't campaigning full-bore in that state, and it doesn't look like he will. "The question is where do those votes go." Tea-party candidates like Rep. Michele Bachmann and former Godfather's Pizza CEO Herman Cain could collect some of those votes, but the majority will probably fall to a mainstream conservative like Pawlenty or former senator Rick Santorum.
Image credit: Jonathan Ernst/Reuters
---
*An earlier version of this story stated that Pawlenty had spent 26 days in Iowa this election cycle as of June 25. That is incorrect, according to Pawlenty's campaign.