Can the Moderate Huntsman Succeed in a Red-Meat Era?
It's a tough time for centrists in the GOP, and the former Utah governor will have to overcome significant weaknesses if he's to win the party's presidential nomination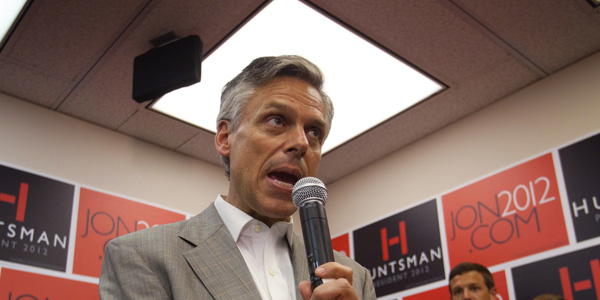 For a candidate barely registering in the polls, former Utah Gov. Jon Huntsman has generated an awful lot of attention. His message of civility, appeal to independents, and rock-band-member biography have made him an irresistible figure for the media. But so far, the debate has centered on whether a candidate who has served in the Obama administration and taken centrist stands on immigration, civil unions, and energy policy has a shot in Republican primaries that are increasingly dominated by hard-line conservatives.
That debate misses the point, and ultimately fails to explain why his campaign has failed to catch fire so far. The Republican Party has nominated plenty of moderates in the post-Reagan era, including George H.W. Bush (1988), Bob Dole (1996) and John McCain (2008). One could even argue that the current GOP front-runner, Mitt Romney, fits in that category.
---
MORE FROM NATIONAL JOURNAL:
Does Obama Have Friends on the Hill?
Obama-Boehner 2012?
How Baseball Explains the Debt Ceiling
---
There's nothing in Huntsman's record or resume that would make it impossible for him to win the Republican nomination. All candidates have serious vulnerabilities in the primaries, including his rivals.
The challenge is how a candidate overcomes such weaknesses. Those who adapt and grow tend to do well. But all signs suggest that Huntsman has not only failed to highlight his conservative bona fides, he is doubling down on his vulnerabilities.
The biggest problem with Huntsman's campaign isn't his centrist ideology; it's his campaign's tactics. Huntsman has decided to ignore the fundamental rule of politics--a campaign is about contrasting your record against those of your opponents. Instead of taking on President Obama, he's praised Obama's good intentions and avoided outlining many areas of disagreement. He's run to the left of the president on Afghanistan, calling for faster and deeper troop withdrawals. And at a time when voters are hungry for solutions, he offered a platitude-filled kickoff speech that barely touched on the economic problems that Americans want solved.
This is a Republican Party that wants head-on confrontation with Obama, but Huntsman is selling détente and civility. It's an electorate that wants a candidate who identifies with the struggles that Americans are dealing with. Instead, his introductory campaign video focused on his love of motocross--an image of recreation at a time when the country is facing major economic pain. Huntsman is also courting independents in the New Hampshire primary, whom he assumes are in the mold of Michael Bloomberg but are as disaffected as any group out there. (In the latest July Granite State poll, 61 percent of independents said the nation was headed in the wrong direction, with a 47 percent plurality disapproving of Obama.)
Huntsman has a good story to tell. He governed Utah at a time of economic prosperity, lowered taxes, and opposed abortion rights. He was one of the first presidential candidates to come out squarely for Paul Ryan's entitlement reforms--which have become close to conservative orthodoxy these days. His apostasy is hardly more egregious than that of George W. Bush, who championed comprehensive immigration reform, downplayed social issues, and acknowledged climate change. Like Huntsman, Bush even expressed his distaste for "nation building" in the 2000 presidential race, though he clearly shifted his views after the 9/11 attacks.
But unlike Bush, Huntsman is making little attempt to sell his conservative views to voters. Instead, he's offering a milquetoast message, believing that Republican voters prefer conciliation over confrontation. Bush ran his 2000 campaign on the theme of "compassionate conservatism;" there's no sign Huntsman is campaigning on anything conservative.
The results so far leave a lot to be desired. Despite focusing much of his campaign in New Hampshire, he's bringing up the rear in that state's polling, garnering just 3 percent of the respondents in the Granite State poll. Any buzz he received has been overshadowed by Michele Bachmann's momentum and the potential candidacy of Rick Perry.
It's striking that Huntsman hasn't used his biography and his work for the president to greater effect. He could argue that he was in the belly of the beast--and that the president's mismanagement of the economy brought him back from China to set the nation back on the right path. He could talk about how disappointed he'd been by the gap between the president's promise and his achievements. Those are narratives that could at least generate attention and allow him to contrast his vision with the president's. But we've heard none of that.
My hunch is that Huntsman made a bad bet after the 2008 election. Before being appointed as ambassador to China, he met with a group of reporters at Politico (where I was a reporter at the time) and offered tough criticism of the direction of the Republican Party. He sounded like a candidate already preparing for the inevitability of an Obama reelection, awaiting a run for office eight years down the road as a moderate savior. But the national environment had changed dramatically by last year. The stimulus and health care law were unpopular; Obama's job approval was weak; and Republicans had recaptured control of the House. The GOP also elected a bumper crop of potentially strong new national figures for down the road, including Sen. Marco Rubio of Florida, New Mexico Gov. Susana Martinez, and New Jersey Gov. Chris Christie. There won't be room for a Huntsman candidacy in 2016, even if Obama wins reelection.
So he returned abruptly from Beijing and mounted a presidential bid at a time when Republicans lacked a heavyweight. Huntsman might have been able to pull off the trick if his campaign message had fit better with the times. Unfortunately for him, it's not 2009 anymore.
Image credit: Scott Audette/Reuters