Can the 'Gang of Six' Proposal Succeed?
A bipartisan group of senators introduced their own debt-limit solution, backed in principle by President Obama. How far can it go?
A bipartisan group of senators introduced their own debt-limit solution. How far can it go?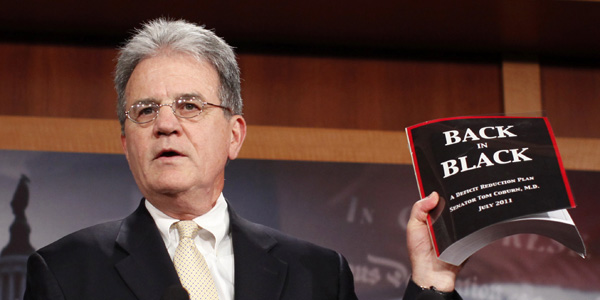 As Senate leaders crafted a stop-gap plan to lift the debt ceiling and the cut, cap, and balance plan hurtled towards inevitable defeat in the Senate, a bipartisan fiscal framework from an all-but-moribund collaboration of six senators garnered rare praise from President Obama and enthusiasm from Senate Republicans.
But does it matter? Few policymakers expect this framework from the Gang of Six to be the vehicle of a deal to lift the government borrowing ceiling, but some think that individual provisions could augment an agreement, or that the plan could provide a path forward if a short-term increase is enacted.
Obama hailed as "good news" the framework for $3.7 trillion in deficit reduction that includes increased tax revenues. He said the plan devised by a bipartisan group of senators is "in the same playing field" as what he hopes to accomplish in talks with Congress.
---
MORE FROM NATIONAL JOURNAL:
House Race Scramble
Coburn: Former Gang of Six Debt Plan Alive and Well
Counter in Chief
---
Still, Senate leaders Harry Reid (D-Nev.) and Mitch McConnell (R-Ky.) downplayed the proposal because it would take too long to enact before August 2, when Treasury will exhaust its cash reserves. They said they would focus on a plan to provide a $1.5 trillion down payment of cuts and to lift the debt ceiling with a series of symbolic votes that would allow Obama to raise the debt ceiling unilaterally.
Nor is the House likely to take up this plan without substantial modification. Interest in the "Gang of Six" framework reflects, in part, frustration with the House's refusal to make concessions for a larger deal.
Many in the Senate aren't happy with the Reid and McConnell proposal to punt on the debt. More-moderate Republicans, who are open to revenue increases, worry that GOP lawmakers will miss a major chance to cut spending if they pass on a large-scale deal with Democrats, a Senate Republican aide said on Tuesday.
The aide said that smaller-scale agreements, such as McConnell's plan, contain few immediate, binding cuts, as would occur in a larger-scale plan that also raised revenues. "The sense of disappointment among Republicans is, we're going to lose the opportunity to make real cuts," because members refuse to yield on revenue increases, the aide said. On Tuesday, Sen. Tom Coburn (R-Okla.) rejoined the Gang of Six's deficit-reduction efforts after abandoning the talks several months ago. Other Republicans, including the party's No. 3 Senate leader, Lamar Alexander of Tennessee, and Kay Bailey Hutchison of Texas, announced their support for the plan.
Alexander, who also backs the Cut, Cap and Balance Act that passed the House, 234-190, said he believes it is a "serious bipartisan effort to stop Washington from spending money it doesn't have."
Obama said that his team had not yet had time to fully evaluate the Gang of Six's plan, which was released just hours before the president spoke. But he called it "broadly consistent" with the plan he has been pushing in talks and said he expected "significant overlap" between the two.
Although the gang's framework raises nearly $1 trillion in revenue by ending various tax expenditures, but it can attract conservative support because those monies will be used to permanently fix the alternative minimum tax. This will produce real deficit savings, since Congress borrows money to exempt the middle class from that tax each year. Yet the Congressional Budget Office will score it as providing $1.5 trillion in tax cuts, allowing it to garner support from both Democrats and Republicans.
Image credit: Kevin Lamarque/Reuters