Can a Tea Party Republican Win a House Race in Los Angeles?
Odds are against it, but with gators, the Dodgers and gangs on the table as well as traditional social issues, today's special election to replace Jane Harman in California's 36th congressional district is about more than just party labels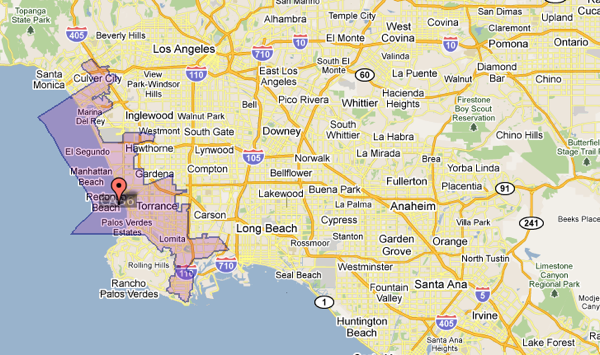 In California's 36th Congressional District, where I often ride my bicycle alongside the ocean, a Tuesday special election pits a liberal Los Angeles city councilwoman, Democrat Janice Hahn, against a tea-party-backed businessman, Republican Craig Huey. If the typical residents of the communities they're vying to represent paid more attention to off-year elections held in the summertime, they might be upset by their choices. Instead they're focused on outdoor grilling, gas prices, and the impending closure of the 405 Freeway, known locally as "The Carpocalypse" or "Carmageddon." All are more pressing matters than serving as civic guinea pigs.
That's what voters in the race are, thanks to Democrat Jane Harman. She held the seat for 10 years, successfully defended it during the 2010 midterms, and resigned shortly afterward to take a job as director of the Washington, D.C.,-based Woodrow Wilson International Center for Scholars. Due to the off-year vacancy, voters in the 36th became first to try California's new open primary system. It calls for all candidates to appear on the same ballot, and permits voters to cast a ballot for whomever they want. Unless someone wins a majority of the vote, the top two finishers advance to a runoff, even if they're both from the same political party.
The May 17, 2011 primary included five Democratic candidates, six Republicans, three Independents, a Libertarian, and a candidate from the Peace and Freedom Party, all competing in a district where Barack Obama beat John McCain 64.4 percent to 33.5 percent, John Kerry beat George W. Bush 59 percent to 39.6 percent, and Al Gore beat George W. Bush 50.7 percent to 44.3 percent. In Venice, Marina Del Ray, El Segundo, Manhattan Beach, Hermosa Beach, San Pedro, Torrance, West Carson, Palos Verdes, and Wilmington, there are just a lot more blue households than red households. So would two Democrats emerge as the top vote-getters?
Nope.
Here are the results that led to today's match-up: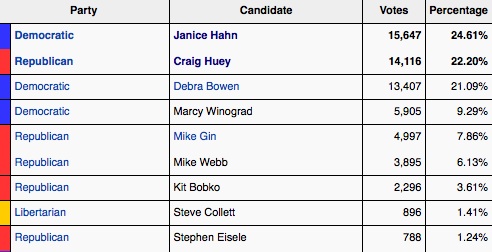 Will Debra Bowen voters back Hahn in the general election, or stay home, having been angered by barbs during the primary? That's the question on the minds of politically inclined observers in the district.
Hahn, 59, is the clear favorite. She won more votes in the primary, raised more than a million dollars for her campaign, won endorsements from left-leaning interest groups, and enjoys the advantage of running in a place where Democrats have an 18-point registration edge. Her fundraising prowess comes as no surprise: her late father, Kenneth Hahn, was a longtime LA County Supervisor, and her brother, James Hahn, is a former mayor of Los Angeles. Huey, 61, has long been forging connections inside the Republican Party, has backing from multiple tea party groups, and amassed $840,000 himself, having lent his own campaign almost $700,000. It's a formidable enough effort that Nancy Pelosi told the Washington Post, "we're fighting hard" in California 36, and warned allies that a Democratic win won't be as easy "as people like to think." Perhaps she's attuned to the fact that very low turnout elections are ideal for long-shot challengers.

For many who do vote, partisan affiliation will be the most important factor, which isn't necessarily a bad thing in this race. Neither candidate has any heterodox views that would surprise voters, and both are likely to vote the party line most of the time, if not all of the time. Someone who wants the tea party Republicans in Congress to wield a bit more power should vote for Huey. And a voter more inclined to increase Democratic clout should cast a ballot for Hahn.

It's really as simple as that. 

Watching the campaign unfold, you'd get a completely different impression, of course. It's being fought largely through glossy campaign mailers and Los Angeles-area television commercials and news reports. Consuming a lot of local TV coverage in LA is very useful if one wants to become an expert in high speed freeway chases. But more civic knowledge is gleaned from "Law & Order" reruns. Or "CSI Miami," to be honest. Here's an example of what LA TV broadcasters are focusing on in this election:




Call me crazy, but it seems totally reasonable to encourage former gang members to intervene as peacemakers in street conflicts, doesn't it? Whether it works or not, I have no idea, but I am uninclined to view it as attack ad material given that the issue isn't even likely to come up in Congress. In the campaign, it became prominent partly thanks to what is arguably the most offensive attack ad you'll ever see, and that both candidates have denounced in the strongest terms.

It didn't air on television for reasons that'll soon be obvious:


This is why normal people hate politics. Pay attention to your average congressional campaign and you end up feeling dirty. The guy who produced it, Ladd Ehlinger, Jr., wanted to air something so offensive it would get people talking about the gang program controversy again. Mission accomplished. All it took was a man corroding his soul and denigrating blacks and women for a small advantage in an off-year special election.
Voters should ignore the issue.
As noted, the best bet is picking the congressional party you'd rather advantage and voting accordingly. But what if, like me, you're disgusted with both parties in Congress, and unsure which is worse? Are the Republicans being savvy about debt ceiling negotiations, or are they really so irresponsible as to risk default? Would more tea party Republicans help stop the illegal war we're waging in Libya, and prevent Obama from future executive overreach? Or not? Who can tell?
Disgust with partisan politics tempts some voters to judge candidates on their individual merits. It's a hard slog in this case. Neither Hahn nor Huey have distinguished themselves, whether by their rhetoric, their records, or the issue sections of their website. For different reasons, the appropriate response to the runoff is, "Really? This is the best their parties have to offer?"
Let's consider Hahn first. Over the years, I've rolled my eyes on many occasions at the time-wasting issues she's championed on the LA City Council. Most recently, she's been urging Congress to change federal law to permit public ownership of the Dodgers. The team is bankrupt, she's a longtime fan, and she thinks the people should have the chance to bid on the franchise, an idea so wrongheaded and contrary to the proper role of government that I find it difficult to take seriously anyone who'd propose it. Hahn was also a leading voice urging the City of Los Angeles to boycott Arizona after it passed its controversial immigration law. But the LA City Council isn't elected to weigh in on public policy in other states. California also buys a lot of its electricity from Arizona. Debate over the measure generated a lot of needless controversy, distracting the body from more pressing local matters. And as an LA Times report makes clear, its passage had no effect, because the city just granted exemptions to the Arizona firms with which it does business.
Then there's Reggie the Alligator. Dumped in a local lake in 2005, the 7-foot reptile became fodder for local media as it eluded capture by the parks department. For some reason, Hahn decided to make it her issue, going so far as to give lakeside television interviews to local news stations. A Florida-based company, Gatorland, was brought in to grab Reggie, but failed for months. Enter Thomas "T-Bone" Quinn. A Hurricane Katrina evacuee who turned up at a Los Angeles shelter, "Quinn touted himself as a swamp-savvy bayou resident with a fondness for gator meat who could make quick work of Reggie. He dismissed efforts by the Florida-based Gatorland crew, calling their pontoon boat 'retarded' and saying he hoped that they would keep 'off my back.'"
Hahn invited him out to the lake, hoping he'd wrangle Reggie into captivity, much to the chagrin of Ron Berkowitz, superintendent of the Parks and Recreation Department, who worried at his lack of liability insurance. "We have to protect ourselves and the people of Los Angeles. We can't have anybody jump in there with a Bowie knife," he told the Los Angeles Times. "It's nothing against T-Bone. I want him to feel part of the world again, and we appreciate his offer."
Hahn was unrepentant. "We'll get him back into action," she told the newspaper. "This whole world of gator wranglers is something we're not used to."
All of this is to say that if Hahn is elected, she's almost certain to spend time on what many of us regard as nonsense. Or as the LA Times put it in their primary endorsement, "We haven't always seen eye to eye with her -- she votes in lockstep with labor on matters involving the Port of Los Angeles and has intervened on behalf of constituents in instances when the city's interests might have argued for a different approach." They added that "she is a stalwart environmentalist (she supported the port's controversial Clean Truck Program, which has mandated new rules on vehicles to clean up the air in the region), an ardent advocate for the poor (she supported efforts to use city power to unionize private hotels) and a forceful fighter for jobs (she led the push for modernization of LAX, in part because it is expected to generate 39,000 jobs)."
She's big on tax incentives for "green jobs," too.
What about Huey?
He's spent his life in private enterprise, so his record has less fodder for supporters and detractors alike. He's been successful, building a profitable business and a personal fortune. But his occupation is direct mail advertising, so a lot of it is owed to cluttering people's mail boxes with stuff they don't necessarily want to read. In this campaign, Huey is running on fiscal issues: I am personally sympathetic to his assertions that the federal deficit is alarmingly large, but dubious that fixing it is his top priority, given his desire to make permanent the Bush tax cuts and his pledge to never raise taxes under any circumstances. He says that we can get in the black by cutting taxes, waste, and duplicate agencies. (He is wrong.)
Huey's position on national security is little more than asserting that it should be strong. The only foreign affairs issue he addresses is "The Middle East Crisis and Israel." How should America react to events in the region? "Unlike my opponents, I support Israel 100 percent." This is indicative of his tendency to assert positions that are theoretically defensible in the most vague, simplistic terms imaginable, as if they're self-evident. This is strange behavior for a guy running in a district where winning requires persuading a lot of people who aren't ideologically sympathetic to him.
But it's typical for a Republican candidate in California, as is the fact that he's a social conservative who opposes gay marriage and abortion. GOP voters here love to send social conservatives into general elections, despite the fact that it's a huge electoral liability. The result is almost always a loss, and Hahn knows it: she's made abortion an issue in the race, despite the fact that a House member's opinion on the issue is likely to be irrelevant to the job. And Huey played right into her hands: "I believe that the Supreme Court Decision of Roe v. Wade is an incorrect decision, as bad as the Dred Scott decision by the Supreme Court years ago about slavery," he said. "But the fact is, it's the law of the land. This is not an issue in this district, it's not an issue of Congress, it's not an issue that I have." Would it have been so hard to leave out that first sentence?
If Huey wins this election, it'll be big news: a pro-life, anti-gay-marriage, Tea-Party Republican representing Venice Beach, at Santa Monica's very doorstep! He's depending on low turnout. And there's little chance he could hold the seat beyond the next election. If he loses big, it'll be another example of the California GOP's failure to field a viable candidate in a race against a Democratic opponent who doesn't deserve to win. Either way, voters should hope neither one of these people is in Congress three years from now.
Image credits: Google Maps/Wikimedia Commons