In our "Question of the Day" feature for this year's Ideas Special Report, our readers tackle some of the emerging issues that are defining our time.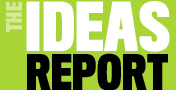 America is stuck. Faced with a seemingly intractable debt ceiling debate and a Washington brimming with partisan rancor, the cyclical nature of our political system seems more tangible -- and inescapable -- than ever.
"American voters went to the polls in November 2010 to 'take back' their country," writes
Mickey Edwards
in the July/August. "Just as they had done in 2008. And 2006." And no matter who was in charge, he adds, things didn't get better:
Many Americans assume that's just how democracy works, that this is how it's always been, that it's the system the Founders created. [But] what we have today is not a legacy of 1789 but an outdated relic of the late 1800s and early 1900s, when Progressives pushed for the adoption of primary elections. ... The primaries, and the nominating conventions, were open only to party members. This reform was supposed to give citizens a bigger role in the election process. Instead, the influence of party leaders has been supplanted by that of a subset of party activists.
Question of the Day: If you could pass a single law to reshape our electoral system and make representatives truly responsive to voters, what would it be? What needs to change for our government to function properly again?
We want to hear what you think about this article. Submit a letter to the editor or write to letters@theatlantic.com.
Jared Keller is a journalist based in New York. He has written for
Bloomberg Businessweek
,
Pacific Standard
, and Al Jazeera America, and is a former associate editor for
The Atlantic.