Boehner and Reid Will Push Competing Debt Plans
With the clock ticking on the Treasury's Aug. 2 deadline, both will lay out their plans on Monday afternoon for raising the limit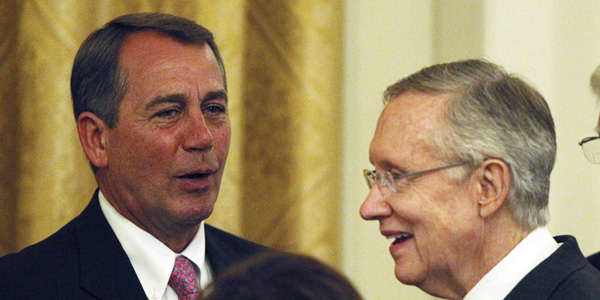 Senate Majority Leader Harry Reid (D-Nev.) will lay out details of his new plan to raise the debt ceiling past November 2012 and cut the deficit by $2.7 trillion at a 2:30 p.m. news conference, his office announced on Monday.
Reid may start floor action on the bill later in the day, an aide said.
---
MORE FROM NATIONAL JOURNAL:
Debt Aspirations Don't Match the Situation
Pictures: Political Sex Scandals
Insiders Support Decision to Recognize Libya's Rebels
---
That will put the House and Senate in a faceoff, on dueling courses, with just eight days to go to raise the debt ceiling by the August 2 deadline set by the Treasury Department. Senate Democrats have a 6 p.m. caucus meeting scheduled to discuss their options.
At the same time, House Speaker John Boehner, R-Ohio, is briefing his conference at 2 p.m. on his plan for a two-part process to raise the borrowing limit and cut spending. The first phase would include about $1 trillion in cuts, with the ceiling raised through January 2012. According to a GOP source familiar with the framework, Congress would then have to pass deficit cuts recommended by a joint congressional committee before a second debt-ceiling increase could be approved.
Republican leadership aides claimed that Reid had signed off on that general framework on Sunday, before President Obama rejected it at a White House meeting later that night. Reid spokesman Adam Jentleson said that contention was "unequivocally and completely false." The Senate majority leader's aides said the sticking point remained the second debt-ceiling increase. Democrats were willing to accept a framework raising the debt limit in two steps, but only if the second step could occur even if a second round of spending cuts did not become law. Republicans refused that offer, the aides said.
With the House refusing to consider Reid's new plan and set to vote this week on Boehner's, Republicans hope to box in Reid and Obama. Senate Democrats have the votes to block Boehner's plan. But with Senate Minority Leader Mitch McConnell (R-Ky.) backing the speaker's bill, Democrats may lack votes to amend it and send it back to the House. GOP aides argue that might force the Senate to accept the plan and present Obama with the prospect of vetoing it and risking default. Democrats insist they will not allow that scenario to occur.