Boehner and Cantor Try to Sell Debt Plan to House Republicans
Pushing ahead with the speaker's proposal, the top two GOP members of the House urge their colleagues to vote for it
Pushing ahead with the speaker's proposal, the top two GOP members of the House urge their colleagues to support it during a Wednesday vote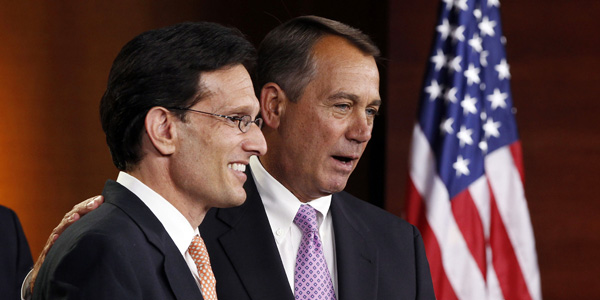 Described by fellow House Republicans as "fired up," House Speaker John Boehner (R-Ohio) on Tuesday urged his caucus in a closed-door meeting to support his two-part plan to raise the debt ceiling, and then later publicly urged House Democrats to help. The White House said later that President Obama's advisers would recommend he veto the bill.
"I would ask my colleagues - both Democrats and Republicans -- to look at this common-sense plan, this common-sense way forward," said Boehner in a news conference after the GOP huddle.
House Majority Leader Eric Cantor (R-Va.) also was described as urging fellow Republicans to get behind the speaker's bill, to show unity and be less critical of the measure.
But despite the appeals, several House Republicans said it would be an uphill battle for Boehner to secure the needed votes from his own conference for the plan to raise the debt ceiling by $2.5 trillion.
"He did call on us to help him get this passed. But the challenge in the minds of all of us is: Do we do what's in the best interest of our leader, or keep faith with our children?" said one House member, among several who spoke confidentially about the meeting and said they intend to vote against the Boehner plan because it does not go as far as the "cut, cap and balance" bill already passed by the House.
At another press event this morning, Republican Study Committee Chairman Jim Jordan (R-Ohio) said, "I am confident as of this morning there are not 218 Republicans who support it." That's the number needed to pass the 435-seat chamber when there are no vacant seats, and all members are present for a vote. There are now two vacancies. Meanwhile, House Democratic leaders said they'd be urging their members not to help Boehner out either. And the White House issued a statement saying Obama's advisers would recommend a veto.
Outside GOP pressure to oppose Boehner's plan also increased on Tuesday when Heritage Action, the political arm of the conservative think tank Heritage Foundation, announced opposition to both his and Senate Majority Leader Harry Reid's proposals because "neither plan rises to the level of the substantial fiscal challenges which face our nation." The group will include the legislation for its annual conservative scorecard, which means conservatives face a downgrade of their scores if they vote with Boehner. The House is set to vote as early as Wednesday on the measure, while in the Senate, Reid, D-Nev., is pushing his own bill to resolve the debt standoff before an August 2 deadline, but is waiting to see the outcome of the House vote. Reid's plan would seek to cut $2.7 trillion over 10 years.
On the morning after President Obama and Boehner addressed the nation on the debt-ceiling standoff, House officials said telephone calls to House circuits were hitting near capacity. The result was many callers getting busy signals after Obama implored prime-time viewers to contact their lawmakers and urge support for raising the debt ceiling. An alert from leaders advised member offices to provide their district offices and other important contacts with alternative numbers.
Republicans emerged from the conference meeting with some differing views over whether they would ultimately pass their leader's bill or hand him a potentially humiliating defeat.
"He was fired up," said one rank-and-file Republican, who said Boehner urged members to stick together behind his plan because he needs their votes.
That member said he believes there will be enough Republicans on board to send it to the Senate.
Another Republican who said he opposes the Boehner bill remarked that he sensed in the room that there is no way the bill will pass. There was no discussion of what the Republicans would do next if the Boehner bill was not approved.
Later, House Minority Whip Steny Hoyer (D-Md.) told a news conference that "very few" Democrats would vote for a Boehner plan.
With Boehner's plan endangered in the House, the Senate is in waiting mode. Reid on Monday night backed off a plan to file cloture on his alternative proposal that claims $2.7 trillion in cuts while raising the debt ceiling by about $2.4 trillion.
Reid is holding off on starting floor action on his plan, which would itself face dicey odds in the Senate, to see if Boehner's plan can clear the House. Reid believes his hand would be greatly strengthened by defeat of Boehner's plan, an aide said, because it would force Boehner toward a plan that would win votes from House Democrats.
Meanwhile aides to Reid and Senate Minority Leader Mitch McConnell (R-Ky.) were discussing a potential compromise measure or combining aspects of both plans.
Image credit: Larry Downing Reuters