Bachmann Attacked Gay Marriage, 'Big Love' in 2006 Interview
The tea-party presidential candidate said HBO was dangerously trying to legitimize polygamy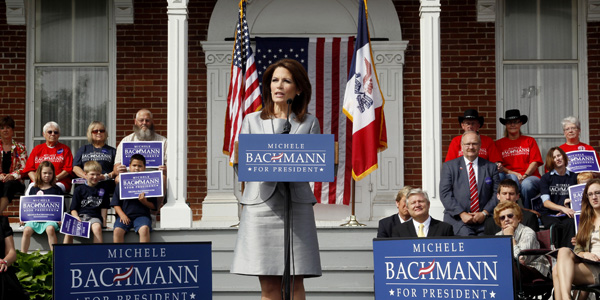 As a state lawmaker in 2006, now-Rep. Michele Bachmann (R-Minn.) warned that efforts to allow same-sex marriage would open the door to polygamy and "group marriage,'' and she condemned a popular cable television series about a fundamentalist Mormon with three wives.
The interview with a public-affairs television show produced by the Minnesota Senate called Capitol Report was recently posted on YouTube by American Bridge 21st Century, a liberal group that targets conservatives for attack. The media office of the Minnesota Senate confirmed that the interview was authentic.
"There are lawsuits being filed all across the country by individuals to try to overturn marriage laws,'' Bachmann, now a 2012 presidential hopeful, said in the interview. "There are efforts right now to also legitimatize and allow for polygamist marriages and also group marriages, so this issue isn't stopping with just redefining marriage to allow for same sex-couples. There's a new TV show on HBO right now called Big Love, and it's promoting the idea of normalizing polygamy.''
The March 25 interview occurred shortly before a state Senate committee rejected a bill to ban same-sex marriage in the state constitution. Big Love, which had just begun airing on HBO at the time, ran for five seasons and ended in March.
Bachmann added that if Minnesota allowed same-sex marriage, "Schools will then be teaching that homosexuality, or lesbianism, or same-sex marriage, or group marriage, or polygamy is normal, natural and maybe kids should try it.''
Bachmann and her husband, Marcus, who co-own two Christian counseling centers, are facing mounting criticism for their fervent opposition to homosexuality. Marcus Bachmann has denied allegations that he called gay people "barbarians'' and that his clinics advocate therapy and prayer to eliminate homosexual impulses.
"I think this interview shows once again how out of the mainstream she is and what her priorities are,'' said Chris Harris, an American Bridge spokesman. "She's run a good campaign to her credit and remained on message about the economy, but voters need to know the real Michele Bachmann.''
Bachmann's campaign did not respond on Wednesday to National Journal's request for comment about the interview. At a time when voters' most pressing concern is the sluggish economy and the federal government nears defaulting on its debt, her campaign is trying not to get distracted by other issues. How she handles the intense media scrutiny that has accompanied her surge in the polls will determine whether the she can broaden her appeal beyond the conservative grassroots to a still-skeptical GOP establishment.
"If voters see her handle the rigors of a campaign, they will not doubt she can handle the office," said veteran GOP strategist Alex Castellanos, who has not taken sides in the primary. "I think she should not be underestimated.... If she can convince voters that she is the jobs and growth candidate, she would be very strong."