At Twitter Town Hall, Journalists Will Pick Questions for Obama
The company has organized a tweet-selection panel including bloggers, editors, and economic experts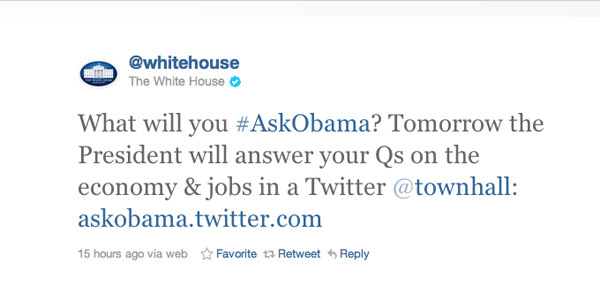 The questions to be asked of President Obama at Wednesday's Twitter town hall won't be pre-screened by the White House.
Instead, Twitter will do that job, said White House Director of Digital Strategy Macon Phillips. The questions will be chosen based on popularity and will also be selected by a group of power tweeters.
Phillips said that the separation from the White House in choosing the questions made this event an "attractive idea."
Twitter reached out to the group -- predominantly journalists with experience discussing economic issues -- to help with the curation process, the company said in a blog post. They come from all over the country, from the San Diego area to Manchester, N.H. They range in age and experience from a college student to veteran journalists.
---
MORE FROM NATIONAL JOURNAL:
Talk of Geithner Departure Highlights Administration's Weak Econ Bench
GRAPHIC: 10 Years, 10 Broken Debt Ceilings
PICTURES: Hubble Millionth Observation
---
"Twitter came up with a list of people they felt had good geographic distribution," Phillips said.
Those users are:
Steven Norton, the editor-in-chief of the Daily Tar Heel at the University of North Carolina;
Kara McGuire, personal finance columnist at the Minneapolis Star Tribune;
Dorrine Mendoza, online content producer for the North County (Calif.) Times;
Raman Chadha, director of DePaul University's Coleman Center;
Kim Quillen, business editor of The (New Orleans) Times-Picayune;
Drew Cline, editorial page editor of The (Manchester, N.H.) Union-Leader; and
Despite their expertise, these users are not heavy on followers. Mendoza has the most (3,079) -- hardly the clout of @LadyGaga (11,419,591), @JustinBieber (10,809,938), or even @BarackObama (8,972,046).
In addition to the power users, 30 Twitter enthusiasts will be selected to take part in the White House's first-ever tweetup, Phillips said.
Those lucky tweetup participants will be encouraged to tweet during the event, Phillips said. They'll also have a chance to meet senior administration officials and Jack Dorsey, Twitter's co-founder and executive chairman, who will moderate the event. They were selected by submitting their name to a Web form at WhiteHouse.gov.
The White House approached Twitter about doing the town hall, and it sees the popular microblogging service as a way to engage with average Americans.
"The larger purpose is to create new opportunities to connect with Americans across the country," Phillips said.
Twitter's blog post also said that they will be using a product called Mass Relevance to visualize the tweets, and will use the algorithm behind Twitter search to identify the tweets driving the most engagement.
Following the event, the social-media monitoring company Radian6 will provide analytics about who participated. Radian6 will only use publicly available information, Phillips said.
Wednesday's event starts at 2 p.m., and questions can be asked by tweeting a jobs- or economy-related question and including the #AskObama hashtag.
Image credit: Twitter