At Murdoch Hearing, British MPs Put U.S. Lawmakers to Shame
American members of Congress grandstand and score political points. On Tuesday, their UK counterparts were reserved and purposeful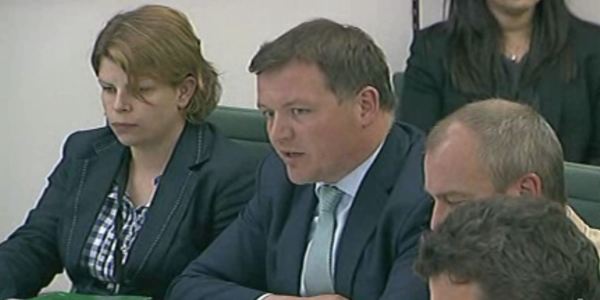 "You said it always as though, we have paid the police in the past, the implication being, as does all tabloid newspapers," Conservative Member of Parliament Louise Mensch said at one point on Tuesday, her voice calm and measured, her eyes focused intently on Rebekah Brooks, the deposed, arrested former editor of the now-defunct newspaper News of the World. "To your general knowledge, were payments to police widespread across Fleet Street, or limited to one or two titles?"
Brooks, unrattled and straightforward, answered, "I've never paid a police officer myself. I've never sanctioned paying a police officer," later telling Mensch that she's not able to comment much on other newspapers, but would do her best to disclose all she could, legal bindings permitting, about how things went horribly awry at Rupert Murdoch's former property.
This was the kind of transactional, businesslike interaction we saw at Tuesday's hearing of the House of Commons Culture, Media and Sport Committee, where Rupert Murdoch, his son James, and Brooks all testified, despite a brief interruption involving "shave cream." It was noticeably not how things work when members of the U.S. Congress are involved.
Even in the investigative hearings held by U.S. House and Senate committees, American lawmakers grandstand, hog the spotlight, and often fail to accomplish anything of substance. More often than not, lawmakers use hearings to lecture witnesses and score political points, in some cases using almost the entirety of their allotted time (usually a few minutes) to berate a witness with rhetorical questions that are not designed to produce any real answer.
That's not always the case. Here, you can see members of the House Energy and Commerce Committee asking technical questions about Toyota's faulty brakes, the recall process, and various tests of car parts, of National Highway Traffic Safety Administration Administrator David Strickland.
Compare that, however, to this performance by Sen. Rand Paul (R-Ky.) at a hearing of the Senate Energy and Natural Resources Committee, at which he lectured Kathleen Hogan, the deputy assistant secretary for energy efficiency and the U.S. Department of Energy, about the tyranny of toilet and lightbulb restrictions in March:
Give it to 'em, Rand! Toilet and lightbulb restrictions can raise any libertarian's hackles, and you can't say Paul's rant wasn't entertaining. But it stands in stark contrast to the fact-finding British style on display Tuesday.
Of course, the grandstanding often grows in proportion to the number of TV cameras in the room. In 2007, senators delivered some command performances at Judiciary Committee hearings organized to grill then-U.S.-Attorney General Alberto Gonzales over the allegedly politicized firings of a handful of federal prosecutors. The same goes for any Supreme Court confirmation hearing.
Remarkably, the British MPs retained a reserved, purposeful style in the most widely viewed parliamentary committee hearing in recent memory. British committee meetings aren't typically broadcast live, in near entirety, on U.S. cable TV networks.
Devoid of posturing and lectures, Tuesday's hearing yielded productive, back-and-forth exchanges during which MPs asked succinct questions, pressed and elaborated when necessary, and generally allowed the witnesses to respond in full.
"I think we got lots of answers we were looking for ... chief among them, if they didn't know, why didn't they know?" Mensch told CNN's Wolf Blitzer later in the day, complaining that the shaving-cream incident was so terrible because "this was a very lengthy, very serious session of parliament."
Indeed it was, and we can only hope American lawmakers took notice.
Image credit: House of Commons