A Sign of Hope After a Tense Day of Debt Negotiations
The Senate is likely to vote Sunday on a compromise measure that would cut spending and raise the national borrowing limit
The Senate is likely to vote Sunday on a compromise measure that would cut spending and raise the national borrowing limit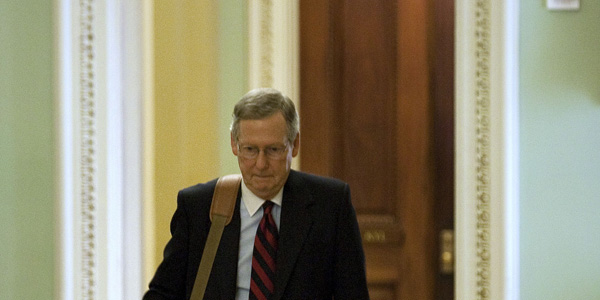 Senate Majority Leader Harry Reid, D-Nev., announced late Saturday the first glint of hope in the debt-ceiling saga, delaying a scheduled 1:01 a.m. Sunday cloture vote to give negotiators in Congress and the White House more time to reach a compromise.
"I'm confident that a final agreement that adopts the Senate's long-term approach rather than the short-term, Band-Aid proposed by House of Representatives will move forward," Reid said.
---
MORE FROM NATIONAL JOURNAL:
The Debt Debate: America's New Civil War?
Leaked Emails Highlight GOP Rifts
Huntsman Courts Young Republicans
---
Reid moved the vote to 1 p.m. Sunday and did so with no Republican objections -- a sign the GOP shared Reid's new-found optimism about a potential breakthrough. The outlines of a possible compromise emerged late Saturday night. Moving the vote without objection marked the first unified parliamentary move in a day fraught with just that.
Reid also expressed unbending confidence that President Obama would win on his core demand that the the nation's debt ceiling, currently $14.3 trillion, would be extended until 2013 -- long enough to avoid election-year pressures and to shield the fragile economy from market vagaries inflicted by the near-default drama that's played out over the past week.
"I'm optimistic there will be no short-term arrangement whatsoever," Reid said. "I'm also confident that reasonable people from both parties should be able to reach an agreement. I believe we should give them time to do so."
But the price for winning a long-term deal may be the exclusion of higher taxes from the process of lowering deficits to meet the $2.4 trillion, 10-year target established by both parties.
Negotiators told National Journal that progress was made on the toughest remaining issue -- a so-called trigger to ensure spending cuts of up to $2.4 trillion would, in fact, be instituted by a special committee established by the the debt-ceiling bills in the House and Senate.
Reid said it was necessary to delay the scheduled early-morning vote to give negotiators more time. Congressional sources said there were slender hopes that a deal could be struck before Asian stock markets open starting at 5 p.m.
Following the movement of the vote to later Sunday, Reid adjourned the Senate.
Reid's surprise appearance gave a bright glow to a day defined by clamp-jawed partisanship and pitched parliamentary battles on the House and Senate floor. There were even accusations of bad faith, misleading press conferences and seemingly false hopes of progress. Reid's announcement sliced through the day-long tension and suggested a path forward -- probably not without a few more bumps -- was now visible to the legislative titans who had been at each other's throats for most of the past 48 hours.
Earlier on Saturday, Reid summoned senators to the floor, where he excoriated Senate Minority Leader Mitch McConnell, R-Ky., and House Speaker John Boehner, R-Ohio, for offering what Reid said was an overly rosy picture of the state of negotiations with the White House. Using blunt language, he accused Republicans of refusing to compromise the face of an Aug. 2 default.
Fresh from a a 90-minute White House meeting with President Obama, Vice President Joe Biden and House Minority Leader Nancy Pelosi, Reid described the situation this way: "The Speaker and Republican Leader should know that merely saying you have an agreement in front of television cameras doesn't make it so."
That was a reference to a press conference, held after a mid-day House vote, in which Boehner and McConnell confidently predicted the nation would avoid default, that negotiations had resumed and that differences would be resolved in short order.
"We are now fully engaged, the speaker and I, with the one person in America out of 307 million people can sign a bill into law," McConnell had said.
From the Senate floor with McConnell mere feet away, Reid alleged that his GOP counterpart was deliberately trying to create the impression of progress when, in reality, very little existed. "While the Republican Leader is holding meaningless press conferences, his members are reaching out to me and other members," Reid said. "They're coming forward with thoughtful ideas to try to move the process forward."
The back-and-forth between Reid and the Republican congressional leaders came shortly after the House defeated Reid's plan in a symbolic mid-Saturday vote, which followed the Friday Senate defeat of Boehner's competing plan. Democrats and the White House oppose the House plan because it does not guarantee the debt ceiling is raised through 2012 and includes what they say are unrealistic conditions for a second increase -- in particular the requirement that a balanced budget amendment be sent to the states before the second increase is approved. The support for the amendment does not exist in either chamber.
Boehner and McConnell appeared before reporters at a mid-afternoon press conference to offer reassurances that the United States will not default on its debt for the first time in history. McConnell said he has spoken with both Obama and Vice President Biden this afternoon and have begun negotiation a deal. "I am confident and optimistic we're going to get an agreement," he said. Added Boehner: "Despite our differences, we're dealing with reasonable, responsible people who want this crisis to end as quickly as possible."
Congress is working through the weekend but the action centers now in the Senate, where Reid is working to either find a workable compromise with McConnell, or appeal to enough Republican senators to give Democrats the 60 votes they need to move forward on Reid's plan. The former is more likely than the latter, after McConnell sent a letter to Reid announced that 43 GOP senators stand in opposition to his proposal. Four Republican senators did not sign it: Sens. Lisa Murkowski, R-Alaska, Olympia Snowe, R-Me., Susan Collins, R-Me., and Scott Brown, R-Mass.
Reid expressed skepticism about the letter, telling reporters that a number of the senators signing it "have already agreed to work with us."
The incendiary rhetoric surrounding the Boehner and Reid plans belies the fact that the two proposals are not miles apart in substance, which would suggest a compromise is reachable.
One key difference between the Boehner and Reid measures: the timetable. Boehner would require another vote to raise the debt ceiling early next year only if Congress meets two conditions: enacting further deficit reduction and sending a balanced budget amendment to the states, despite the fact that the constitutional amendment does not have the support necessary to emerge from either chamber. The Reid bill would provide mechanisms--first authored by McConnell--to allow for enough money to lift the debt ceiling through the next election.
But the politics of the debate, and the pressure from the GOP's right flank to hold the line against the Democrats, has fueled a noxious atmosphere on Capitol Hill. "We cannot unite America if we divide the movement," said Rep. Thaddeus McCotter, R-Mich., a long shot 2012 presidential contender, on the difficult dynamics within his party. "Consequently the time has come for the tea party to grow up and the Republican Party to wake up and serve and save this great nation."
The political stakes were high for Democrats as well with Obama facing reelection in a sour economic climate and Democrats' Senate majority up for grabs next year.
If McConnell and Reid do in fact fail to compromise, and Reid can't appeal to seven Republicans to side with Democrats on cloture, the Senate will push the nation closer to default with a looming Tuesday deadline.
The gridlock has spurred at least one top lawmaker to seek introspection. Senate Majority Whip Dick Durbin, D-Ill., said he spent three hours at D.C.'s Eastern Market -- an outdoor produce market near the Capitol -- and drank coffee. "I wanted to get away from this place and spend a few minutes reflecting on something other than the give and take of the political debate," Durbin said. "I sat on a bench for about three hours, just watching people walk by - trying to clear my mind."
Durbin's mind may be clear but the legislative situation isn't -- except to say it remains visibly stuck. There is every indication efforts are underway invisibly to get it unstuck, but the fruits of those labors remain hidden. And there's not much time left for lawmakers to drink coffee and people-watch on a lazy Saturday morning.